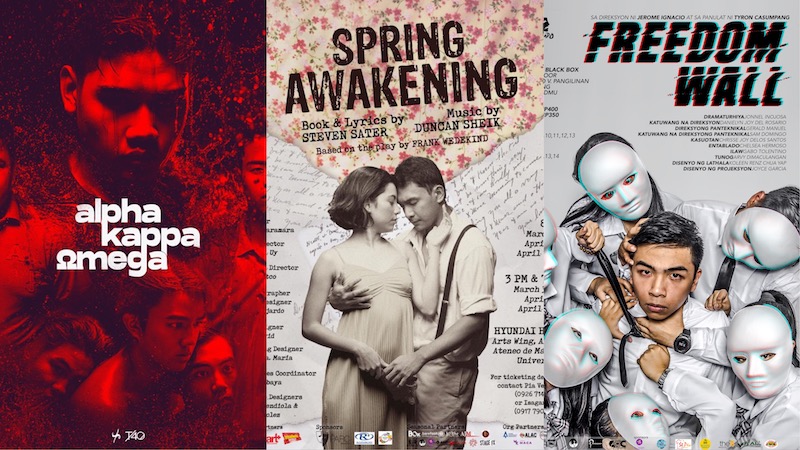 5 Independent and University-Based Productions this Summer
1. AKO: Alpha Kappa Omega by Tanghalang Ateneo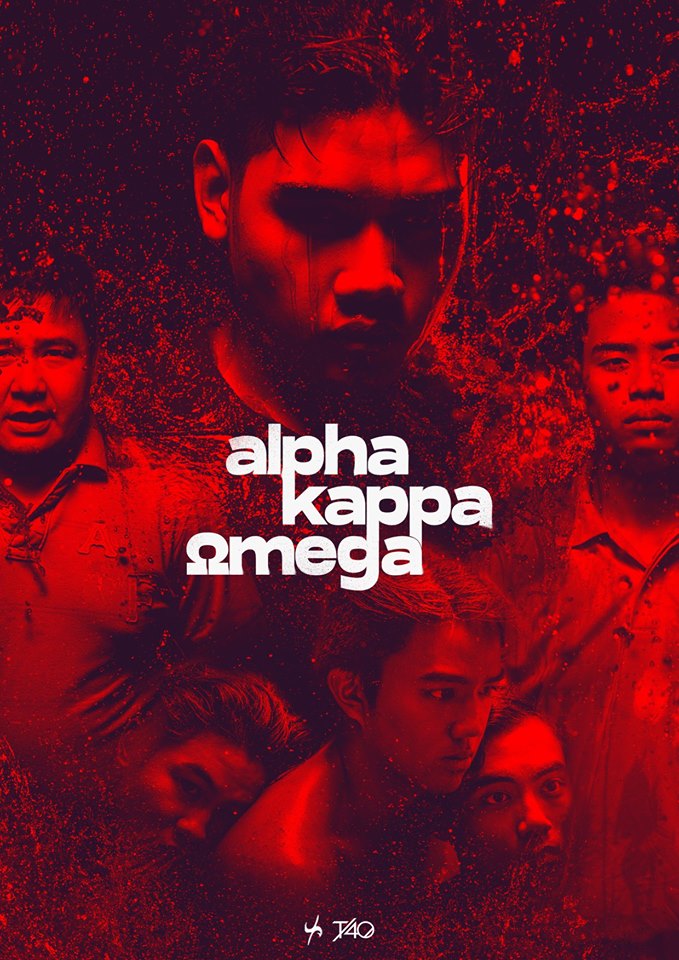 Tanghalang Ateneo caps off its 40th season with AKO: Alpha Kappa Omega, an adaptation of Mike De Leon's film Batch 81, penned and directed by Guelan Varela-Luarca.
Batch 81 follows the Alpha Kappa Omega fraternity's neophytes through their grueling initiation process, serving as a critique of fraternity hazing and culture in the Philippines. The film was screened on the Director's Fortnight of the 1982 Cannes Film Festival.
Varela-Luarca's adaptation is set in the year 2018; a commentary of our present time. Theater veterans and Tanghalang Ateneo alumni Ron Capinding and Katski Flores perform alongside actors from the organization.  The play, which started its run in March 20, is being staged at the Rizal Mini Theater of the Ateneo de Manila University and will continue to run on March 26-30, April 2-6, and 9-13. Performances start at 7:30pm, with Saturday matinee shows at 2:30pm.
Besides Varela-Luarca, the artistic team of AKO: Alpha Kappa Omega also includes Tara Jamora Oppen (Assistant Director), Nicolo Ricardo Magno (Movement Design), Monica Sebial (Set Design), Hershee Tantiado (Costume Design), D Cortezano (Lighting Design), Xander Soriano (Sound and Music Design), and Zoe de Ocampo (Graphic Design).
For tickets, contact Iggy Santos (0917 326 2697).
2. Spring Awakening by Ateneo blueREP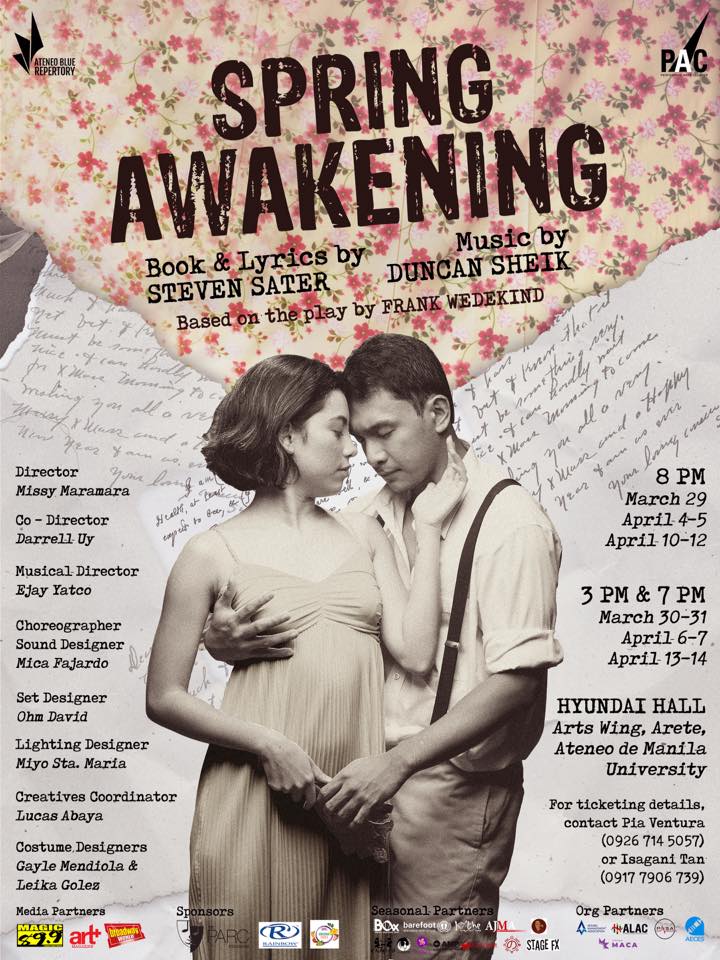 Ateneo blueREP stages the Broadway musical Spring Awakening from March 29-April 14. Set in 19th-century Germany, the production tells the story of teenagers who try to discover their sexuality amidst a highly conservative society. The music is written by Duncan Sheik, with a book and lyrics by Steven Sater.
The cast is led by Sandino Martin and Ian Pangilinan as Melchior, and KC Kane and Erika Rafael as Wendla. The show is directed by Missy Maramara and co-directed by Darrell Uy, with musical direction by Ejay Yatco, choreography by Mica Fajardo, set design by Ohm David, lighting design by Miyo Sta. Maria, and costume design by Gayle Mendiola and Leika Golez.
The musical will be staged at the Hyundai Hall of Arete in the Ateneo de Manila University. For ticketing details, contact Pia Ventura (0926 714 5057) or Isagani Tan (0917 790 6739).
3. Freedom Wall by Ateneo ENTABLADO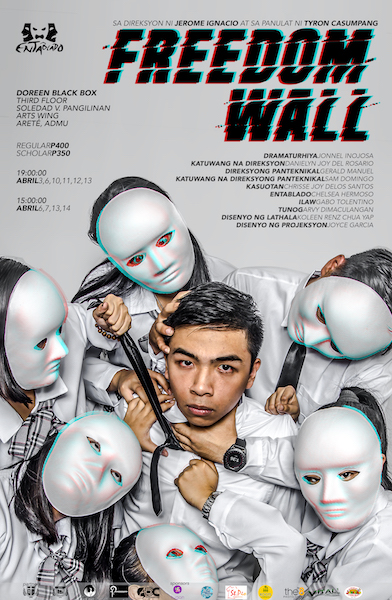 Written by Tyron Casumpang, Freedom Wall aspires to educate its viewers on the power of anonymity and the use of social media as a platform for sparking conversations on serious issues.
The story follows a batch of Senior High students who were met with shock after a post on Freedom Wall was released, accusing a famous athlete of being a sex offender. More anonymous posts about the athlete's other offenses also begin to surface, one after the other. As he drops out of Senior High, anonymous posts continue to accuse other students and professors of different types of offenses. King tries to find out who is behind Freedom Wall, but encounters complicated problems due to his personal ties with the people involved.

The show will run at 7pm on April 3, 6-7, 10-14, with 3pm shows on April 6 and 13 at the Doreen Blackbox Theater of Arete, Ateneo de Manila University. Tickets are priced at P400.
For tickets, contact Sam Aviles (0998 569 4100).
4. The Part Where by Antrosininglaya Theatre Company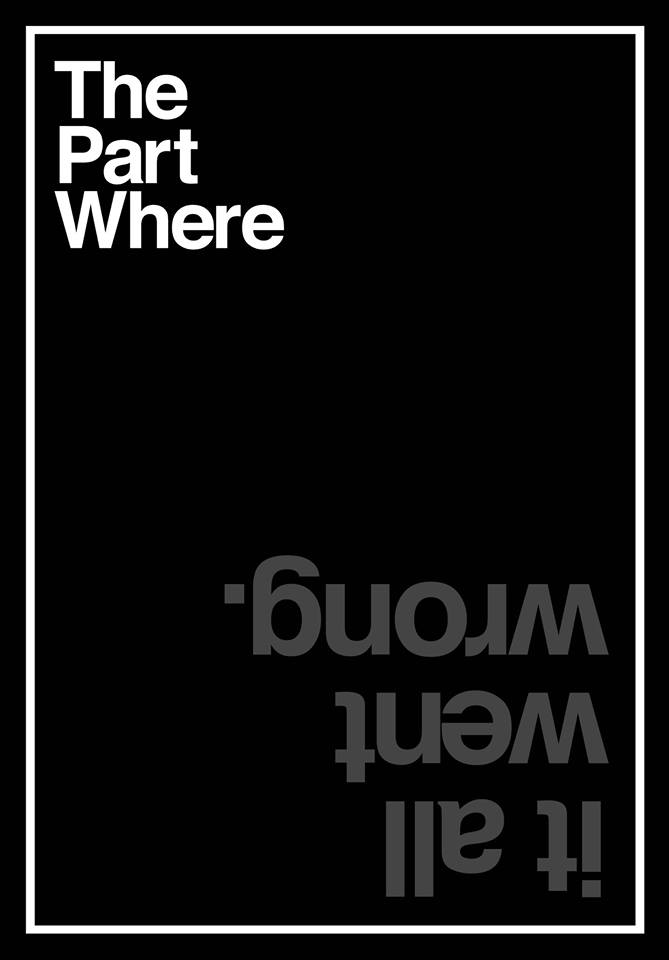 The Part Where is a collective performance of contemporary stories told in various ways. The play consists of different parts covering several themes with genres between romance, comedy, drama, and suspense. Stories are not limited to the language of love but deals with current social issues in this generation that are relatable and are in need of attention.
Already in its 4th year, Antrosininglaya is a company of artists who produce digital contents, contemporary performances, and modern plays across and beyond Metro Manila. It focuses on empowering its audience to be inclined in modern arts by combining theater and multimedia.
Directed by Alvin Molina, the show will run on March 30 (5pm and 8pm) and 31 (5pm) at Green Sun Hotel, Makati. Tickets are priced at P300. Contact Paul (0917 571 3186) for tickets.
5. Tartuffe O Ang Manloloko by the Tanghalang Pilipino Actor's Company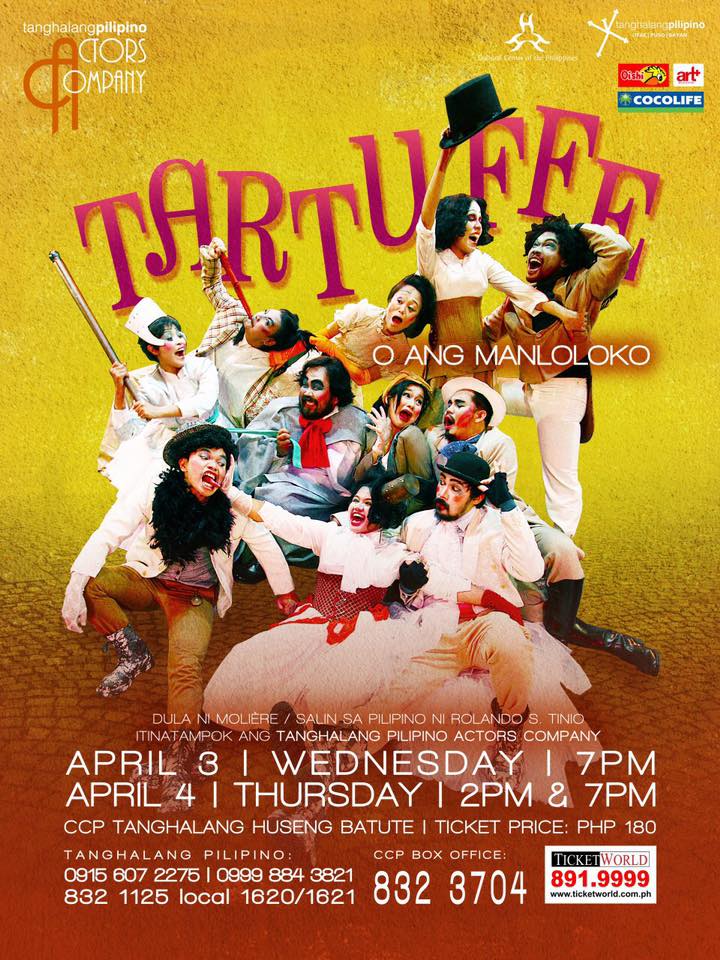 For their year-end recital, the Tanghalang Pilipino Actors Company will be presenting Tartuffe, one of the most popular theatrical comedies by French playwright Moliere, with a Filipino translation by National Artist Rolando Tinio. In the play, the family of the rich man Orgon try to convince him that Tartuffe, who he has brought into his home and has arranged to be married to his daughter, is a fraud and a hypocrite.
The show will be staged at the CCP Studio Theater on April 3 (2pm and 7pm) and 4 (7pm). Tickets are priced at P180.

You can buy tickets HERE.
Comments