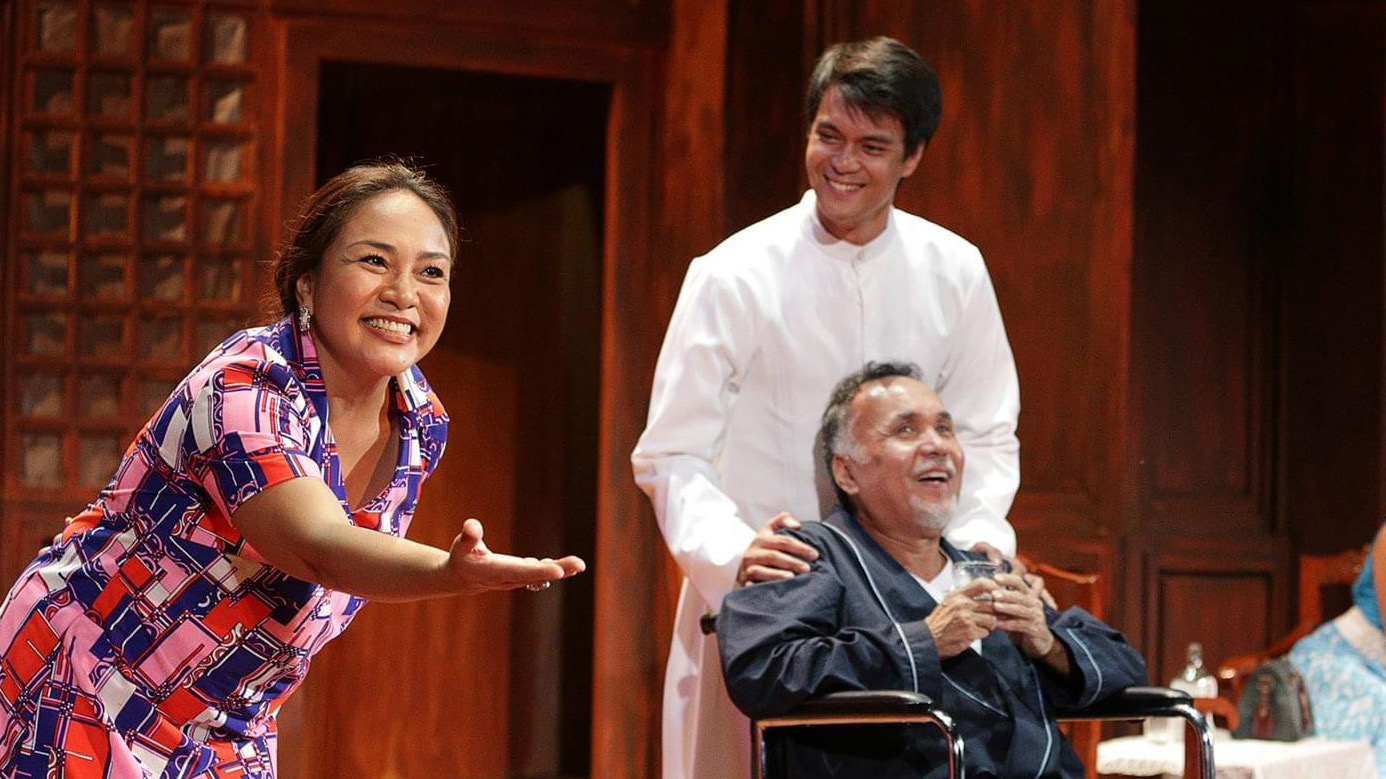 WATCH: UPPT's "Fathers and Sons" is Now Available for Streaming
UPPT's staging of Nick Joaquin's Fathers and Sons is now available for online streaming.
The play was most recently staged in 2017 at the Wilfrido Ma. Guerrero Theater of UP Diliman under the direction of DUP and UPPT's Founding Artistic Director, the late Tony Mabesa. Previous runs of the play included the 1977 production under PETA, and the 1995 and 2014 productions under Tanghalang Pilipino.
The UPPT production also featured a Filipino translation entitled Mga Ama, Mga Anak by National Artist for Literature Virgilio S. Almario and writer Jose F. Lacaba.
Set in the mid 70's, the three-act play revolves around a day in the life of Zacarias Monzon, a man once known as the Caritela King. During the last few days of his life, he attempts to regain his reputation while reminiscing his past wealth, power, and success. The play dares to reveal the cycle of atrocities that linger in a patriarchal household as it resonates themes of identity, resistance, and acceptance.
Fathers and Sons stars Menggie Cobarrubias, who alternated with Leo Rialp as Zacarias Monzon. The online initiative is the company's tribute to Cobarrubias, who has sadly passed away due to Covid-19.
Other members of the cast include Rody Vera (alternating with George de Jesus and Greg de Leon) as Celo, Zacarias' son, Stella Cañete-Mendoza (alternating with Banaue Miclat-Janssen) as Nena, the spinster daughter of Zacarias, Candy Pangilinan (alternating with Paula Benitez, Sarina Sasaki, and Chloe Tandez) as Bessie, a go-go dancer, Carlo Tarobal (alternating with Tracy Quila, and Mark Dalacat) as Chitong Celo's son, Issa Litton (alternating with Adriana Agcaoili) as Sofia, Celo's socialite wife, Belen Calingacion (alternating with Olive Nieto) as Mrs. Paulo, Caritela King fanatic, and Vincent Macapobre and Ian Ramirez as laborers.
Apart from Joaquin, Mabesa, and Almario and Lacaba, the Artistic Team also included Ohm David (set design), Eric Pineda (costume design), Meliton Roxas Jr. (lighting design), Jethro Joaquin (sound design), Erika Lava and Rico Buclatin (assistant direction), Charmaine Aranton and Nour Hooshmand (dramaturgy), and Fritz Esase (movement).
This is only the second out of a number of shows that Dulaang UP/UPPT will be putting up online during this quarantine period. The first show that the company streamed was its 2014 staging of Ang Nawalang Kapatid.
You can watch the full show on Dulaang UP's YouTube channel by clicking HERE.
Comments