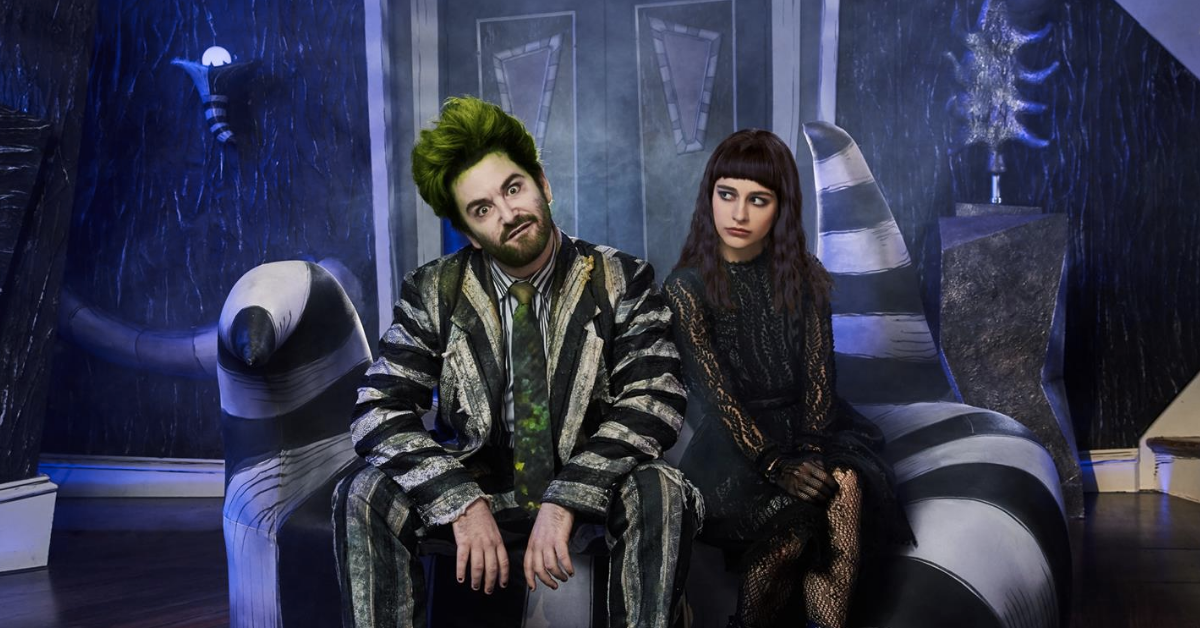 WATCH: 'Beetlejuice' Musical Opening Number is Online
"The Whole Being Dead Thing," the opening number of Beetlejuice, is now available online, with some new lyrics to celebrate the musical's return to Broadway.
Based on the 1988 film of the same name, Beetlejuice has music and lyrics by Eddie Perfect and a book by Scott Brown and Anthony King. The show is about a dead couple haunting the new tenants of their home who summon a bio-exorcist ghost named Betelgeuse (pronounced "Beetlejuice"). 
Beetlejuice is an ancient demon who is also invisible to all living beings unless a mortal utters his name three times. When the recently deceased Maitland couple seek his help to haunt Charles Deetz, the new inhabitant of their home, the demon sees this as an opportunity to break his curse. Charles's daughter, Lydia, still grieving for her dead mother, discovers Beetlejuice and the ghosts and conspires with them to haunt her own home. A series of supernatural adventures ensue that also teach the characters about the value of life (even in the afterlife.)
Beetlejuice premiered on Broadway in 2019 and was nominated for 8 Tony Awards including Best Musical. The original Broadway cast included Alex Brightman as Beetlejuice, Sophia Anne Caruso as Lydia Deetz, Rob McClure as Adam Maitland, Kerry Butler as Barbara Maitland, Adam Dannheisser as Charles Deetz, Leslie Rodriguez Kritzer as Delia Schlimmer, Kelvin Moon Loh as Otho, Danny Rutigliano as Maxie Dean, and Dana Steingold as Skye the Girl Scout.
After closing on March 11, 2020 due to the COVID-19 pandemic, the show re-opened at the Marquis Theatre on April 8, 2022 with Brightman returning in the title role and Butler, Dannheisser, Rodriguez Kritzer, Loh, Rutigliano and Steingold reprising their roles. New additions to the cast include Elizabeth Teeter as Lydia, David Josefsberg as Adam Maitland, Michelle Aravena as Miss Argentina and Zonya Love as Maxine Dean/Juno.
Watch the full clip below:
Comments