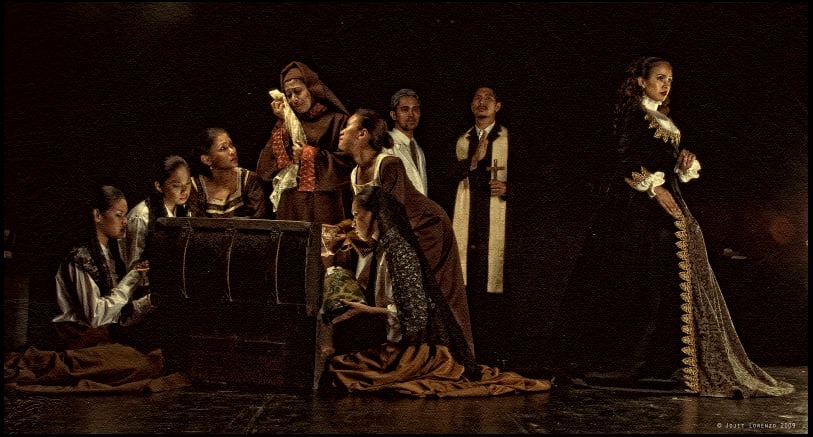 WATCH: Dulaang UP's "Maria Stuart" is Now Streaming Online!
Dulaang UP's 2009 production of Maria Stuart is now streaming online!
Directed by Tony Mabesa and translated into Filipino by Allan Pallileo, the production is inspired by the Donmar Warehouse Production of Friedrich Von Schiller's Mary Stuart, featuring Janet McTeer as Mary Stuart, Queen of Scotland, and Harriet Walter as Elizabeth, Queen of England. It ran for a limited engagement on Broadway in 2009 and was nominated for seven Tony Awards, including Best Actress in a Play for Mcteer.
A tragic story of seduction, greed, deception, power, love, and religion, Maria Stuart shows two iconic women whose struggle for power exemplifies one of the most moving and thrilling displays of passion and politics the world has ever seen.
The English cast features Shamaine Centenera-Buencamino as Elizabeth, Tess Dumpit (alternating with Ana Abad Santos) as Maria Stuart, Ron Capinding as Robert Dudley, Ku Aquino as Talbot, Richard Cunanan as Lord Burleigh, Arvin Trinidad as Sir William Davison, Fonz Deza as Sir Amias Paulet, JJ Ignacio (alternating with Zaf Masahud) as Sir Edward Mortimer, Gwyn Guanzon as Count Aubespine, Evert Gandarosa as Count Bellievre, Jio Javier as O'Kelly, Arnold Felipe (alternating with Jerson Guiwa) as Sir Drugeon Drury, Floy Quintos (alternating with Reuben Uy) as Melvil, Emman Feliciano as Burgoyne, Ces Quesada (alternating with Gay Ferrer) as Hannah Kennedy, Trency Caga-anan as Margareta, and Sig Pecho, Jacqui Amper, Martha Sta. Barbara & Jerson Guiwa as members of the ensemble.
Other members of the creative team include Theodore H. Lustig (English translation), Eric Pineda (costume designer), Clint Ramos (set designer), Raven Ong (costume stylist), Voltaire De Jesus (lights designer), Emman Feliciano (dramaturgy), Jethro Joaquin (sounds designer), Winter David Property (video designer), Ohm David (property designer), Carlo Cannu (associate direction), and Katte Sabate (associate direction).
Previous productions streamed by the company include Ang Nawalang Kapatid, Fathers & Sons, The Kundiman Party, Ang Bagong Cristo, Orosman at Zafira, and Atang. All are still available on the company's YouTube Channel while Orosman at Zafira can be watched HERE.
The broadcast of this production is for the benefit of "KALingain Ang Kapwa Fund", a fundraising campaign by the UP Diliman College of Arts and Letters and the CAL Student Council for the CAL workers (janitors, security guards, Faculty Center construction workers and photocopy operator).
You can donate by clicking HERE, or via BPI – 3189-2877-75 – Joshua Chan, BDO – 006520231060 – Ma. Amihan Ramolete, or GCash – 09176775141. E-mail deposit slips/screenshots of payment to cal_dean.updiliman@up.edu.ph.
Comments