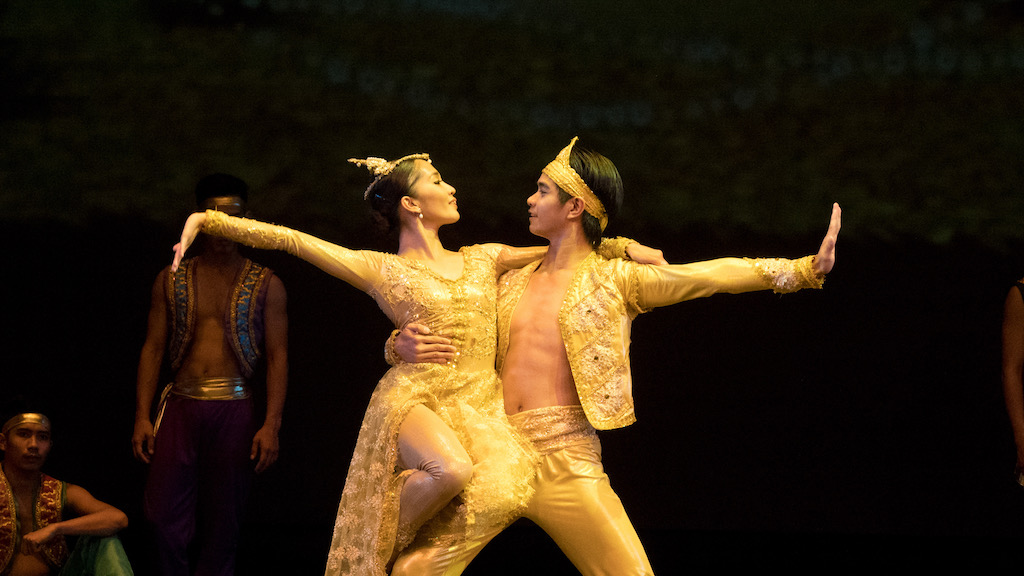 WATCH: Ballet "Mir-I-Nisa" is Streaming Online
The 2019 production of Philippine Ballet Theatre's Mir-I-Nisa is now streaming on YouTube!
Mir-I-Nisa is a tale of a Muslim princess ready for betrothal according to Muslim custom. Tasmi, noble and strong, and Achmed, just as virile but aggressive and boastful, are the two contenders. However, it is the Datu who chooses his future son-in-law. Whoever retrieves the pearl he throws into the sea wins his daughter.
The ballet was a commissioned work in 1969 for the Inauguration of the Cultural Center of the Philippines. The storyline was created by National Artist for Literature Jose Garcia Villa to the original music of Eliseo M. Pajaro. This 3-act ballet was originally performed in 1969 by Dance Theatre Philippines choreographed by Julie Borromeo and Felicitas "Tita" Radaic.
This production features Regina Magbitang in the titular role, with Matthew Davo as Tasmi and Julafer Fegarido as Achmed. They are joined by Joel Matias as Datu Uka, Irene Kim Abrogena, Veronica Atienza, and Clarise Miranda as the wives of the Datu, Gladys Baybayan, Marika Desembrana, Ma. Isabel Regina Gonzalez, Marianne Grace Francisco, and Tara Jade Leach as friends of Mir-I-Nisa, Kazier Policarpio, Alvin Santos, Mark Joseph Pineda, Crimson Guirjem as friends of Tasmi, Dominador Delmo, Jimmy Lumba, Carl Edison Lacaba, Alexis Piel as friends of Achmed, and Kezia Dianito, Kimberly Willanne Manguiat, Therese Riego, Ashley Naira Schwani, Therese Riego, Ashley Naira Schwani, Audrey Austria, Felicia Manuele Castro, Jiny Jane Ferrer as the court people.
The artistic team also includes the company's Artistic Director Ronilo Jaynario, Anatoly Panasyukov (Ballet Master), Roldan Lozano (lighting design), Miguel Faustmann (set design), and Andrie Rolsovtsev (video effects), with guest musicians Philippine Barangay Folk Dance Troupe Rondalla.
The ballet started streaming at 3pm today and will only be available for one week. Mir-I-Nisa is part of CCP Online's line-up, which brings HD and archival recordings in theater, dance, visual arts, film, literary, and workshop events from CCP's Cultural Content Digital Archives to audiences online.
You can watch the production below.
Comments