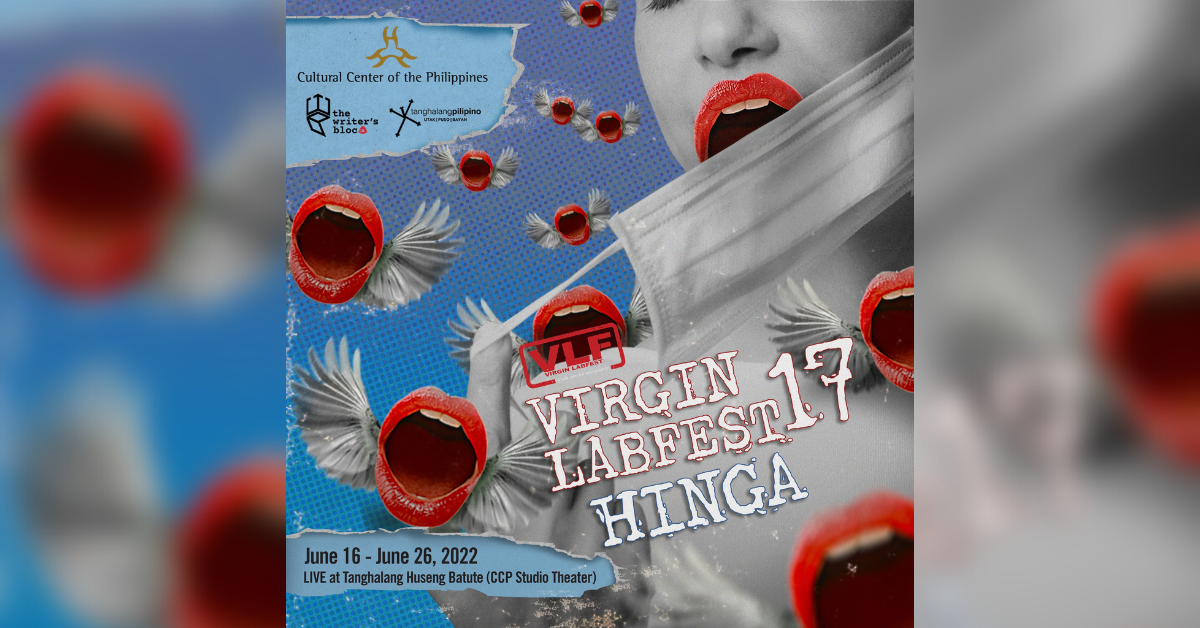 Virgin Labfest 17 Tickets are Now On Sale
Tickets for this year's Virgin Labfest, Hinga, are now available online.
Audiences can get their tickets on Ticket2Me.net at PHP 1,500 for the Festival Pass (for the Premiere or Finale Week) or PHP 500 each for regular tickets. Regular tickets are also available at the TicketWorld and the CCP Box Office.
As previously reported, Virgin Labfest is returning to the stage after two consecutive virtual runs.
The Virgin Labfest is an annual festival of untried, untested, and unstaged works. Since it was established in 2005, it has been known for supporting the development of plays and educating and mentoring young artists/playwrights.
Now on its 17th year, VLF 2022, with the theme Hinga, will be staged with a live audience at the CCP Tanghalang Huseng Batute, led by new Festival Directors Marco Viaña and Tess Jamias. VLF is co-presented by the Cultural Center of the Philippines, the Manila-based playwrights group Writer's Bloc, Inc., and CCP's resident theater company Tanghalang Pilipino.
The festival will run from June 16 to 26, 2pm and 7pm. The featured works and the schedule can be found below.
SET A: LIFE IS FULL OF SURPRISES
June 16 & 25 | 2:00 PM & 7:00 PM
"Walang Bago sa Dulang Ito" by Eljay Castro Deldoc (directed by Herbie Go and Tess Jamias)
"Mga Balo" by Maki dela Rosa (directed by Adrienne Vergara)
"Bituing Marikit" by Bibeth Orteza (directed by Carlos Siguion-Reyna)
SET B: LIFE IS STRANGE FICTION
June 17 & 26 | 2:00 PM & 7:00 PM
"Absurdo Events Day" by BJ Crisostomo (directed by Mara Agleham)
"Liberation" by Jerry O'Hara (directed by Dennis Marasigan)
"Nay May Dala Akong Pansit" by Juan Ekis (directed by Karl Alexis Jingco)
SET C: SCHOOL OF LIFE
June 18 & 23 | 2:00 PM & 7:00 PM
"Unica Hijas" by Mikaela Regis (directed by Pat Valera)
"Punks Not Dead" by Andrew Clete (directed by Roobak Valle)
"Student's Handbook" by Anthony Kim Vergara (directed by Erika Estacio)
SET D: LIFE CHOICES
June 19 & 24 | 2:00 PM & 7:00 PM
"Fermata" by Dustin Celestino (directed by Guelan Luarca)
"Huling Haraya Nina Ischia at Emeteria" by Ryan Machado (directed by Regina De Vera)
"Bienvenuta al lido De Venecia" by George Vail Kabristante (directed by Nanding Josef and Antonette Go)
Click HERE for tickets and more details.
Comments