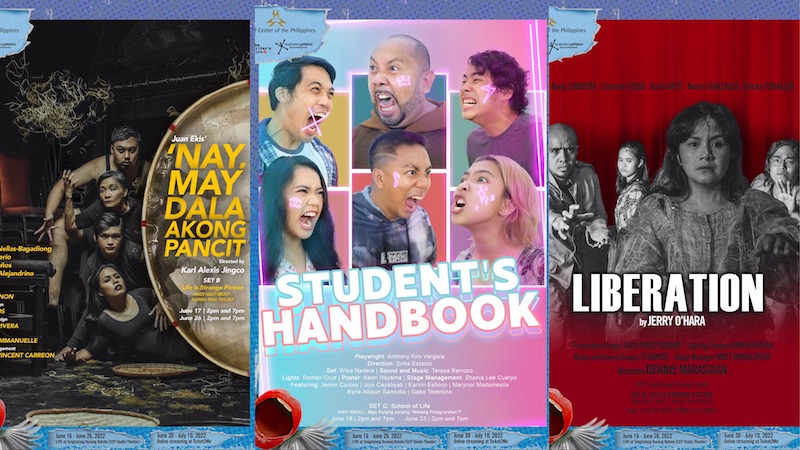 Virgin Labfest 17 Releases Online Streaming Schedule
After two years of online performances and the streaming of archived works, the Virgin Labfest (VLF) is officially opening at the CCP tomorrow and will run until June 26,  But since tickets to the live shows have already sold out (in record time at that), there is an option to stream all the one-act plays from June 30 to July 10 via Ticket2Me.
For its 17th edition, VLF follows the theme "Hinga" to "underline the need to breathe, to be present, and feel alive." Each set will have its online premiere from June 30 to July 4– Set A on June 30, Set B on July 1, Set C on July 2, and Set D on July 3. Then from July 4 to 10, audiences have the option to buy tickets to whichever set they want. Every set is available to view for 24 hours, costing P250 each.
Interested viewers also have an option to purchase the online festival pass, where they can watch all sets within 48 hours from July 4 to 9 for P750.
You can find the set listings below. For complete details, read our Virgin Labfest 17 Guide.
SET A
1. Walang Bago sa Dulang Ito by Eljay Deldoc, directed by J. William Herbert Sigmund Go and Tess Jamias
2. Mga Balo by Ma. Cecilia de la Rosa's, directed by Adrienne Vergara
3. Bituing Marikit by Bibeth Orteza, directed by Carlos Siguion-Reyna
SET B
1. Absurdo: Event Day by BJ Crisostomo, directed by Mara Agleham
2. Liberation by Jerry O'Hara, directed by Dennis Marasigan
3. 'Nay May Dala Akong Pancit by Juan Ekis, directed by Karl Alexis Jingco
SET C
1. Unica Hijas by Mikaela Regis, directed by Pat Valera
2. Punks Not Dead by Andrew Bonifacio Clete, directed by Roobak Valle
3. Student's Handbook by Anthony Kim Vergara, directed by Erika Estacio
SET D
1. Fermata by Dustin Celestino, directed by Guelan Luarca
2. Huling Haraya Nina Ischia at Emeteria by Ryan Machado, directed by Regina De Vera
3. Bienvenuta Al Lido Di Venezia by George Vail Kabristante, directed by Nanding Josef and Antonette Go
There will also be a new segment called Theater Talks that will be streamed via the CCP and the Virgin Labfest Facebook pages on June 20, 21, and 22 at 8pm. It is a curated forum series on theater and creative processes by theater practitioners.
Comments