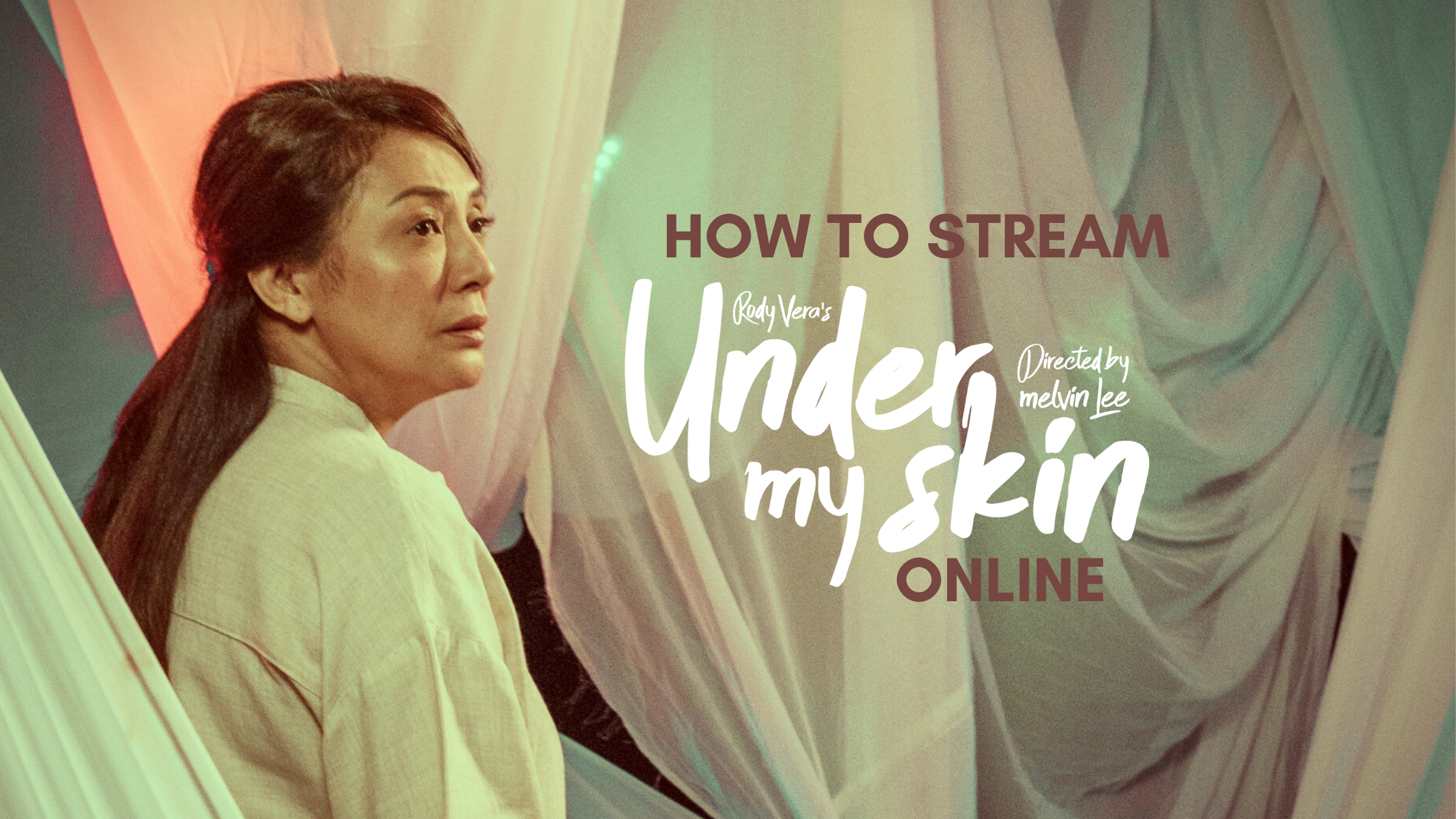 How to Stream 'Under My Skin' Online
Is the show streaming for free?
Nope! No free streams have been announced for Under My Skin.
How much is it then?
Php 250.00 for Video on Demand or Php 180.00 for livestream.
If you have a November 28 VOD ticket, for example, you can watch the show an unlimited amount of times for 24 hours starting 10:00 AM Philippines time that date. If you have a November 28 Livestream ticket, you can watch the show at 8:00 PM Philippines time on that date.
How do I buy a ticket?
The easiest way is right here through us! 
We're selling tickets for Sunday, November 28! You can message us on Facebook messenger (or even DM us via Twitter or Instagram), send us an email, or even shoot us a text (+63 917 891 2300).
Just tell us you'd like to buy Under My Skin tickets and we'll walk you through payment. Super quick and easy.
Alternatively, you can also buy thru Ticket2Me via this link.
Which mode of payment do you accept?
We accept GCash, BDO, or PayPal. 
If you prefer other banks or options, just let us know and we'll help you out. Once payment has gone through, we'll send you your eTicket within 24-48 hours.
What is 'Under My Skin'?
It's an important anthology play tackling the truth about HIV and AIDS in the Philippines. You can read up on it by browsing our past articles about the show.
Who is the cast for the show that will stream?
Cherry Pie Picache, Eko Baquial, Gio Gahol, Mike Liwag, Kitsi Pagaspas, Dylan Ray Talon, Dudz Teraña, She Maala, Bene Manaois, Erold Enriquez, Jarred Jaicten, Jason Barcial, Joseph Madriaga, Ekis Gimenez, Rachelle Gimpes, Reggie Ondevilla, Csai Habla, and Roy Dahildahil.
Who can watch this show?
Due to its sexual themes, the show is appropriate for audiences 16 and above.
I already saw this live, why should I watch it again?
It's an important show that tells the truth not just about the state of HIV and AIDS in the country, but also ways of preventing it and being proactive about it.
We think it's so important, that we've actually partnered with Ramon Magsaysay High School. Our buyers can instead donate their tickets so that young teens will get the all-too-important sexual health education they otherwise won't get.
To donate, just follow the same process as buying and let us know that you want to donate your ticket instead. 🙂
Which show from the run last year will be streamed exactly?
It's a special recording! The cast had a closed-door staging last January 2021 specifically for this stream!
I bought a Video On Demand ticket! When can I start watching?
You can start watching from 10 AM (PHT) Philippine Time of your ticket date until 10 AM (PHT) Philippine Time the next day.
That's November 28 10 AM PHT to November 29 10 AM PHT if you have a November 28 ticket.
I bought a Livestream ticket! When can I start watching?
It's one-time viewing, so you can watch at 8 PM PHT on November 28.
Is this accessible to people outside the Philippines?
Yes! It is available worldwide. Just convert your November 28 ticket date to your specific timezone.
Will it have subtitles?
Yep! The show will have English subtitles.
On which platform will it stream?
It will stream through Ticket2Me's secure video service platform. Once you've purchased a ticket from us, we'll send you the exact link and the exact steps to access the stream along with your eTicket.
Can I watch this on any device?
Totally! You can cast it to any device. Watch it on your phone, tablet, laptop, HDTV, projector–anywhere! Here's how to do it.
Why should I buy from you?
Since our date is on a Sunday, you'll have the entire day to watch the show no pressure and at your leisure. Plus you can watch and rewatch it and get your money's worth.
Also, if you also donate tickets, you'll be supporting SO MANY good causes because we're fundraising for both TFM and PETA, and our awesome buyers are sponsoring a senior high school so they can get sexual health education.
Are you a legit showbuyer?
You bet! Just head over to PETA's Facebook page and tell them TFM sent ya!
Are you selling tickets to other dates?
Unfortunately, no. For more information, you can visit PETA's Facebook page instead. 🙂
Comments