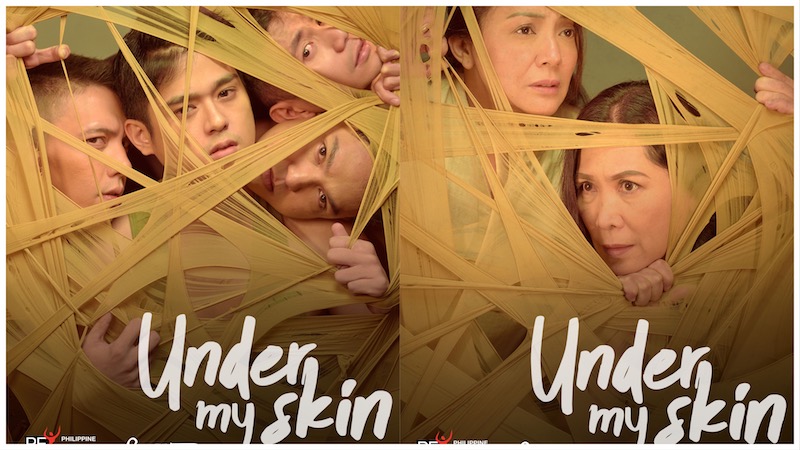 "Under My Skin" by PETA Takes on HIV and AIDS Awareness
PETA aims to use Under My Skin as a vehicle to tackle the issue of HIV and AIDS head on.
Gio Gahol, who will be alternating with Anthony Falcon for the role of Greg, says, "We are portraying real people, and that's an important thing that I think people who would want to come to PETA and watch a play should keep in their minds. Mahirap. Napakadelikado na mabigyan ng material na ang character na ipoportray mo ay totoong tao."
The show features the accounts of a DOTA player, a mother, and a flamboyant gay beauty parlor employee, among others, whose stories are woven together through epidemiologist Dr. Gemma Almonte. Almonte will be played by Cherry Pie Picache and Roselyn Perez, who are set to alternate for the role.
This is not Perez's first time to be featured in a play that deals with the epidemic. She also played Dr. Emma Brookner in The Necessary Theatre's staging of Larry Kramer's The Normal Heart in 2015, which also had a limited repeat run at the PETA Theater in 2016.
When asked if she was particularly passionate about the subject matter, "Yes, especially as we underwent The Normal Heart, with all the research and all the history that was behind it. I couldn't help but just feel passionately about it after," says Perez. "Of course, also because I have friends who had HIV, so I saw what they went through. It's a passion of mine; an advocacy." 
According to country director of UNAIDS Louie Ocampo, the Philippines currently has the fastest growing HIV epidemic in the world, with an average of 35 newly diagnosed people per day as of June this year; more than half are from 25-34 years old, while 28% are from 15-24. The numbers are staggering, considering that we only had an average of 1 new case per day in 2008.
Executive Director Beng Cabangon shares that this is not the first time that the company is engaging with the issue. In the early 2000's, PETA tackled it through their Mekong partnership program. The objective then was to mobilize the performing arts community of the greater Mekong sub-region– Thailand, Cambodia, Laos, Vietnam, Myanmar, and Yunnan China, to advocate for gender, sexuality, HIV, and, AIDS through their arts.
Fast-forward to 2019, the company has partnered with HIV advocacy organizations The Red Whistle and LoveYourself to launch a new campaign entitled Acting on HIV, an integrated set of activities, including workshops, exhibits, an online EduSeries, free HIV screening tests, and post-show talkbacks with HIV experts designed to promote treatment and awareness on HIV, debunk myths and misconceptions about the disease, and eradicate stigma around people living with HIV. 
Director Melvin Lee says they intend to use the play and its post-show talkbacks as a platform "…to discuss not just HIV and AIDS, but also sexuality, sex, na minsan iyung mga institutions natin ay pilit na isinasantabi."
"Itong platform na ito sana would provide that opportunity to have a dialogue and conversation with our audience, kahit bata pa iyan or mga nakakatanda na." Lee adds.
Gahol also adds, "Sana [audiences] come to the PETA Theater Center ready to ask questions because we're more than willing to answer their questions. We want to talk about HIV, and how do we talk about it? We ask questions."
To reach out to more youth sectors, PETA also plans to approach local government units as well as private and public schools.
Under My Skin is written by Rody Vera. Joining Picache, Perez, Gahol, and Falcon in the cast are Eko Baquial (Syd), Miguel Almendras and Mike Liwag (Jonathan), Dudz Teraña (May-ari ng Parlor/ Comedy Bar Singer), Gold Villar-Lim and She Maala (Mary Rose), Mico Esquivel and Bene Manaois (Louie), Lotlot Bustamante and Kitsi Pagaspas (Aling Loida), Dylan Talon and Ekis Gimenez (Dino), Erold Enriquez (Borta 1), Jarred Jaicten (Borta 2), Joseph Madriaga and Jason Barcial (Borta 3), and Rachelle Gimpes, Reggie Ondevilla, Roy Dahildahil, Csai Habla, and Ekis Gimenez (ensemble).
The artistic team also includes Eric Dela Cruz (dramaturgy), Benjamin Padero and Carlo Tabije (production design), Ian Torqueza (lights design), Migs Cortes (music and sound design/arrangement), Steve Tansiongco (video design), and Nicole Primero and Bubbles Deriada (choreography).
The show will run from February 7-March 22, 2020 (Fridays 8pm, Saturdays and Sundays 3pm and 8pm) at the PETA Theater Center.
Comments