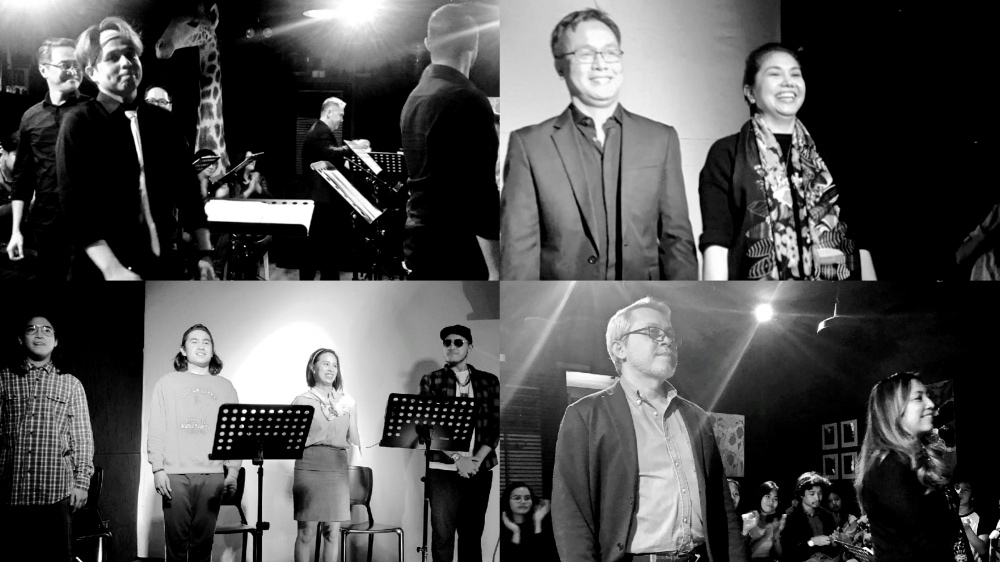 REVIEW: "When Music Plays" brings stories to their bare essentials
It may only be this little 'festival's second year running in January, but it's becoming theater season's opening act with seasoned performers flexing their acting muscles, and theater-goers getting stirring selections that might otherwise never get staged.
This season, CAST focuses on stories that show the inextricable role music plays in human connection:
Peter Shaffer's "Amadeus"
(January 12, 2020)
Reviewed by Camille Rae Lim
The first play was Peter Shaffer's Amadeus, which tackled the tortuous rivalry between Antonio Salieri and Wolfgang Amadeus Mozart and the struggle to achieve genius in spite of mediocrity.
With the cast members dressed in all black and positioned in the center of the room, and Salieri and Mozart facing each other on opposite ends, this production (directed by Nelsito Gomez) succeeded in immersing the audience into the meat of the story, an aged composer's determination to destroy an eccentric ingenue. Each scene sizzled within the confined space, also enhanced by playing clips of Mozart's music at pivotal moments.
Amadeus is only as strong as its main pair, and both Jaime Del Mundo as Salieri and Reb Atadero as Mozart did not disappoint. Del Mundo drove the piece, toeing the line between anti-hero and villain, while Atadero's Mozart reveled in his self-importance, his ridiculous, hysterical laughter masking true genius. Ironically, only his greatest rival, Salieri, recognized his gifts while 18th century society only saw him as a talented troublemaker. 
The rest of the cast executed their roles creditably, though one can single out Jill Peña as Constanze Weber, who made the most of being the only female character with a speaking role. So intense were some of her scenes with Atadero that she dropped her script pages on the floor, but she carried on.
While the cast performed in perfect British accents, their delivery of certain lines in Italian and French were not always up to par. But this is a minor complaint in an otherwise compelling stage reading of a particularly ambitious play.
Stephen Temperley's "Souvenir"
(January 19, 2020)
Reviewed by Nikki Francisco
Much like listening to an acoustic cover of a pop song, these stripped down presentations of plays by CAST is a performer's exercise. Cathy Azanza-Dy, playing the eccentric socialite Florence Foster Jenkins, brought the house down in this staged reading of Temperley's "Souvenir". Azanza-Dy as Jenkins was ironically pitch-perfect in presenting the innocence and delightfulness of this tone-deaf lady with a lovable lack of self-awareness.
Counterpoint to her was Rony Fortich as Cosme McMoon. It's his acting debut and looked like it, but that isn't to say that director Wanggo Gallaga didn't stumble upon something almost magical in this team-up. Fortich was very everyman, a mannered narrator to move the plot to get us from one indelible Florence Foster Jenkins moment to the next. There's a sincerity in his protectiveness, annoyance, and bemusement of his Madame Flo that was was very much the essence of this character.
This felt like a return to form for CAST, who at the end of last year's season was pretty much staging a halfway-done production with costumes and blocking. It's a staged reading elevated with sound design instead of more complicated bells and whistles. But if the goal is to produce staged readings and leave it at that, it feels like a missed opportunity, because like this staging of "Souvenir", and past readings produced by CAST, they feel like teasers until someone hopefully stages a full production.
Idris Goodwin's "How We Got On"
(January 26, 2020)
Reviewed by Camille Rae Lim
The third play (directed by Reb Atadero) was Idris Goodwin's "How We Got On", a coming-of-age story of three African-American teenagers dreaming about fame and fortune in the burgeoning Hip-Hop scene of 1988.
Selector (played by Mako Alonso) stood apart from the three principal cast, playing multiple roles from narrator, parents, and other characters. Alonso infused his role with an infectious energy and impressively switched between different accents as he spun the three tales.
The play began with the rivalry between two aspiring rappers, idealistic Hank (played by Iggi Siasoco) and brash Julian (played by Jon Abella). After being bested by Julian, Hank realized that they could join forces to realize their dream of spreading rap to the world, with Hank's talent for writing and Julian's for performing. Abella had the more convincing African-American accent but that worked because Siasoco was supposed to be awkward and clumsy. 
Kiara Dario played Luann, a girl from a wealthy family who nevertheless dreamed of performing her rhymes, a formidable combination of Hank and Julian. While only appearing in a few scenes, Dario always stole the show, and she ended up being a mentor to the two young men. It was also very refreshing that there was no romance subplot.
Each character contended with their own insecurities, familial dysfunction, and a society that was not yet ready to embrace the power of rap. The performance concluded with an interactive rap performance by the whole cast, effectively engaging the audience in their journey of self-discovery.
Tom Kempinski's "Duet for One"
(February 2, 2020)
Reviewed By Camille Rae Lim
This season's final play (directed by Andrei Pamintuan) was Tom Kempinski's "Duet for One," a two-hander about a world-renowned violist stricken with multiple sclerosis (played by Caisa Borromeo) and her cautious therapist (played by Michael Williams.)
Borromeo shined as Stephanie Abrahams, a woman determined to make the best of her circumstances but still in denial about what her illness has truly cost her. Borromeo's was a consummate performer, from the tremors in her hands, her devastating falls, and the sharp changes in her mood – running the gamut of emotions from optimism, irritability, hostility, and despair, when she finally acknowledged how music was her whole world.
Williams' Dr. Feldman expertly played the foil to his tempestuous patient, his role far more than a passive listener. His subtle nods and intense stares prompted breakthroughs in Abrams and in the second act, the doctor gives a powerful speech exhorting her to abandon her suicidal plans and find new meaning in her life. His barely contained anger at her surrendering to her demons shifted their dynamic and helped establish mutual trust essential to her progress.
The intimate production placed the audience in the middle of the action replacing the walls of the room with rows of people, with some audience members mere feet away from either Williams or Borromeo, as if they were intruders in these private sessions. The confined space effectively drew everyone into the powerful journey of someone who struggled to discover new purpose when the only thing that had given her life meaning – music – had been cruelly stripped away from her.
Tickets: 

Php 200.00


Show Dates: 

Jan 12 '20, Jan 19 '20, Jan 26 '20, Feb 2 '20


Venue: 

Pineapple Lab, 6053 R. Palma, Makati City


Credits: 

Peter Shaffer (playwright - Amadeus), Stephen Temperley (playwright - Souvenir), Idris Goodwin (playwright - How We Got On), Tom Kempinski (playwright - Duet for One), Nelsito Gomez (director - Amadeus), Wanggo Gallaga (director - Souvenir), Reb Atadero (director - How We Got On), Andrei Pamintuan (director - Duet for One)


Cast: 

For Amadeus--

Reb Atadero, Jill Peña, Dean Daniel Rosen, Mako Alonso, Steven Conde, Raymund Concepcion, Jaime Del Mundo; For Souvenir--Rony Fortich, Cathy Azanza-Dy; For How We Got On--Kiara Dario, Iggi Siasoco, Jon Abella, Mako Alonso; For Duet for One--Michael Williams, Caisa Borromeo


Company: 

Company of Actors in Streamlined Theater





Photo of 

Amadeus

 courtesy of Vlad Bunoan.
Comments