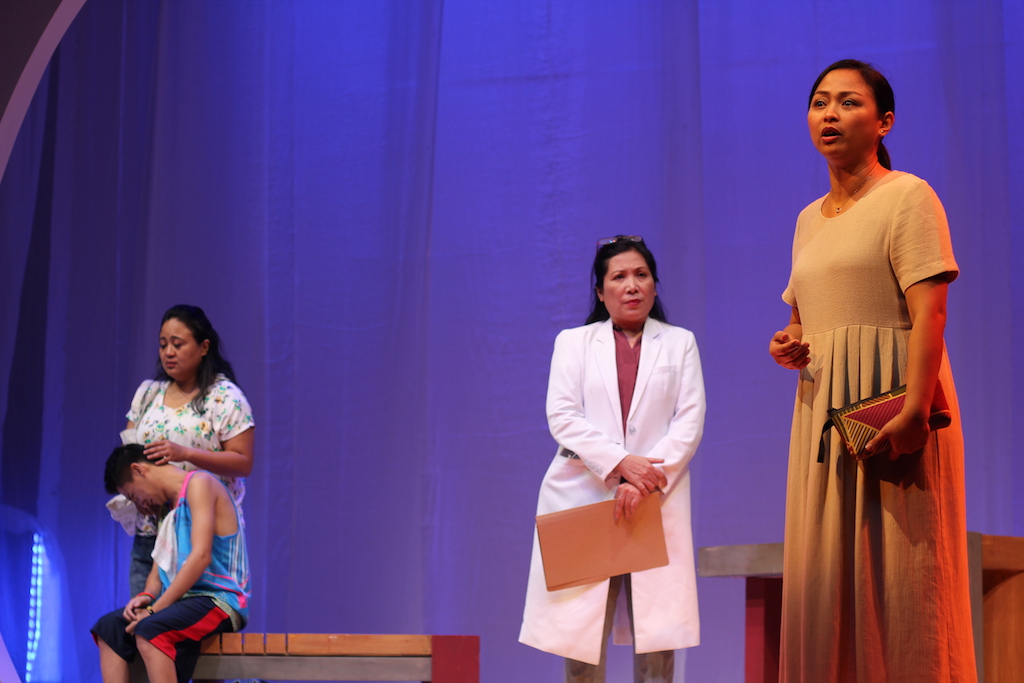 REVIEW: "Under My Skin" is the sex education we deserve
This Rody Vera-penned show presents a clear and unambiguous reality of HIV in the Philippines.
Towards the end of this Rody Vera-penned, Melvin Lee-directed play, a character echoes–as though reminder and plea–that HIV is an illness, not a punishment ("Sakit ito, hindi parusa") which succinctly gets to the heart of "Under My Skin". As medicine continues to make strides, the real 'enemy' is now stigma.
Narrated by a doctor, this PETA play reveals the different faces of people who acquire it and how it's acquired. It opens with an indignant sex worker, it continues further on with men who have sex with other men–'MSM' they call it–but there's also a man who got it from sharing needles, and children who acquired it from birth. It also explores how HIV ripples into social circles, as with a friend group (led by a notable Eko Baquial as a well-meaning ex boyfriend) grappling with the illness of one of their own.
The play shows us much of what we already know about HIV: you can only know for sure if you get tested, wearing condoms prevent infection, it is no longer a death sentence, and so on. What it does uniquely is firstly, situate it in the Philippines, and secondly, not resorting to exaggerated theatrics. At some points, when Dr. Almonte (played by Roselyn Perez, who was rather too matter-of-fact) starts to come at you with fast facts and the stage alight with numbers and statistics, it feels more like a medical conference or lecture than a play. But this quality of it is what makes it a must-see. It is educational, a public service to viewers; a mix of human interest and hard, cold truths.
This is not the play where you cry at the loss of life, or get angry at governments who turn a blind eye. This is a play that informs, that demystifies, that contextualizes HIV back to Filipinos, and gives you peeks into lives and people who exist with this illness.
It takes you through the entire process of it: from transmission, to prevention, testing, treatment, keeping yourself and others safe. It even mentions government policies in place that help people get tested and treated in case they don't have the financial capacity to do so. It covers a lot of ground for a show that runs an hour and a half. And even that running time is exemplary: it doesn't dilly-dally much, but somehow manages to evoke emotion and even humor.
It's not short on theatrics. The set is circular and usually bathed in red (lighting design by Ian Torqueza), esconcing the story under the skin and within the very heart of a blood cell (production design by Benjamin Padero and Carlo Tabije). Steven Tansiongco's video projections are particularly outstanding, from anonymous documentary-type interviews of HIV positive people, to dramatic animations of the inner workings of the human body.
In lieu of a sex scene, Lee had two actors suspended and moving in silks (choreography by Nicole Primero and Bubbles Deriada). At some point, the ensemble engulf themselves in flesh-colored cloth when they find out their diagnosis. An exceptional Dudz Teraña monologues as a 'parlorista' and has the crowd guffawing with laughter.
There are spots of wrought drama here and there, and the overlapping stories step on each other's toes at times. Ultimately, it delivers very clearly and with absolutely no room for ambiguity: HIV in the Philippines is a public health issue. It will get worse before it gets better. But information, education, could literally save lives.
Vera's verbiage is particularly remarkable in this. It uses colloquialisms without ever tipping over to vulgarity. At one point, the doctor gives a frank explanation of transmission by using words like 'top' and 'bottom'. She explains this theory of "condom lag", three characters are literally called 'Borta 1', 'Borta 2', and 'Borta 3'. It's speaking the language of the young without talking down to them, unflinchingly talking about sex precisely to inform and educate. If only our schools were as bold, maybe sexually-transmitted infections won't even exist.
"Under My Skin" is one show where you see how theater can fill an educational void, where both young and old audiences will walk away learning; whether it be nitty-gritty facts, or just some human empathy for fellow Filipinos.

Tickets: 

Php 800.00 - Php 1,800.00


Show Dates: 

Feb 7 '20, Feb 8 '20, Feb 9 '20, Feb 14 '20, Feb 15 '20, Feb 16 '20, Feb 21 '20, Feb 22 '20, Feb 23 '20, Feb 28 '20, Feb 29 '20, Mar 1 '20, Mar 6 '20, Mar 7 '20, Mar 8 '20, Mar 13 '20, Mar 14 '20, Mar 15 '20, Mar 20 '20, Mar 21 '20, Mar 22 '20


Venue: 

PETA Theater Center, Sunnyside Dr., New Manila, Quezon City


Running Time: 

approx 1 hour and 30 minutes (no intermission)


Credits: 

Rody Vera (playwright), Melvin Lee (director), Eric Dela Cruz (dramaturg), Benjamin Padero (production design), Carlo Tabije (production design), Ian Torqueza (lighting design), Migs Cortes (sound design), Steven Tansiongco (video design), Nicole Primero (choreography), Bubbles Deriada (choreography)

 
Cast: 

Cherry Pie Picache, Roselyn Perez, Gio Gahol, Anthony Falcon, Eko Baquial, Miguel Almendras, Mike Liwag, Dudz Teraña, Gold Villar-Lim, She Maala, Mico Esquivel, Bene Manaois, Lotlot Bustamante, Kitsi Pagaspas, Dylan Talon, Ekis Gimenez, Erold Enriquez, Jarred Jaicten, Joseph Madriaga, Jason Barcial, Rachelle Gimpes, Reggie Ondevilla, Roy Dahildahil, Csai Habla, Ekis Gimenez


Company: 

Philippine Educational Theater Association
Comments