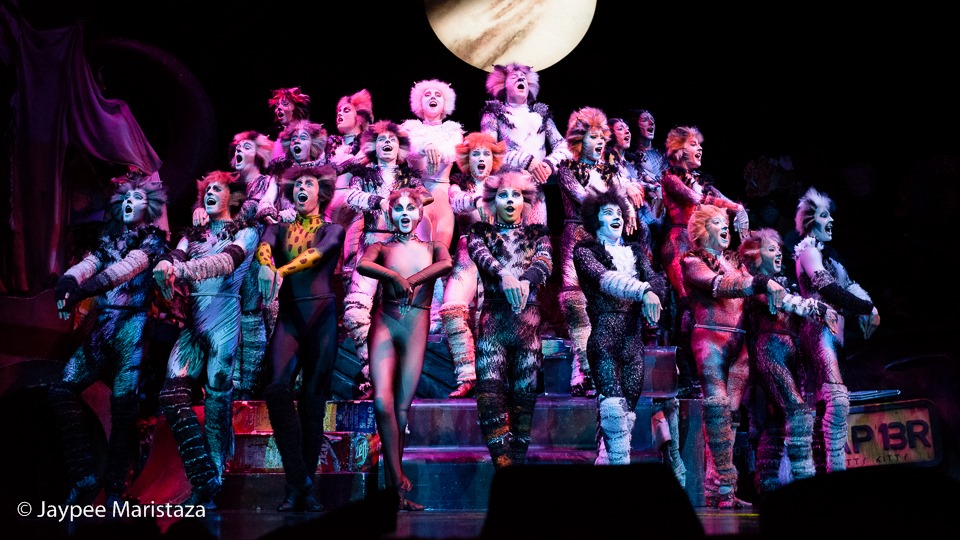 REVIEW: "Cats" is a fun frolick on stage
No surprises here.
Andrew Lloyd Webber's oft-memed musical is on stage again in the city after nearly a decade since its first go-around. The big buzz then had been Lea Salonga playing Grizabella. This time, it's Joanna Ampil who takes on the memorable (heh) glamour cat that's fated to ascend to the Heaviside Layer.
In case you're not privy to the plot, (there is one–don't believe the memes!) it's a portentous night at a junkyard where 'Jellicle cats' come together in a Jellicle Ball where each cat is given their moment before head honcho Old Deuteronomy picks who gets to go to the great litter box in the sky. It's based on T.S. Eliot's collection of poems, Old Possum's Book of Practical Cats, about feline behavior, apparently. An anthropomorphic reimagination of when you see a clump of cats sit around together like they're having a meeting. 
I don't need to explain it to you, it's Cats!
It is predominantly a dance musical (choreography by Gillian Lynne) whose main draw is the ability of sinewy theater actors to move cat-like, in clinging costumes of leotard and fur, moving about a supersized world to make them look like small, lithe felines in contrast. The set (John Napier) this time looks a little more landfill than junkyard, laden with dirty indistinguishable rubbish that didn't quite convey scope which would have helped pull audiences completely into this world of fabulous cats with personalities far more glittering than humans.
The musical is sung-through, but each song is as different as the cats that sing them, from "Mungojerrie and Rumpelteaser's" tag-team acrobatics to this clowder of cats conjuring a train in "Skimbleshanks". Varied as though the staging of each song may be, the musical does wear thin by the second act, with yet another cat being introduced three quarters into the show. 
It's mostly a romp, and even a smattering of audience interaction as though we, too, are jellicle cats, or perhaps other sorts of cats invited to the proceedings. It's part of its allure, I think, this gentle and benign breaking of the fourth wall like a cat who rubs up on you before going on its merry way.
The infrequent in and out of Grizabella the fallen Glamour Cat does harsh the vibe a bit. This isn't an indictment of Ampil's performance, on the contrary when she sings the impassioned "Touch me!" in Memory's reprise, the visceral pain of being shunned and cast away as an aging cat was actually pretty astonishing. It's just a little too real when the narrative climax involves a gigantic rubber tire floating to the sky. 
Whether this staging is as bang-for-your-buck as other imports, the easy answer is yes. It's an utter spectacle. The key to enjoying it, I've found, is to allow your mind to be at play. A rare night at the theater is supposed to be a treat, and what's more scrumptious than a show that practically implores you to sit back, relax, and watch a bunch of cats?
Tickets: 

Php 1,567.50 - Php 7,315.00


Show Dates: 

Nov 13 '19, Nov 14 '19, Nov 15 '19, Nov 16 '19, Nov 17 '19, Nov 19 '19, Nov 20 '19, Nov 21 '19, Nov 22 '19, Nov 23 '19, Nov 24 '19, Nov 26 '19, Nov 27 '19, Nov 28 '19, Nov 29 '19, Nov 30 '19, Dec 1' 19


Venue: 

The Theatre at Solaire, Entertainment City, 1 Aseana Ave, Parañaque


Running Time: 

approx 2 hours and 30 mins (w/ 15-minute intermission)


Credits: 

Andrew Lloyd Webber (composer and orchestrator), T.S. Eliot (author), Trevor Nunn (director), Gillian Lynne (choreographer), John Napier (designer), David Hersey (lighting designer)


Cast: 

Lloyd Davies, Mukeni Nel, Sally Frith, Andrew Keelan, Cian Hughes, Danielle Cato, Rhys Batten, Erica-Jayne Alden, Joanna Ampil, Elizabeth Futter, Holly Willock, Amy Whittle, Thomas Inge, Joe Henry Luke Fraser Yates, Nicholas Pound, Harry Francis, George Hinson, Kirsty Ingram, Gavin Eden, Gabrielle Cocca, Ellie Young, Barry Haywood, Liam Buckland, Abigail Dever, Lee Nicholson, Brian O'Muiri, Elly Shaw, Alexandra Wright


Company

 GMG Theatrical Productions
Comments