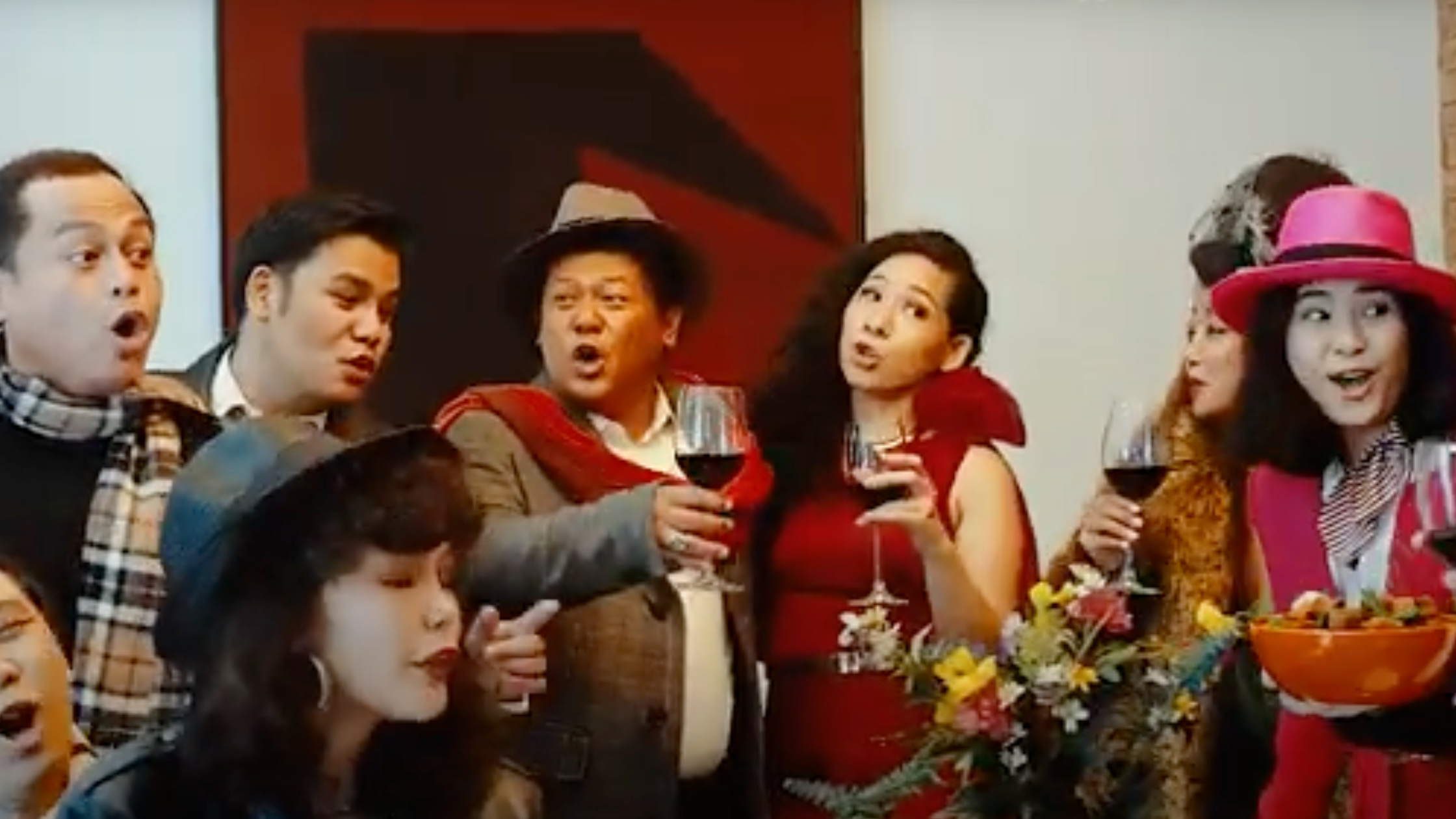 REVIEW: 'Bayan Bayanan: Letters from Home' views grim realities with rose-colored glasses
Bayan Bayanan: Letters from Home tells the ever-relevant story of Filipinos working abroad to build better lives for their families at home. The musical is based on the play, Bayan Bayanan, by Palanca Awardee Bienvenido "Boy" Noriega Jr. It is partly based on Noriega's own experiences working as a government economist n Geneva, Switzerland.
The musical was directed by Dr. Anton Juan and produced by the Erehwon Center for the Arts with the support of the Embassy of France, as part of the series of events celebrating the 75th year of Franco-Filipino diplomatic relations. The piece has been updated to include new insights from the Overseas Filipino Worker (OFW) experience as the original play was staged before Filipinos working abroad were referred to as OFWs.
New songs were composed for the show by Juan himself along with Cleofe Guangko-Casambre, Russ Narcies Cabico, Andrew Bran Sapigao, Jonathan Cruz, and Jerry Dadap. The pieces are sometimes haunting melodies, and sometimes lively, intricately choreographed numbers, showing different aspects of the characters' journeys.
The stage design by Ohm David (with lighting by Meliton Roxas) made the most of the space, framing the action within the folds of an international mail envelope. There was a window framed like a stamp from which the change of seasons would be shown, or an occasional flashback to a character's childhood would appear.
Despite strong performances from the cast, a simple but symbolic set design, and lovely melodies, Bayan Bayanan fails to present a coherent and compelling tale of the Filipino diaspora.
The portrayal of different kinds of Filipinos abroad is initially refreshing, giving the audience a glimpse into a more diverse range of experiences as opposed to the usual portrayal of the diaspora as a mass of miserable, mistreated, underpaid, and overworked domestic workers or caregivers, all struggling to make ends meet while dealing with discrimination and fear of capture.
The play introduces us to a colorful cast of characters, including middle-class employees of the Philippine Embassy, government workers, writers, models, and others showing varied facets of the European expat life. These Filipinos, all based in Geneva, are relatively comfortable, with stable jobs and an income sufficient not just for their families' needs back home but even for them to enjoy their time in Europe by traveling to other cities in the continent or even beyond. 
It's a treat to show that Filipinos are not always poor, that they can afford certain luxuries of life and their hard work can sometimes pay off. But it's in this level of privilege that the play's greatest flaws are exposed. 
When characters are in relative material comfort, their struggles are bound to be more profound and intangible such as the psychological burdens of being isolated from everything familiar and perhaps the cultural discrimination they face on a daily basis. These could be compelling enough conflicts to drive a story but unfortunately, Bayan Bayanan does not convey the weight of these issues effectively. 
By the end, the theme seems to be the prevailing love of the Philippines despite the temptations of Europe and other parts of the world. But though the songs try to drive home this point, the show as a whole fails to get us there.
The narrative as a whole is incoherent, with no common thread other than the setting–Manang's house–where different characters with very different backgrounds and experiences gather. It plays like a series of vignettes, entertaining glimpses into the lives of Filipinos in Geneva, but not enough time is spent with each character to show who the audience should be focused on or invested in.
Manang (Banaue Miclat-Janssen) is no more than everybody's cook and confidante. We don't get to learn much about her husband, Manong (Timothy Carlo Racho). Their son Ricky (Ken Tamayo), has a fairly interesting subplot about wanting to return to the land of his birth but his exaggerated French accent overpowered his performance.
Pol (Macky Macaroyo) seems cast as the token TNT doomed to either die or be deported, but his fate is arguably not as tragic as other Filipino OFW stories since his state of poverty seems to have stemmed from his own irresponsible squandering of his savings, instead of extenuating circumstances.
Nurse Tessie (Ava Olivia Santos) is the one who the audience spends the most time with but whose tragedy is predicted from the first moment. But she at least feels like a real person and could have just been the star of the show yet she was often sidelined by other characters' insignificant issues.
There was also Dino, (Carlo Mañalac) the ingénue. By his introduction, he seems like the audience surrogate but he did little to expound on the story. Despite his naivete and his timid nature, especially when contrasted against the livelier main characters, he ends up in a love triangle with a French-Filipina (Uno Zigelbaum) and a glamorous model (Jacinta Remulla).
He takes a side trip to Paris and he is utterly enchanted by the city, waxing poetically about it even when he returns to his friends in Geneva. This part is likely a tribute to the 75th anniversary of Franco-Philippine relations and charming as it was, it cannot distract from the fact that most of the story takes place in Switzerland. One cannot substitute one francophone country for another.
The character who is most vocal about his homesickness is Ginoong Luz (Greg de Leon) who constantly moans about how much he misses his family and how eager he is to return home. Given that his assignment to Geneva is only for a few months, his extreme reaction to being away from home is in stark contrast to that of characters like Manang or Tessie or Pol who have been in Europe for years and have learned to adapt to their surroundings, even when sometimes reminiscing about life in the Philippines. His is also a white-collar, government job as opposed to the manual labor of a cook or nurse, but he is the one who complains the most.
Another particularly distracting element was the misuse of accents. While there is merit to including a bit of a foreign accent to distinguish characters or as a narrative device, when the accents distract too much from the performance, it defeats the purpose. 
Other than the aforementioned faux-French accent of Ricky, there was also the half-American character, Anna Marie (Anya Evangelista). Her liveliness in contrast to the more serious characters was supposed to bring comic relief but unfortunately, this writer could barely understand her lines. It's baffling that someone so American would have such an extensive Filipino vocabulary and yet pronounces everything incorrectly.
Bayan Bayanan did have some wonderful moments. Among the highlights was Uno Zigelbaum's mesmerizing rendition of La Vie En Rose which was doubly impressive not just because of the impeccable French pronunciation, but also because she masterfully adopted the style of Edith Piaf. The accompaniment on the accordion (Pol Policarpio) added to the ambiance.
"Restawran ni Manang" was also a delicious delight, demonstrating the quintessential communal eating experience of Filipinos, and how breaking bread together can easily bond people from all walks of life, especially when they are struggling with life in a foreign land. "Kanta ng Manlalakbay" was tragic and profound, reflecting the complex experience of all voyagers.
Aling Pia (Abi Sulit) is the only domestic worker and a standout with her opening song ("Bayong ni Kabayan!") about Filipino eccentricities that transcend borders (pointing with our lips, for one). Pragmatic and full of joie de vivre, she would have been an interesting character to spend more time with. 
Another set of performances that were truly enjoyable was that of Mr. and Mrs. Del Castillo (Carlo Falcis and Roxy Aldiosa), two characters the audience is meant to love to hate. Their tango number as they bragged about their many travels was well-choreographed, snappily sung, and just hilarious. For all their obnoxiousness, they also seem the most realistic. We all have relatives and acquaintances who crow about their travels around the world. They stole every scene they were in.
While OFW stories of abject horror and physical toil can be depressing, such struggles can be portrayed on stage with greater ease because the hardships are obvious and immediate. A case can be made for the psychological burden of homesickness and isolation and severe loneliness, of course, but Bayan Bayanan does not effectively convey this as an insurmountable issue as the characters in the end simply resign themselves to their fates with little fanfare.
At the end of the play, the characters sing of the Philippines as some incomparable paradise, a home they cannot wait to return to someday, even after experiencing the wonders of the world. They sing of hope from hardship in the Philippines, and how they can rise up from their trials.
"Kay ganda ng bayan natin, anak
Anu man kanyang itsura
Parang ina o kapatid nakagisnan mo na.
Kay ganda ng bundok at ng oyayi sa umaga
Sasagot ang ibon, nagpasusong ina."
But there is a disconnect with how the characters of the show view life in the Philippines as idyllic when this was the life they chose to leave to seek greener pastures. Several characters acknowledge that life was harder back home and that they do not want to return, but they are the ones who are villainized by the narrative while those who want to return are framed as nobler. 
The Filipino diaspora experience is ripe for multiple interpretations and Filipinos in Europe is a compelling enough premise on its own. Every Filipino abroad will have a different story to tell and all voices are worth hearing. Some OFWs want to come home and some want to stay abroad; both choices are valid. In a play that shows a variety of perspectives, a balance can be struck to do justice to these different preferences.
Instead, the bitter cold and the profound loneliness make the main characters of Bayan Bayanan forget the systemic problems that forced them to leave the country in the first place. By the end of the play, one cannot help but feel it is they who are imagining their grand homecoming as "la vie en rose," and that the rose-colored glasses of nostalgia blinds them from seeing their beloved homeland for the painfully imperfect place that it is. 
Tickets: 

Php 500.00 - Php 2,500.00 



Show Dates:

 July 29 -7:00 PM, 30-7:00 PM, & 31-3:00 PM.



Venue:

 Tanghalang Nicanor Abelardo, Cultural Center of the Philippines, Roxas Blvd, Pasay



Running Time: 

 Approx. 2 hours and 10 minutes (includes a 15 minute intermission)



Credits: 

 Dr. Anton Juan (Director), Cleofe Guangko-Casambre, Russ Narcies Cabico, Andrew Bryan Sapigao, Jerry Dadap (Composers), Jonathan Cruz (Musical Arranger),Ohm David (Stage Designer), Meliton Roxas, J. (Lighting Designer), Jack Alvero (Sound Designer), Dexjordi Lyle Sison (Production Manager), Jose Mari Belandres (Stage Manager), and Stephen Viñas (Choreographer).



Cast:

 Ava Olivia Santos, Banaue Miclat-Janssen, Carlo Mañalac, Macky Macaroyo, Carlo Falcis, Roxy Aldiosa, Anya Evangelista, Greg de Leon, Jacinta Remulla, Ken Tamayo, Abi Sulit, Timothy Carlo Racho, Jane Florence Wee, Karina Macaspac, Adrian Matthew de Ubago, Matteo Teehankee, Uno Zigelbaum, Pol Policarpio



Company: 

Cultural Center of the Philippines and Erehwon Center for the Arts
Comments