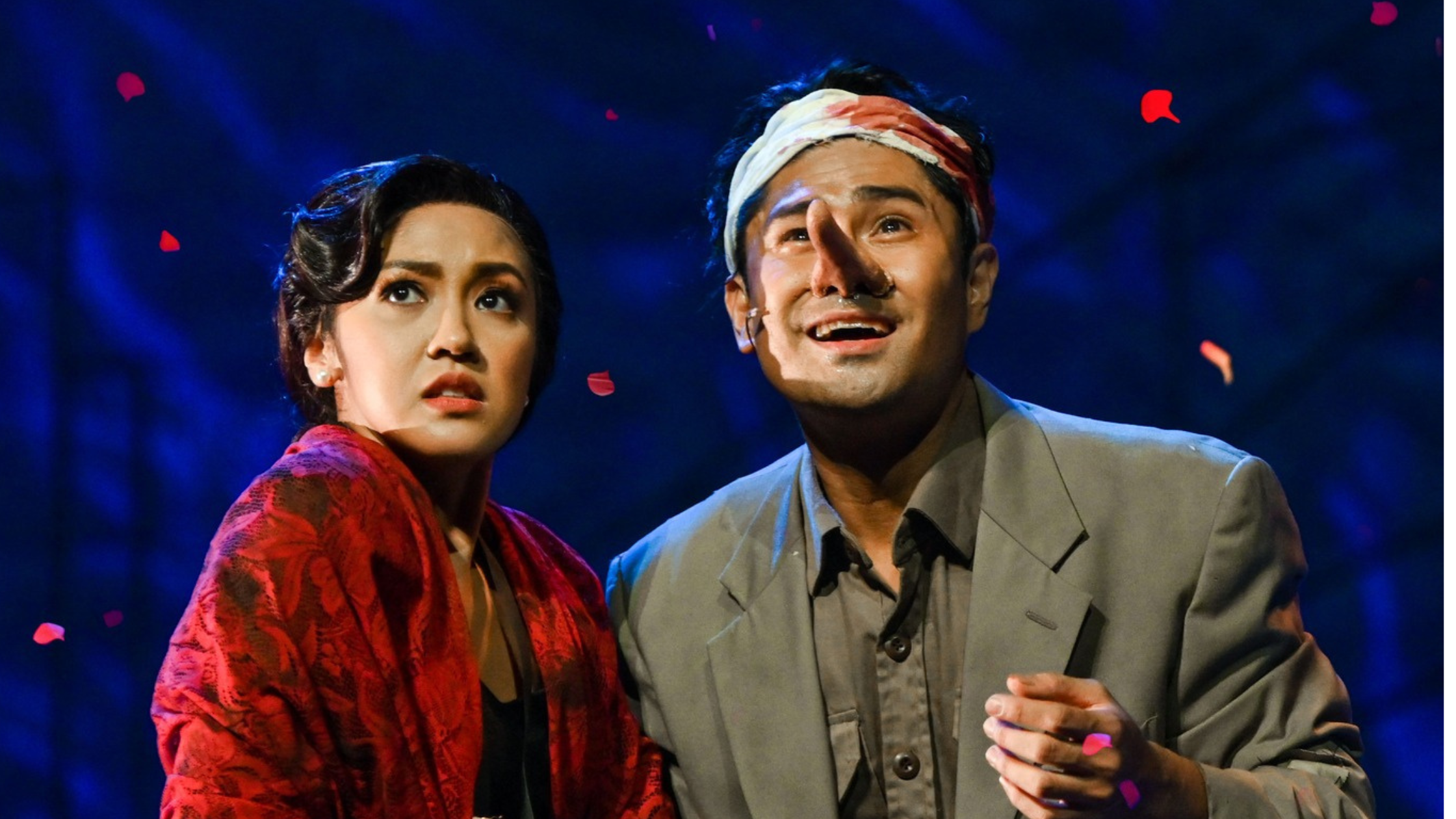 REVIEW: A Refined 'Mula Sa Buwan' Shines Anew
Now housed in the new Samsung Performing Arts Theater, Pat Valera and William Elvin Manzano show that with every return of his people-pleasing hit, they get closer to a true theatrical masterpiece. Indeed, this current incarnation is more polished than its ever been (the show had major runs in 2016 and 2018)–a true period musical and modern sarswela that any theater fan in town would be foolish to miss.
Adapted from the Cyrano de Bergerac story by French dramatist Edmond Rostand, this Mula Sa Buwan is less about the bolstering young soldier with the comically big nose, and more about a band of young pre-war misfits whose discoveries of self are curtailed and interrupted by the war. 
The crowd-pleasing romantic dramedy between Cyrano (Myke Salomon), Roxane (Gab Pangilinan), and Christian (Markki Stroem) is still central, but it's certainly not the only story Valera and Manzano are telling ths time around. A highlight of the current production is the crisp inclusion of, well, inclusion.
Rosanna (played by luminous scene stealer Phi Palmos) runs a cabaret and sings about how everyone is welcome. This time, we are invited to a safe space that's altogether daring and delightful as we remember this was the musical's version of early 40s Philippines. Here, we are properly introduced to the ensemble–not just a repertory to prop up the central three, but young individuals who, much like Cyrano, Roxane, and Christian, have their own quirks, and personalities, and individualities that make them almost tragically ahead of their time.
This clarity reverberates through the rest of the first act, where its last and eponymous number, makes better sense of the musical's title: sila'y mula sa buwan. From the moon. Of the moon. Not of the world and circumstances that box them in, that force them into war or marriages, or even heteronormative roles and physicalities.
The moon motif acts as a through-line when the musical pivots into its heavier, war-torn second act as these same young people wish they could return to the moon-as-metaphor for when and where they had been free and had belonged.
And because we now have a better sense of who these characters are and the times they're living in, and their collective motivations, the show's production design elements fall into better line, especially Ohm David's set design. The papier-mache arts-and-crafts aesthetic is as though crafted by the young ensemble who entertained and expressed themselves through self-made plays and poetry.
And what of the Cyrano story's in/famous love triangle? For the uninitiated, Cyrano and Christian are in love with Roxane. Cyrano is smart but not pretty. Christian is pretty, but not smart. Together they just about form one man worthy of Roxane's affections. They cook up a scheme where Cyrano puts words in Christian's mouth. On paper, it ain't great. But on stage, with the ticking time bomb of arranged marriages and war, it's clearly a comedy of circumstance, not purposeful deception for two men to achieve their own ends.
The three leads in this production are on equal footing, with the musical showing all sides of the triangle–and by 'sides of triangle' I mean the relationship between the three–as equally integral to the plot. There's Cyrano and Roxane's friendship, Christian and Roxane's mutual romance, and in some ways most crucially, Christian and Cyrano's friendship. 
Salomon, who had big noes–er, shoes–to fill, stepped up to the challenge and made it his own. He's playful and exuberant, less intense on the pining and plays exceptionally well against Markki Stroem's Christian, turning up the bromance. While more than able to deliver during the show's narrative lows, the romantic comedy is his clear forte. With him donning the iconic nose, this production doesn't feel too much like its The Cyrano Show, and is all the better for it.
Pangilinan, reprising her role as Roxane, is an apt leading lady but it's her voice that turns up her already megawatt charisma. One can easily get lost or carried by the the story she's able to tell as she sings a song. 
Aside from Palmos, it's Stroem's performance that's a particular highlight, playing Christian so endearingly to the point of innocence. Often seen in shows in English, it's a treat to see him in a Filipino show and knock it out of the park. Of course Roxane falls for this Christian, of course Cyrano becomes his friend and protector. His performance also heightens the impact of one of act 2's numerous emotional moments.
If the show has any weaknesses, it would be the show's moment of truth near denoument, the dialogue unfolding as though fulfilling a foregone prophecy; the big reveal of the long-held conceit not for Roxane's benefit, but for Cyrano's closure. 
Mula Sa Buwan is at its best when it leans into what makes it singular from adaptations and retellings of an old classic: its inclusivity, its lyrical dialogue, and greatest of all, its music.
Tickets: 

Php 927.00 - Php 3,450.50



Show Dates: 

August 26 to September 11, 2022



Venue:

 Samsung Performing Arts Theater



Running Time:

  approx. 3 hours (with a 15 minute intermission)



Credits:

 Soc Rodrigo (Filipino translation), Pat Valera (book and adaptation, direction, and original lyrics), William Elvin Manzano (original lyrics and original music), Myke Salomon (musical direction), Ohm David (set design), Meliton Roxas (lighting design), JM Cabling (choreography), Bonsai Cielo (costume design), Mikko Angeles (assistant direction).



Cast:

 Myke Salomon, Gab Pangilinan, Markki Stroem, Phi Palmos, MC Dela Cruz, Jon Abella, Jillian Ita-as, Abe Autea, Jep Go, Rapah Manalo, Stephen Viñas, and Ericka Peralejo, and Miah Canton, Francis Gatmaytan, Mitzie Lao, Deborah Lemuel, Mark Anthony Grantos, Eizel Marcelo, Kinnara Mayari, Ace Polias, Liway Perez, Lance Reblando, Mikaela Regis, Chesko Rodriguez, Keith Sumbi, Shaira Opsimar, and Khalil Tambio



Company:

 Barefoot Theatre Collaborative
Comments