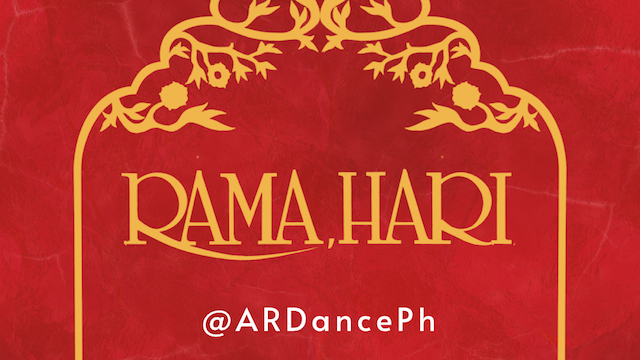 'Rama, Hari' Set for Restaging this September
Filipino modern rock opera ballet, Rama, Hari, is set to be restaged by Alice Reyes Dance Philippines this September 15-16 at the Metropolitan Theater and September 22-23 at the Samsung Performing Arts Theater.
The production is a collaboration among five National Artists – Alice Reyes for direction and choreography, Ryan Cayabyab for music, Salvador Bernal for production design, Bienvenido Lumbera for the libretto, and English translations by Rolando Tinio. An adaptation of the Sanskrit epic poem Ramayana, Rama, Hari features singers in the Filipino music industry and incorporates traditional theater, song, and dance devices found and shared among Asian nations.
The show was last staged in 2012 by Ballet Philippines starring Christian Bautista and OJ Mariano alternating as Rama, and Karylle and Kalila Aguilos alternating as Sita. Ballet dancers Jean Marc Cordero and Richardson Yadao alternated for the part of Rama, while Carissa Adea and Katherine Trofeo alternated for the part of Sita.
The company is now calling for open auditions for its upcoming production. The casting call is open to singers aged 18 years old and above. All must be able to sing and dance well and be proficient in the Filipino language.
Auditionees must fill out the online audition form here and submit the following:
CV

Headshot and Full Body Photos

 

Video Performing an OPM song showcasing one's vocal range.

Upload Unlisted Audition Video on YouTube

Intro Format: Name, Role, Song

Video Title Format: [Role] – [Last Name, First Name] – [Song]

Video Clips showcasing the auditionee's dance skills.

Upload Unlisted Audition Video on YouTube

Video Title Format: [Last Name, First Name] – Dance Video – Rama, Hari Audition
Online Auditions begin May 12, 2023. Auditionees will be emailed callback results by May 28, 2023. Auditionees must be available for ALL rehearsals and performances.
The deadline for online video submissions is May 21, 2023. For inquiries, e-mail ardancephilippinesinc@gmail.com.
ROLE BREAKDOWN
RAMA
Baritone/Tenor

Can Dance and Move Well

The Prince and son of King Dasaratha
SITA
Mezzo-Soprano with a Belt

Can Dance and Move Well

Princess of Mithila. Rama's beloved wife
RAVANA
Tenor

Capable of singing Pop/Rock/Theatre Genres

Can Dance and Move Well

Main Antagonist, the most powerful of Demons
KING DASARATHA
Baritone

Excellent in Drama

Rama's Father and King of Kosala
SOORPANAKHA/KOONI
Dual Role

Soprano with a Belt

Can Dance and Move Well

Excellent in Drama and Physical Comedy

Soorpanakha is Ravana's demon Sister

Kooni is a devious witch and adviser to queen Kaikeyi
KAIKEYI/GINTONG USA
Dual Role

Soprano with a Belt

Excellent in Drama

Kaikeyi – The Third Wife of King Dasaratha
LAKSHMANA/HANUMAN
Dual Role

Baritone/Tenor

Can Dance and Move Well

Able to sing and dance with High-Energy Choreography

Lakshmana – Rama's Younger Brother

General of the Monkey Army of Kiskinda
Comments