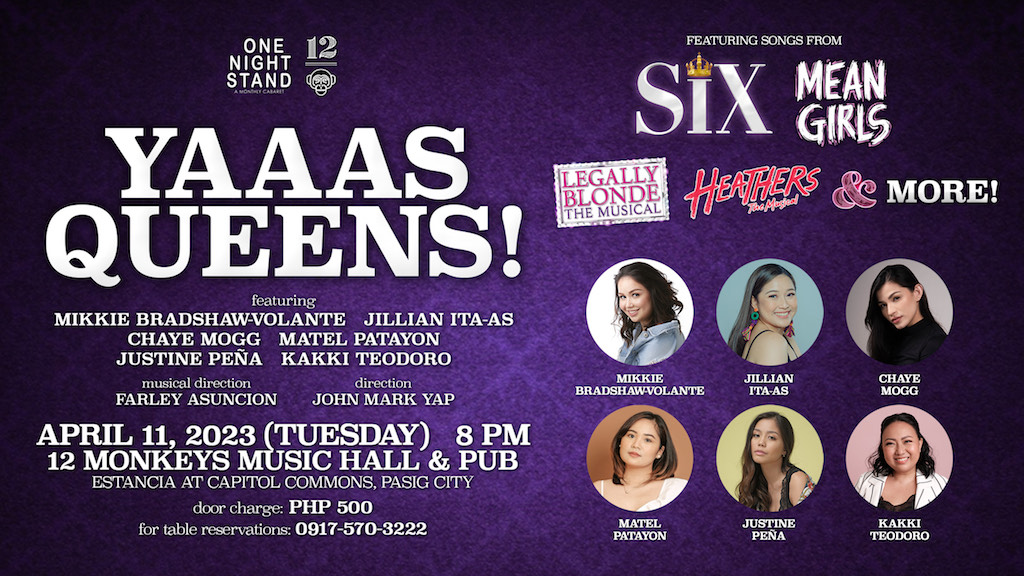 One Night Stand Cabaret Returns this April 2023
One Night Stand (ONS) is finally set to return with its monthly cabarets starting this April.
The first show of the year is entitled YAAAS QUEENS!. It will feature songs from musicals about empowered women such as Six, Mean Girls, Legally Blonde, Heathers, and more! 
YAAAS QUEENS! will be staged on April 11, 2023 (Tuesday), 8 PM, at the new location of 12 Monkeys Music Hall & Pub in Estancia at Capitol Commons, Ortigas, Pasig City. 
Performers for the evening include Jillian Ita-as, Mikkie Bradshaw-Volante, Chaye Mogg, Matel Patayon, Justine Peña, and Kakki Teodoro. 
It will be directed by John Mark Yap, with musical direction by Farley Asuncion. 
Door charge is Php500. For table reservations, contact 0917-570-3222 or message One Night Stand on Facebook or Instagram. 
One Night Stand: A Monthly Cabaret was established in April 2015. Its current producers are Micaela Pineda, John Mark Yap, and Pat Valera. 
No repeats. No reruns. Just a One Night Stand. You can check out past ONS shows on the company's YouTube Channel. 
Comments