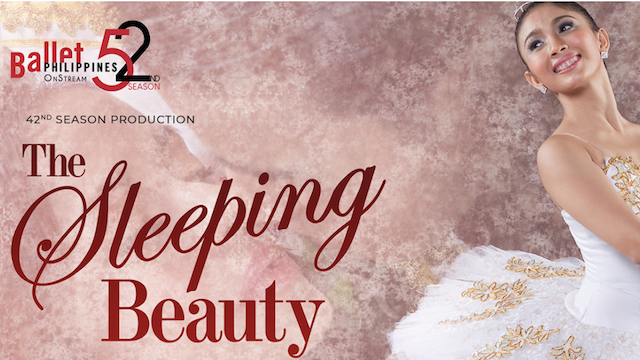 Now Streaming: 'Sleeping Beauty' by Ballet Philippines
Ballet Philippines is currently streaming their 42nd season production of Sleeping Beauty, which ran from December 2 to 11, 2011 at the CCP Main Theater.
The ballet is based on the fairy tales by Charles Perrault, using the music of Pyotr Ilyich Tchaikovsky and choreography of Marius Petipa. It was restaged by Victor Ursabia, with set and costume design by Ricardo G. Cruz, and lighting design by Joaquin Jose Aranda.
The streaming cast features Candice Adea (Princess Aurora), Nobuo Fujino (Prince Desire), Romeo Roxas (King), Gina Katigbak-Garcia (Queen), Olga Bankova (Caraboose), Ramon Victoria (Catalabutte), Bianca Perez (The Fairy of the Crystal Fountain), Margarita Escueta (The Fairy of the Enchanted Garden), Marinelle Datu (The Fairy of the Woodland Glade), Gillianne Gequinto (The Fairy of Songbirds), Janine Arisola (The Fairy of the Golden Vine), and Rita Winder (The Lilac Fairy), with Timothy Cabrera, Luis Cabrera, Eugene Obile, Gary Corpuz as the Princes, Renzen Arboleda, Michael Cadano, Niccolo Laforteza, Lope Tobias Lim, Raye Vince Pelegrin, Hanz Roa, Marcus Santos, Kevin Francisco, Renz Gagui, Elwince Magbitang, Joervy Sanchez, Earl Sicam, Carlo Valenzuela as the Giftbearers, Cyril Fallar, Emmanuelle Guillermo, Ghian Arboleda, Ricmar Policarpio, Timothy Gaspay, Mines Solomon, Ian Nick Tiba, and Willie Jacob as the Rats.
You can watch the full production below.
Comments