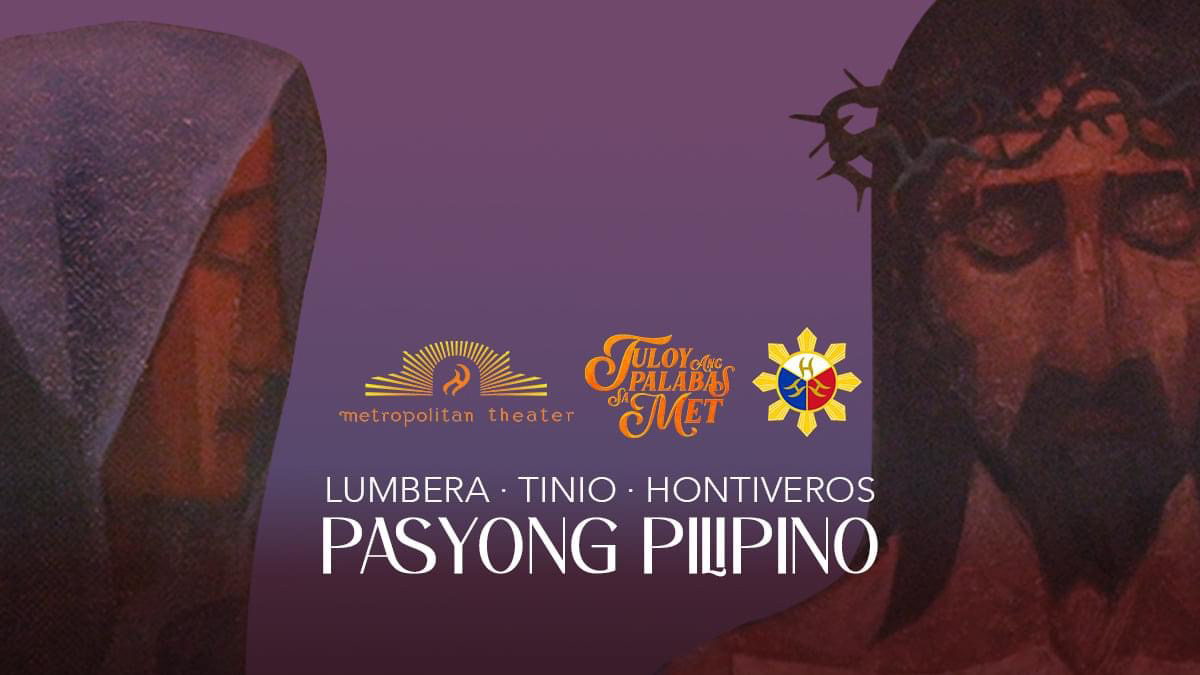 Now Streaming: 'Pasyong Pilipino' Musical Concert by The Met
The Tuloy Ang Palabas sa Met series continues with the streaming of Pasyong Pilipino musical concert, based on the original text Pasyong Mahal by Gaspar Aquino de Belen.
It is written by National Artist Bienvenido Lumbera, with script-teleplay by National Artist Rolando Tinio, music and arrangement by Fr. Eduardo Hontiveros, and additional music by Fr. Benildus Ma. Maramba.
Centering on the Passion of Christ, the cast features Arman Ferrer as Hesus, Natasha Cabrera as Maria, Al Gatmaitan as Pilato, John Bartolome as Pedro, Alfredo Sidayon as Herodes, Jerylle Bantuan as Hudas Iscariote, Giselle Esidera as Matrona, Ma. Rhina Paula Palma-Cruz as Procli, and Joshua Santiago as Anas, accompanied by the Pansol Choir and the Joseph Ratzinger Chorus.
They are joined by Erneo Reas, Rolan Flores, Froland Tajale, Peter John De Leon, John Michael Pangatihon, Marbie Hernandez, Almicko Reyes, Genesis Fabia, Alvin Bandin, Raf Bercasio, John Richard Quiambao, Sherwyn Ryan Aban, and Vladimir Tuazon.
The show is directed by Dennis Marasigan. Also in the Artistic Team are Lino Matalang Jr. (Assistant Director), Katsch Catoy (Lighting Director), Christopher John Andaluz (Director for TV Broadcast), Ferdinand Bautista (Musical Director for Orchestra), Mark Anthony Carpio (Musical Director for Choir), Louie Angelo Oca (Musical Arranger), Rundolph Bayaua (Assistant Musical Arranger), Peter John de Leon (Coordinator for Music), Froland Tajale (Talent Coordinator), Jennifer Esclamado and Josiah Duke Dondoyano (Video Designers), Charlotte Despuez (Technical Director), Ryan Sanqui (Sound Engineer), and Norman Peñaflorida (Hair and Make-Up Artist and Costume Designer). Nick Lizaso serves as Artistic Producer, with Aaron James Veloso as Executive Producer.
You can watch the full production below.
Comments