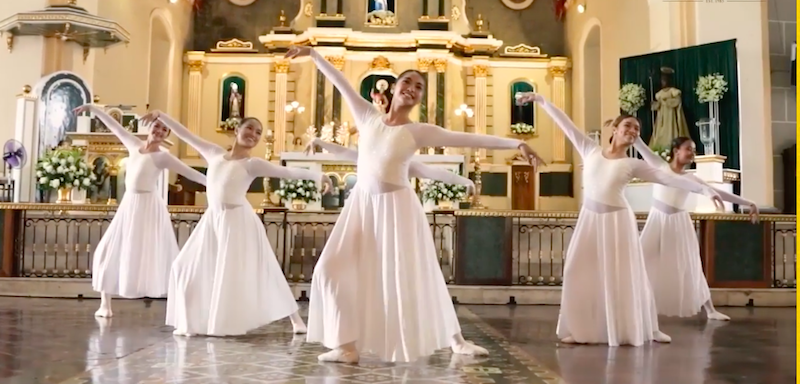 Now Streaming: NCCA's Sayaw Pinoy Goes Virtual 2022
The National Commission for Culture and the Arts (NCCA) is celebrating National Arts Month virtually with the theme Sining ng Pag-asa.
Sayaw Pinoy, the longest-running flagship project for National Arts Month of the National Committee on Dance, goes online with the theme Sayaw Pinoy Goes Virtual: Dance of Hope. The online production consists of 5 episodes, which will be released every Saturday, from February 5 to March 5, 6pm at NCCA's Facebook page.
According to Festival Director and NCCA Chairman for National Committee on Dance Shirley Halili-Cruz, the 5 episodes will feature classical ballet, folk dance, hip-hop, jazz, and contemporary dance from dance groups all across the country. She says, "The dance groups have carefully selected their venues to enrich the performances, recognizing new perspectives on how dance can continue to navigate in these challenging times. Here we are now as we bring dancers who perform on mountain tops, in the sea, in caves, in the garden, in heritage spaces, and even in the cemeteries."
At this time of the pandemic, Sayaw Pinoy hopes to provide continuity for dance creation while providing some kind of assistance to the different dance groups, encouraging hope.
The first episode, which premiered last night, featured 10 groups across the Luzon, Visayas, and Mindanao—Ground Zero from Koronadal City, South Cotabato; Halili-Cruz Dance Company from Quezon City, Metro Manila; Kagayon Dance Troupe from Bacolod City, Negros Occidental; Koronadal Hinugyaw Cultural Dance Troupe from Koronadal City, South Cotabato; Melengas Dance Ensemble from Pagadian City, Zamboanga Del Sur; PNU Kislap Sining Dance Troupe from Manila City, Metro Manila; RCES Sidlak Dance Troupe from Butuan City, Agusan Del Norte; Sindaw Philippines Performing Arts Guild from Pasig City, Metro Manila; VMA Poseidon Dance Theater from Bacolod City, Negros Occidental, with a special appearance by Filipino boy band SB19.
You can watch the entire first episode below.
Comments