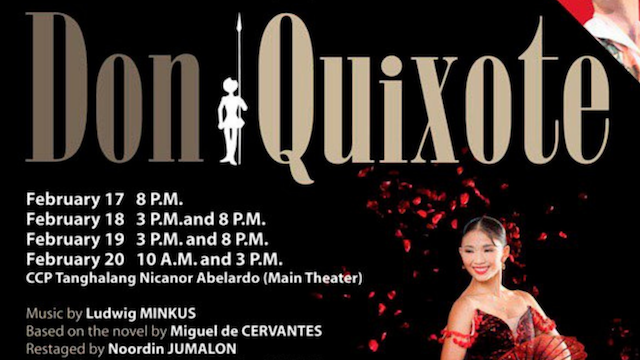 Now Streaming: Ballet Philippines' 'Don Quixote'
The 2011 Ballet Philippines production of Don Quixote is now streaming online.
A Spanish-themed production, Don Quixote, brings to life Miguel de Cervantes' literary classic of the same title. Set in Barcelona, the ballet follows Don Quixote, a kooky but aging knight whose North Star is chivalry.
The hero meets Kitri, an innkeeper's daughter who he mistakes for his love interest, Dulcinea. The apple of his eye, meanwhile, falls in love with the town's humble, local barber, Basilio. Kitri's father disapproves, and insists that his daughter marry the wealthiest man in their village.
Confusion ensues when the knight unwittingly helps the two lovers find their happy ending.
The company includes Candice Adea, Carissa Adea, Katherine Sanchez-Trofeo, Jean Marc Cordero, Cyril Fallar, Brizel Maribbay, Richardson Yadao, Rita Winder, Bianca Perez, Madge Reyes, Emmanuelle Guillermo, Marvin Ryan Arizo, Earl John Arisola, Philip Rocamora, Guillianne Gequinto, Timothy Cabrera, Kaizer Policarpio, Karmela Gaile Cortez, Janine Myrtel Arisola, Victor Maguad, Lester Reguindin, Marinelle Datu, Edana Mae Labitoria, Cassey Janelle Pereña, Macel Dofitas, Denise Parungao, Michel Kevin Abuel, Ryan Casey Salas, Sarah Atayde, Gabrielle Vizmonte, Averyl Eurie Villamayor, Anna Camille Fabella, Sayoko Kato, Eugene Obille, Adrienne Montelibano, Rubylee Gomez, Misaki Kato, Martin Zalavarria, Michael Abuel, Ryan Salas, Bonifacio Guerrero Jr., Anna Ignacio, Beatriz Diche, Daphne Tamondong, Zandra Barangan, Charinel Aruta, Willie Jacob, and John Reyniel Alejandro.
The production was filmed from the CCP Main Theater last February 18, 2011.  You can watch the full production below or through Ballet Philippines' website.
Comments