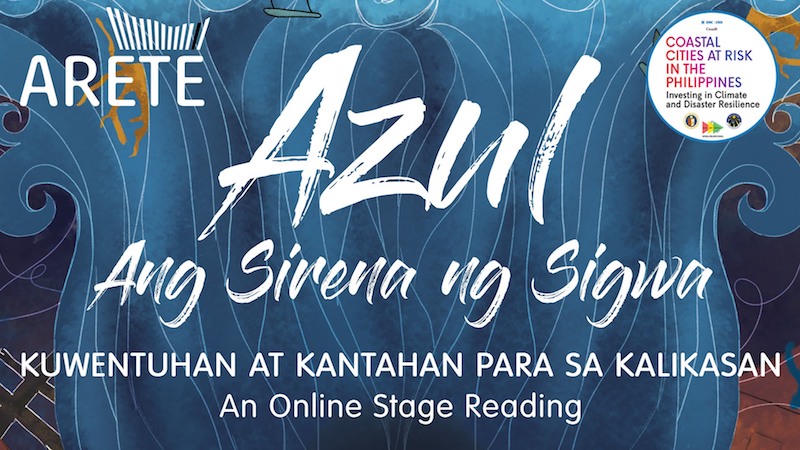 Now Streaming: 'Azul: Ang Sirena ng Sigwa' Musical
Azul: Ang Sirena ng Sigwa, an original musical written and directed by BJ Crisostomo and produced by Areté and CCARPH, is now streaming online.
Shot in July 2021, the production is an online stage reading created for the virtual theater. It focuses on the relationships between two individuals and their love for the mermaid Azul through the years – and how climate change and our vulnerability to floods and typhoons greatly impact our lives.
The cast features Jam Binay, Shaun Ocrisma, Neo Rivera, Arion Sanchez, Arielle Magno, Aixia Mallary, Bok Pioquid, Czar Decena, Jim Ferrer, Nikki Herrera, and Vino Mabalot.
Joining Crisostomo in the artistic team are D Cortezano and Ricky Abad (producers), D Cortezano (lighting designer), Glen Charles Lopez (Director of Photography), Arabelle Casuay (music), Tata Tuviera (production and projection design), and John Robert Yam (sound design and engineering).
In compliance with the IATF Health and Safety Protocols, the entire production underwent a series of testing and constant health monitoring for the entire lock-in period of the project under the supervision of certified health and safety officers.
This science communication project received support from the Coastal Cities at Risk: Investing in Climate and Disaster Resilience in the Philippines (CCARPH), a transdisciplinary action research project implemented by the Ateneo de Manila University and Manila Observatory, in partnership with the National Resilience Council, with the support of the International Development Research Council (IDRC, Canada), and in collaboration with Areté, the University's creative and innovation hub.
You can watch the full production below.
Comments