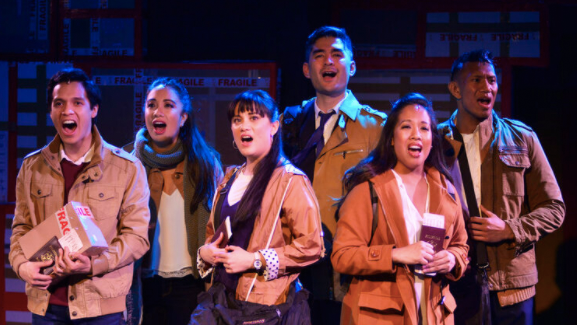 New Musical 'On This Side of the World' Excerpts are Online
New York Theatre Barn held a 1-hour virtual livestream featuring excerpts from two new musicals– On This Side of the World and The Village of Vale as part of its New Works Series. The series presents exclusive "pre-premieres" of new musicals in the early stages of development.
On this Side of the World, a musical written by Paulo K Tirol and directed by Noam Shapiro, features stories of overseas workers, young lovers, and gossipy church ladies, with snapshots of undocumented immigrants, millennial princesses and first-generation Americans. In the show, six actors give voice to Filipino immigrants navigating old lives and new beginnings, as a one-way ticket sends them on a journey eight-thousand miles from home.
The Village Of Vale, written by John McGrew (music and lyrics) and Jonathan Karpinos and Joseph Varca (book and lyrics), features an ageless Traveler who returns to the village that once betrayed her, carrying only a pair of magical glasses and a desire for vengeance. When she finally returns to Vale, she is caught up in the lives of the villagers who hold the key to her vengeance: an obsessed bookkeeper, a haunted widow, and the family of proud woodcutters that exiled her long ago. As her search for revenge upends the lives of everyone she encounters, she faces a choice that will change the village of Vale forever.
The livestream features performances from Belinda Allyn, Marc delaCruz, Lauren Elder, John McGrew, Michael Protacio and Joy Tamayo, as well as online discussions with the shows' creators. It is hosted and produced by Jen Sandler and Joe Barros.
You can watch the livestream below.
Comments