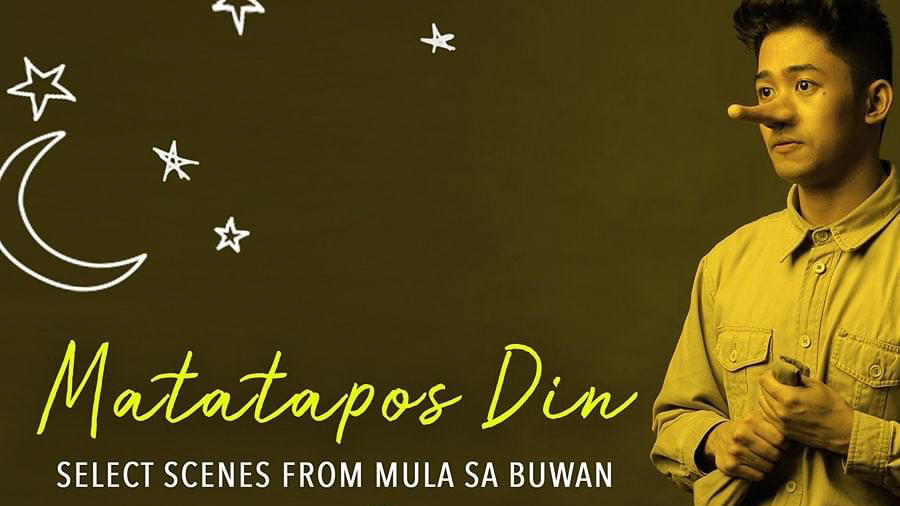 "Mula sa Buwan" to Stream More Selected Scenes
Mula sa Buwan is showing selected scenes online for a limited time only.
The musical first streamed earlier tonight, April 7, 7pm-8:15pm, featuring scenes from the 2017 and 2018 productions– Ang Tanghalang Ito (2017), Ikaw (2018), Ikaw Reprise (2018), Iniibig Kita (2018), Manifesto (2018), and Malaya (2018). It also included performances of the original songs Kamusta, written by fellow cast member Iggi Siasoco, and Huling Lipad, also written by fellow cast member Cris Go, from a 2019 performance in One Night Stand Cabaret.
Tonight's stream also had commentaries in between songs by cast members Gab Pangilinan, KL Dizon, Nicco Manalo, Gel Basa, Iggi Siasoco, Myke Salomon, Phi Palmos, and Tope Kliatchko.
Part 1 will only be available until 12 midnight.
A second part of this initiative will be streaming from 4pm on April 12, also at the Mula sa Buwan Facebook page. The online performance will only be viewable until 12 midnight of that day.
Based on the story of 'Cyrano de Bergerac', Mula sa Buwan tells the love story of Cyrano, Roxane, and Christian set in 1940's Manila. The musical is written by Pat Valera (concept, book, and lyrics) and William Manzano (music and lyrics), with production design by Ohm David, musical direction by TJ Ramos, musical arrangement by Dana Marquez, lighting design by Meliton Roxas, choreography by JM Cabling, and dramaturgy by Katherine Sabate. The show is directed by Valera.
Principal cast members from Mula sa Buwan's 2016-2018 productions include Nicco Manalo and Boo Gabunada as Cyrano, Fred Lo , Myke Salomon and Edward Benosa as Christian, and KL Dizon, Gab Pangilinan, and Cris Go as Roxane.
Matatapos Din: Select Scenes from Mula sa Buwan is part of the Open House fundraising campaign, which aims to help members of the performing arts community displaced by the COVID-19 pandemic. You can learn more about Open House's schedules by going to its Facebook page.
Comments