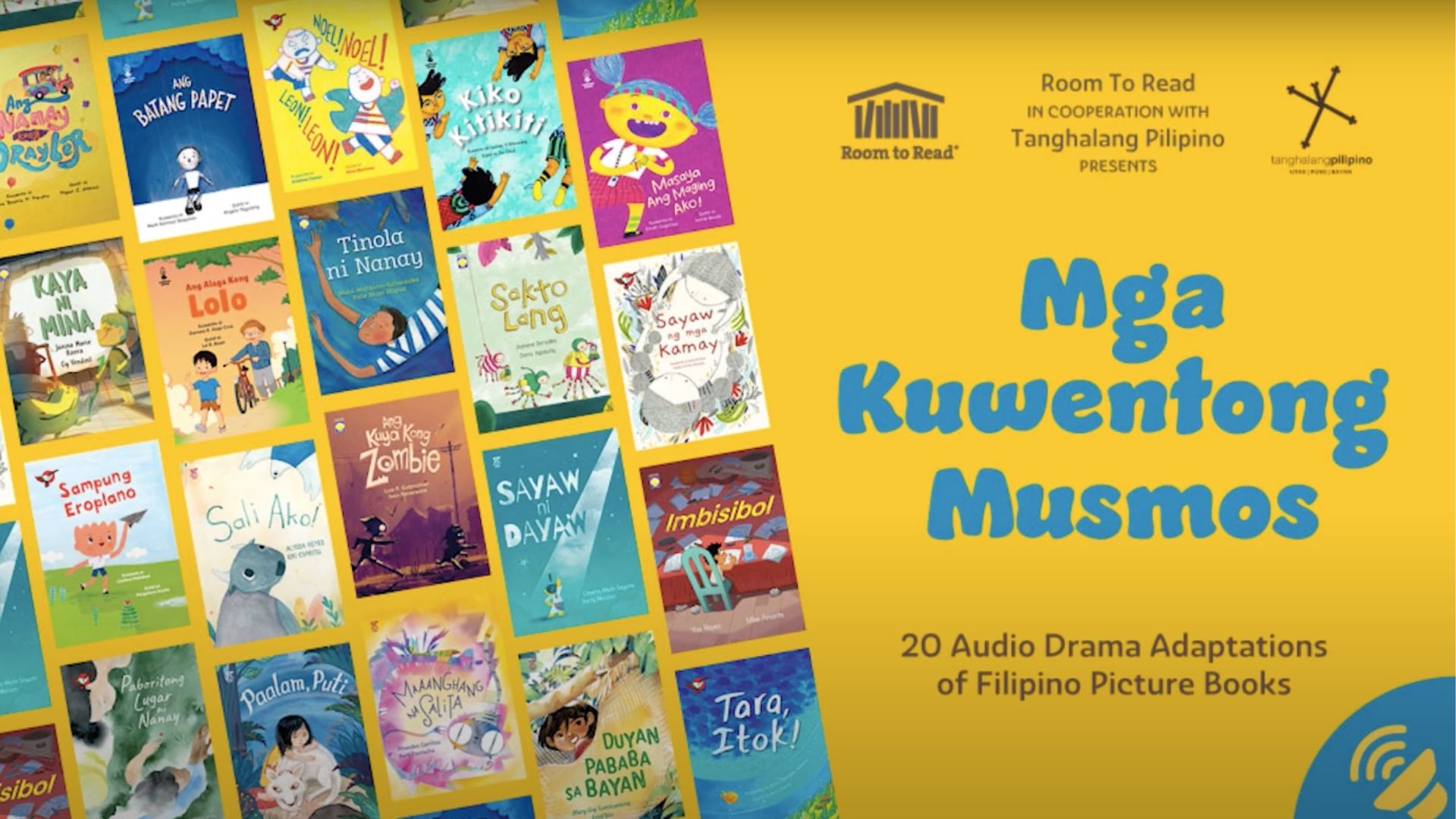 'Mga Kuwentong Musmos' Audio Dramas are Now Online
Tanghalang Pilipino, in partnership with international non-profit organization, Room to Read, has produced 20 audio dramas for children featuring Filipino storybooks.
In a press release, Room to Read representative, Al Santos, said that these books, reproduced as audio dramas, aim to "provide social and emotional learning support" for children. The organization is also distributing around 20,000 copies of these books to young children in BARMM provinces, giving children in the area access to quality reading opportunities.
The stories adapted and performed by Tanghalang Pilipino's Actors Company are:
Ang Alaga kong Lolo by Genaro Gojo Cruz
Ang Batang Papet by Mark Norman Boquiren
Ang Kuya Kong Zombie by Luis Gatmaitan
Ang Nanay Kong Drayber by Reina Peralta
Duyan sa Pababa ng Bayan by Mary Gigi Constantino
Imbisibol by Yna Reyes
Kaya ni Mina by Janina Marie Rivera
Kiko Kitikiti by Lauren Macaraeg
Maaanghang na Salita by Rhandee Garlitos
Noel! Noel! Leon! Leon! by Kristine Canon
Paalam, Puti by Jomike Tejido
Paboritong Lugar ni Nanay by Weng Cahiles
Sakto Lang by Joshene Bersales
Sali Ako! by Alyssa Reyes
Sampung Eroplano by Liwliwa Malabed
Sayaw ng mga Kamay by Joanna Que
Sayaw ni Dayaw by Cheeno Marlo Sayuno
Tara, Itok! by Kora Dandan-Albano
Tinola ni Nanay by Maloi Malibiran-Salumbides
Masaya Maging Ako by Zarah Gagatiga
All 20 stories are in one handy playlist. Listen to them here:
Comments