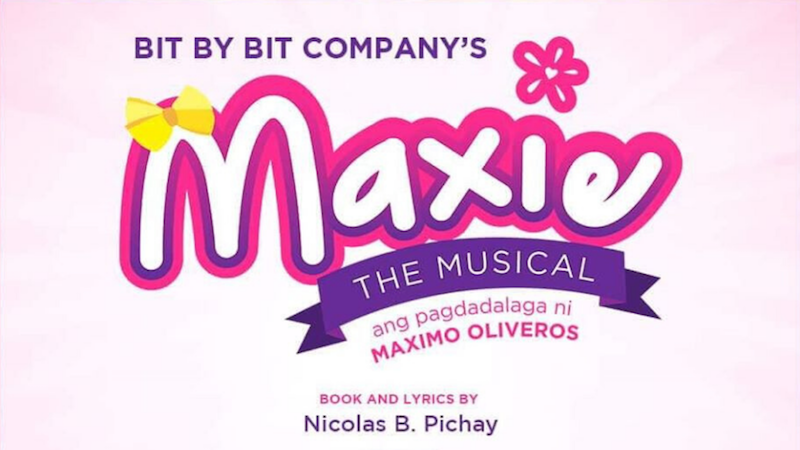 "Maxie the Musical" Postponed to April 2021
Bit by Bit Company has just announced that Maxie the Musical, which was originally scheduled to run at the Hyundai Hall of Areté, Ateneo de Manila University this July, has been postponed to April 2021.
Executive Producer Darwin Mariano said that they have been monitoring the evolution of the COVID-19 pandemic in the country, hoping that they could still be able to start rehearsals next month in time for the show's opening. "However, given the possibility of a longer enhanced community quarantine (ECQ) and the likely social distancing regulations (including prohibitions on mass gatherings) that will continue to be put in place even after the ECQ is lifted, we have made the difficult decision to postpone Maxie the Musical to April 2021," he said. "The health and safety of our cast, crew, and audiences remain our highest priority."
He adds, "There remains much uncertainty among all of us in the performing arts community, but we are confident that moving the production to next year gives us the environment to be able to safely and successfully mount the show."
Maxie the Musical is the musical adaptation of Michiko Yamamoto's screenplay, Ang Pagdadalaga ni Maximo Oliveros. Written by Nicolas Pichay (book and lyrics) and William Elvin Manzano, JJ Pimpinio, and Janine Santos (music), the production was first staged in 2013 at the PETA Theater Center starring Jayvhot Galang as Maxie and Jojo Riguerra as Victor.
Returning cast members for this production include Roeder Camañag, Nazer Salcedo, Jay Gonzaga, Greg de Leon, Jules Dela Paz, and Elliot Eustacio. Joining them are new cast members Aldo Vencilao, Bodjie Pascua, Boo Gabunada, Chaye Mogg, David Ezra, Felicity Kyle Napuli, Fritz Esase, Giob Rodriguez, Gwyneth Dorado, Helene Enriquez, Joann Co, John Clyde Talili, Jom Logdat, Joshua Bulot, Lance Reblando, Luis Padilla, Natasha Cabrera, Paw Castillo, Phi Palmos, and Reynald Santos.
Dexter Santos will return as director and choreographer.
Comments