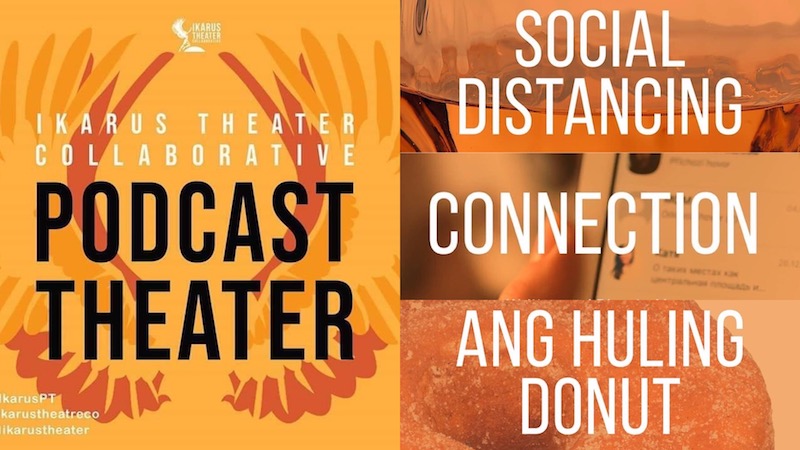 LISTEN: Original Radio Dramas Set During Quarantine
The Ikarus Theater Collaborative has released three original radio dramas that deal with stories set during the COVID-19 pandemic.
Written and directed by Justin Ayran, Connection is about a family that tries to communicate with each other during the quarantine. Peachy tries to convince her brother Benny to reach out and make peace with their father. Benny sees the close relationship between his sister and his father, and resents the fact that the same affection was never extended to him. Marco, the father of the two, constantly fails to communicate with his son, despite his best intentions. Follow their story as they try to make a connection past their history and personal pain. The audio drama is performed by Ina Salonga, Jo Dale Reyes, and Justin Ayran.
Social Distancing, written and directed by Kit Singson, follows three friends who reunite at one of their regular drinking spots post-quarantine. Isay frantically tries to bring back their old friendship, only to be dismissed by Nate and with Paolo saying it as it is. It features performances by Jessa Espina, Paolo Dumlao, and Ein Ermino.
Written and directed by Jay Crisostomo IV, Ang Huling Donut asks the question, "In this time of panic and extreme distress, who is the real enemy, the virus or our fellow man?" In this story, two women fight for their right to a donut, while a cashier man loses his dinner. It is performed by Marya Dela Torre, Ahlex Leyva, and William Gancia.
On June 5 at 8pm, three more dramas will be released.
The Dream, written and directed by Jessa Espina, follows Zoey as she tries to figure out what her life is going to be like after the lockdown. Her father Danny tells her she needs to exceed the world's expectations of her and get her old life back on track right now. A ghost from a dream gives Jessa an option to run away from that reality. The radio drama features performances from Angel Frades, Justin Ayran, and Jo Dale Reyes.
Written and directed by Ahlex Leyva, LDR centers on Abby and Miguel, who are coping with the "new norm" of their relationship. With the uncertainty that the world is facing amidst the pandemic, their already long distance relationship is on the verge of falling apart. Will they choose to love each other without the guarantee of being together in the indeterminate future? LDR is performed by Jessa Espina and Ein Ermino.
Ang Huling Donut Episode 2, written and directed by Marya Dela Torre, is a story of how a simple moment of indulgence could turn into an all-out battle between siblings; where an innocent piece of pastry puts conflicting principles to the test. It is performed by Jay Crisostomo IV and Ahlex Leyva.
You can find all the radio dramas on the company's website HERE.
The Ikarus Theater Collaborative is a theater company that has been operating out of its home in DITO: Bahay ng Sining, Marikina since 2013. It specializes in new and untested material and in innovative takes on classic texts.
Comments