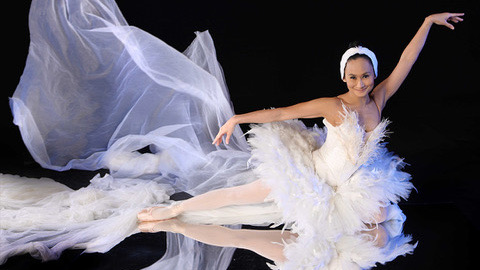 Lisa Macuja in "Swan Lake" to Stream Online
In October 2011, Lisa Macuja-Elizalde, Ballet Manila's Artistic Director and CEO, danced the role of Odette/Odile in the company's full-length production of Swan Lake.
The ballet was the first performance in the prima ballerina's Swan Song Series, her 3-year retirement plan where she performed some of the most iconic roles in classical ballet for the last time. The streaming production was filmed during her performance at the Aliw Theater last October 7, 2011. She danced opposite guest artist David Makhateli, a Principal Dancer in London's Royal Ballet.
The 4-act ballet follows Prince Siegfriend, who falls in love with the Swan princess, Odette. Due to a curse, she is a young woman at night, and a swan by day. Siegfried attempts to break the spell by making a promise to love her forever, but the evil sorcerer Rothbart tricks him into falling for the Black Swan, Odile. Swan Lake has a score composed by Pyotr Ilyich Tchaikovsky.
The dual role of Odette/Odile is known as one of the most difficult roles that a ballerina can play. Macuja-Elizalde shares, "It not only calls for a chameleon-like change in character, but also for extraordinary technical requirements. For Odette, you need to be soft, pliant, and lyrical with an almost painful vulnerability. For Odile, you need legs and arms of steel, a fiery technique, speed, and the ability to transform into evil personified."
You can watch Swan Lake at Ballet Manila's Facebook page and YouTube Channel from June 6 at 6pm until June 12 at 10pm.
Comments