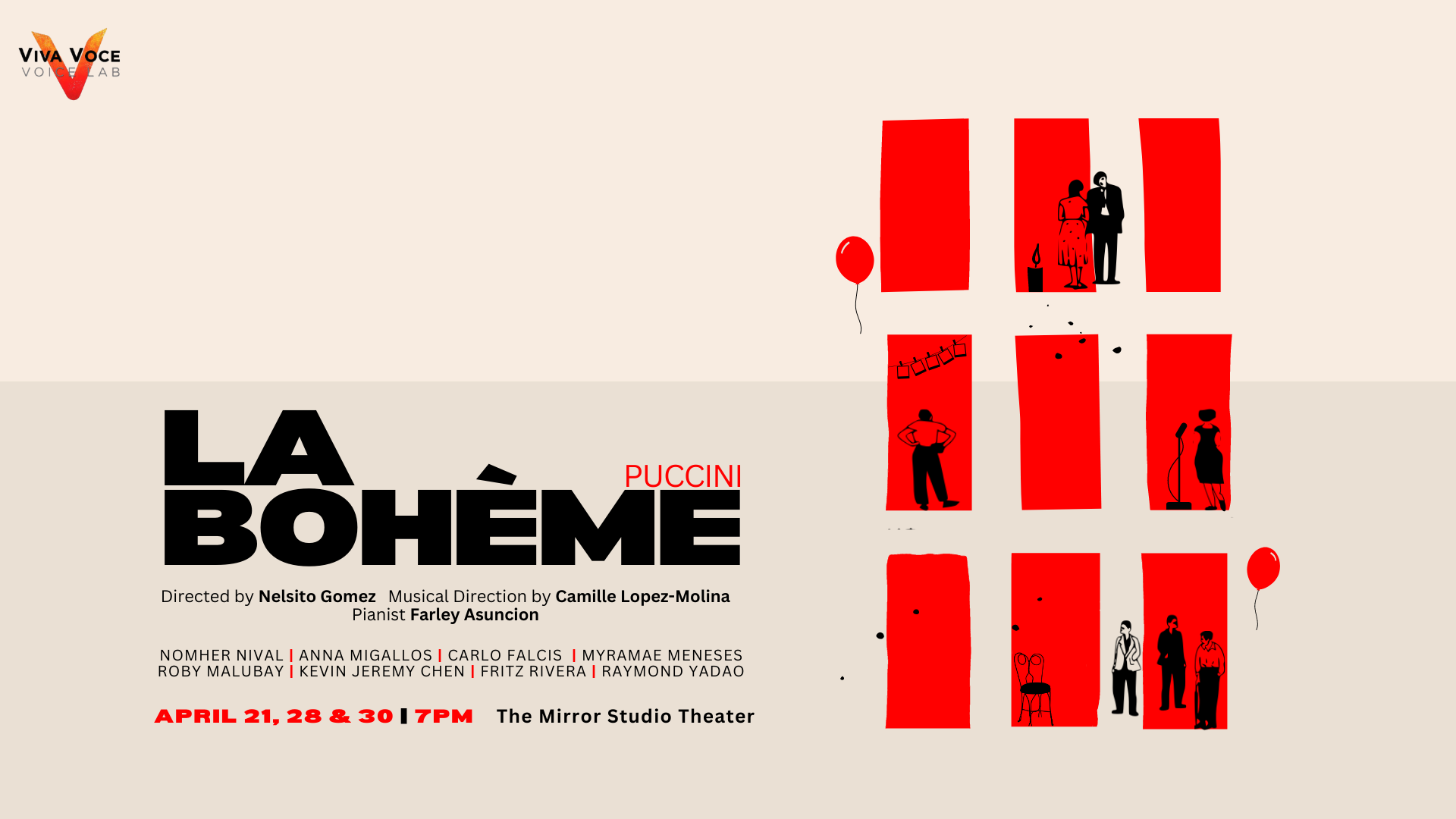 'La Bohème' by Puccini Set to be Staged this April
Viva Voce Voice Lab will be staging a modern, minimalist interpretation of the opera La Bohème this coming April 2023.
La Bohème is an opera composed by Italian composer Giacomo Puccini, who is widely regarded as the greatest and most successful proponent of Italian opera after Verdi. The story is based on Henry Murger's novel, Scenes de la vie de Bohème, a collection of vignettes portraying the lives of young bohemians living in the Latin Quarter of Paris in the 1840's. The opera focuses on the lives of four young friends – a poet, a painter, a musician, and a philosopher – and how their lives change one freezing winter's eve, after a girl named Mimi comes knocking on their door. La Bohème is also the opera that Jonathan Larson's rock musical Rent is loosely based on.
Viva Voce Voice Lab's staging of the opera is set in 1960s Paris, at the height of the French New Wave. Director Nelsito Gomez says, "Our goal was to move away from the potentially inaccessible 1840's setting and find a more relatable period in which to set this story. Upon researching, we decided on 1960's Paris. The 1960s were the period of Post-war France, when the country was booming with a newfound sense of optimism and energy. It was the time of New Wave cinema, existentialism, Yé-Yé music, and streets filled with youth. A very apt backdrop for the Bohemians of this opera."
Viva Voce Voice Lab says that this interpretation also features the full opera minus the chorus numbers, with a sole piano as musical accompaniment and backdrop to the voices. "It is an intimate setting wherein the grandiose 'trappings' of opera are stripped away, and the audience is left with the bare bones and what truly matters – the drama, the music, the singing." The company also shares that it is somehow fitting that the venue of the show is located in Poblacion, Makati, the hub of the young, hip, and artsy crowd. "These are not your usual opera goers, but perhaps a crowd whose hearts and spirits may resonate with the ideals of Puccini's young and brave bohemians." 
The cast features Nomher Nival as Rodolfo, Anna Migallos as Mimi, Carlo Falcis as Marcello, Myramae Meneses as Musetta, Roby Malubay and Kevin Jeremy Chen alternating as Colline, Fritz Rivera as Schaunard, and Raymond Yadao as Alcindoro. It is directed by Nelsito Gomez, with musical direction by Camille Lopez-Molina, and Farley Asuncion on the piano. 
Viva Voce Voice Lab is a collective of classically trained singers with a passion for opera, and the art of singing. The singers of this collective are performers and vocal pedagogues that you can find dabbling in varied musical projects and performances around the metro – from conducting vocal workshops and facilitating their private studio recitals, to performing in solo classical recitals and as ensemble members of stage musicals and operas.
Show dates for La Bohème are on April 21, 28, and 30, 2023, at 7:00 PM. All performances will be held at the Mirror Studio Theater, located in SJG Center Kalayaan Avenue, Poblacion, Makati. Tickets are at ₱800 per head. Message 0968 854 3782 or Viva Voce Voice Lab on Facebook to purchase your tickets.
Comments