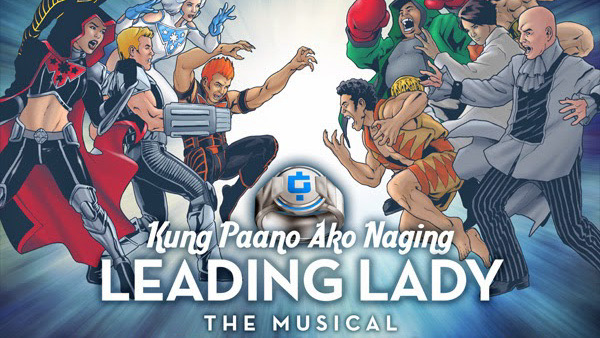 'Kung Paano Ako Naging Leading Lady' Cast Album Now on Spotify
The cast album of Kung Paano Ako Naging Leading Lady has dropped on Spotify!
Written by Carlo Vergara (creator and book) and Vincent A. De Jesus (music and musical direction), and directed by Chris Martinez, the musical first opened at the PETA Theater Center under Dalanghita Productions in May 2015. Due to popular demand, it quickly had another run at the Onstage Theater on July of that same year. The production is based on a one-act play that premiered at the Virgin Labfest in 2013, also written by Vergara and directed by Martinez.
Kung Paano Ako Naging Leading Lady revolves around the story of two sisters named Mely and Viva who both yearn to fulfill their dreams. Their sibling relationship and rivalry becomes more complicated due to an unsettled past and a budding romance, all in the context of an ongoing war between the superhero and supervillain teams.
The two sets of casts feature Bituin Escalante, Frenchie Dy, Kim Molina, Natasha Cabrera, Menchu Lauchengco-Yulo, Markki Stroem, Hans Eckstein, May Bayot, Astarte Abraham, Giannina Ocampo, Caisa Borromeo, Chesko Rodriguez, Jef Flores, Nar Cabico, Domi Espejo, Red Nuestro, Red Concepcion, Elliot Eustacio, Vince Lim, Mikoy Morales, Kakki Teodoro, Raflesia Bravo, Gab Pangilinan, JC Santos, Brian Sy, Rhenwyn Gabalonzo, Alejandro Santos, and Joshua Cabiladas.
Also in the creative team are Tuxqs Rutaquio (Production Designer), Lambert de Jesus (Technical Director), John Batalla (Lighting Designer), Nancy Crowe (Choreographer), Mara Marasigan (Assistant Director) and Ejay Yatco (Assistant Musical Director).
Kung Paano Ako Naging Leading Lady has also been picked up by Regal Films for an upcoming film adaptation.
You can listen to the cast album below.
Comments