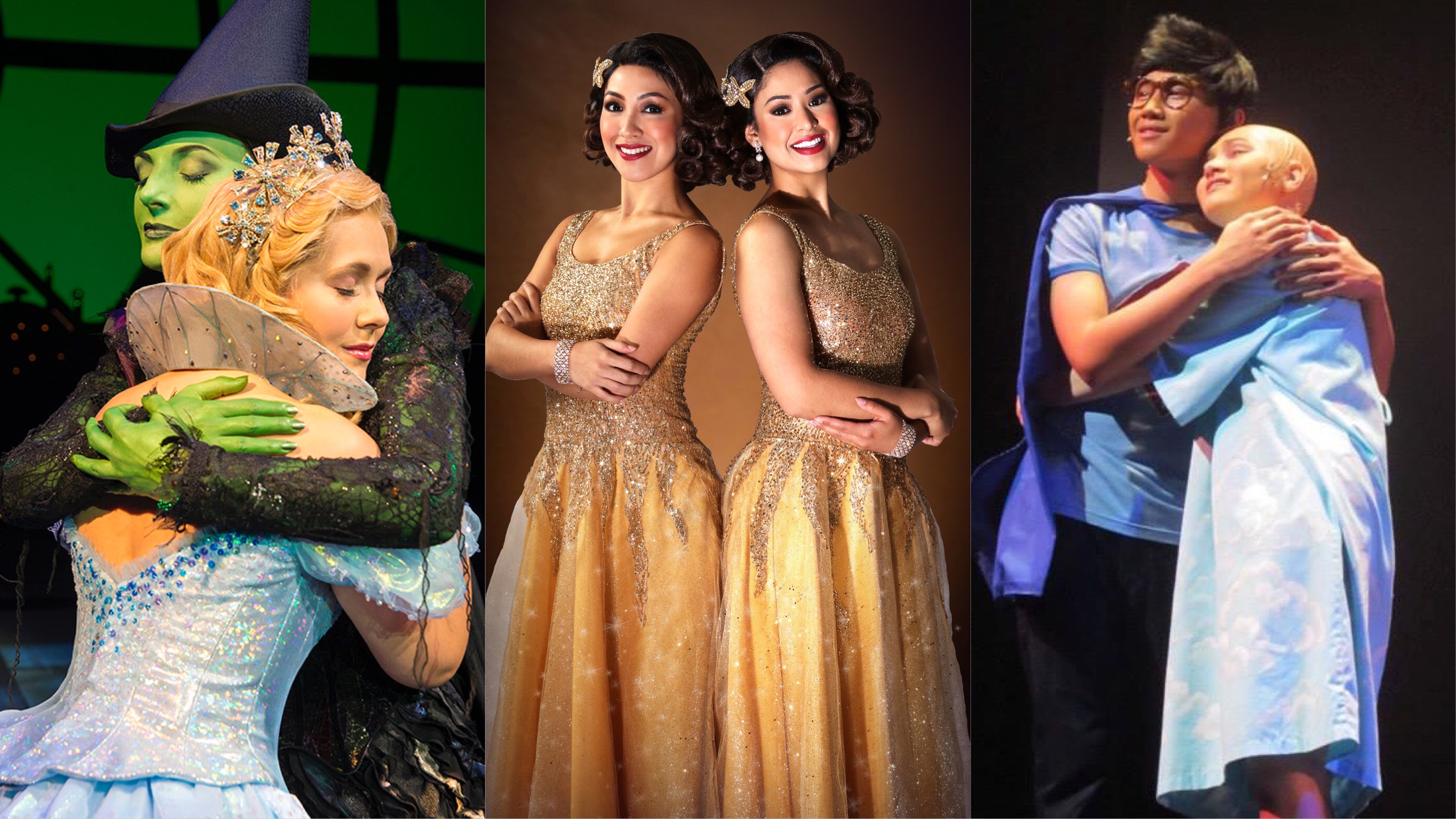 Here's To Us! 9 Famous Broadway Tunes On Friendship
Happy Friendship Day!
The Broadway musical is no stranger to some of the most iconic friendships to have ever graced the theater stage. From revolutionary men to witches in white and green, it's in togetherness where most, if not all, people shine more brightly.
For this year's Friendship Day, here are but a few of those which, through brilliant songwriting and unforgettable scores, explored the very definition, the utter breadth of what it means to be a friend:

1. For Good – Glinda and Elphaba (Wicked)

At first, these two wicked witches couldn't stop from unadulteratedly loathing each other. Yes, Glinda gave Elphaba an ugly hat to the dance, but, she was sincerely filled with regret and stood by Elphaba amidst the crowd's laughter. They still ended up on different paths. Elphaba was branded the 'Wicked Witch of the West' when she didn't want to submit to the Wizard. Glinda, on the other hand, dutifully became the face of the Wizard's reign. In the song 'For Good', they forgive each other and acknowledged that they have changed each other into what each has become: two best friends parting ways, for good.


2. Raise You Up/ Just Be – Lola and Charlie (Kinky Boots)
A shoemaker's son and only heir, and a drag queen clad in glitter and shiny leather boots would have never imagined being in each other's lives. It was when Charlie Price tried to help a woman, who turned out to be Lola, from being mugged that sparked this unlikely friendship. From their factory in Northampton to the runways of Milan Fashion Week, they revamped Price & Sons into a "Kinky Boot"-making powerhouse, raising each other up every step of the way.


3. Side By Suicide – Dani and Marty (Dani Girl)
Dani Girl is the story of Dani, a nine year-old leukemia patient who lost her hair to the illness. In the musical, she sets on a fantastical journey about her illness from the magical perspective of a child's imagination. On the way, she meets Marty, her rather brave roommate in the pediatric oncology ward. In him, she finds what a true friend is. The song "Side By Suicide" is a friendship pact between the two when they learned that they had to play by Death if they really wanted to go to heaven.



4. BFF – Spongebob and Patrick (Spongebob Squarepants)
'00s kids will surely remember this bubbly pink-and-yellow duo. These blithesome BFFs land on the Broadway stage in a brand-new adventure perfect for every kid who ever wanted to go to Bikini Bottom. At the verge of an impending volcano eruption that's threatening to wipe off their home from existence, Spongebob sings "BFF" in an attempt to comfort Patrick. F is for Friends who do stuff (in this case, survive apocalypse) together, right?
5.  I Will Never Leave You – Violet and Daisy (Side Show)
"Till death do us part" probably doesn't only apply to couples in matrimony. Case in point: Violet and Daisy Hilton are conjoined Siamese twins who went on to be the stars of a sideshow in the 1930s. In a tale of love, self-acceptance, and sisterhood, the Hilton twins become an exemplification of the undying bond of friendship. In each other, they find the belonging that only the truest of friends could provide, as they go on to sing the show's penultimate song, "I Will Never Leave You".


6. Friendship – Reno and Moonface (Anything Goes)
Reno Sweeney, a spirited evangelist-turned-bar singer boards a cruise ship because of his friend (whom she fancies) Billy Crocker. All she wanted was to persuade him to stop from pursuing his love for a woman named Hope Harcourt. However, Hope was on the ship with her fiancé Lord Everling Oakleigh. On board, Billy and Reno meet and become friends with Moonface, FBI's Public Enemy #13, disguised as a minister. Billy unwittingly helped Moonface avoid the authorities by reporting an actual minister who was also on board. In return, Moonface, along with Reno, pledges to help Billy get together with Hope. When Moonface and Reno came up with a scheme to ultimately break off Everling's engagement with Hope, they both break out into a song celebrating their newly found "Friendship".


7. Old Friends – Mary, Frank, and Charley (Merrily We Roll Along)
When Frank's divorce left him utterly distraught, his long-time friends-slash-partners in the industry Mary and Charley consoled him. In spite of his many flaws and lapses in judgement, the two unconditionally stuck with him. In the song "Old Friends", the three reminisce and reiterate the value of their friendship in their individual lives. "Gotta have two old friends, helping you balance along," the song goes, "One upbraids you for your faults and fancies; one persuades you that the other one's wrong"—just like how Charley and Mary are in Frank's life.

8. The Story Of Tonight – Hamilton, Lafayette, Mulligan, and Laurens (Hamilton)
Raise a glass to this revolutionary crew! These compadres toast to this musical leitmotif, as they all pledge loyalty to the revolution and to each other. On one evening in 1776, these revolutionaries are bound to each other, in allegiance to what they're fighting for, with swigs of alcohol abound. Who'd have thought we'd be rapping about their story of that night after more than two centuries? If even that ain't friendship goals, what is?
Below is a video of Found/Tonight from the Hamilton Mixtape.
9. You've Got a Friend – Carole, Donnie, Barry, and Cynthia (Beautiful: The Carole King Musical)
Songwriting duo Carole King and his then-husband Gerry Goffin used to go head-to-head in friendly competition with another songwriting couple, Cynthia Weil and Barry Mann. When both Carole and Cynthia moved through rough patches with their respective husbands, they had each other's backs. And when Carole ultimately leaves Gerry after he cheats on her for a second time, it's her old friends Barry, Cynthia, and their music publisher Donnie who have unconditionally stood by her side. Eventually, Carole decided to move to Los Angeles to start a career in songwriting on her own. As a parting gift, she sings the three the song "You've Got A Friend".
You can listen to our Friendship Day playlist below.
*Side by Suicide from Dani Girl is not available on Spotify.
Comments