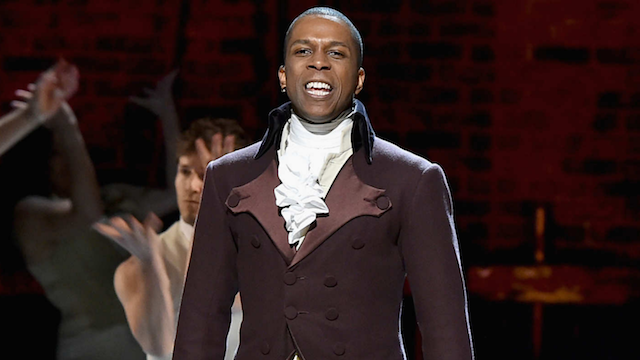 Hamilton's "Wait For It" on Netflix's 'Song Exploder'
Lin-Manuel Miranda shared the story behind composing "Wait For It" from Hamilton in an episode of Netflix's Song Exploder TV series. 
Song Exploder was originally a podcast created by Hrishikesh Hirway which featured musicians discussing the creative process behind a specific song while also "deconstructing" the song into its component parts. 
Netflix developed a TV series based on the podcast which premiered last September 17 and consisted of four episodes. The other three episodes featured the musical backstories of Alicia Keys' "3 Hour Drive", R.E.M.'s "Losing My Religion," and Ty Dolla $ign's "LA."
In Miranda's episode, he and Hamilton musical director Alex Lacamoire sit down with Hirway to discuss the process of writing "Wait For It," a pivotal song for the character of Aaron Burr (originated by Leslie Odom, Jr.) as he contemplates Alexander Hamilton's rise to fame and power. 
Miranda talks about how he initially struggled to understand Burr's character but then had a breakthrough when he learned that Burr had waited years before he could marry his wife, Theodosia. Burr's willingness to wait was the main difference in temperament between him and Hamilton and the song is described as the anti- "My Shot." Miranda asserted that "Wait For It" effectively encapsulates Burr's character and what makes him relatable to some audiences.
Most of the song came to Miranda on a long train ride on the way to a friend's birthday party. He recorded an acapella voice memo of the song which later became the basis for the first demo. He worked on the song more with his collaborators Lacamoire and director Thomas Kail (who was also interviewed in the episode.)
The asymmetrical nature of some of the song's notes was inspired by Jonathan Larson's musical Tick, Tick… Boom! and how the music mimics people's thought process in the same way that Burr was trying to get his head around Hamilton's progressing career.
Lacamoire talked about making the arrangement and orchestration for the song such as adding a dulcimer to the instrumental and developing the echoes from the ensemble and how these echoes added nuance and power to the song.
Miranda said that now that he is on the other side of the phenomenon of his Pulitzer Prize-winning musical, he feels the incredible pressure and fear of losing all he has gained, and thus, relates more to Burr than he ever has.
Comments