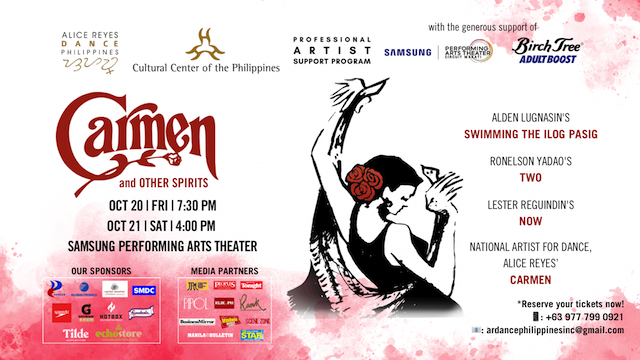 'Carmen and Other Spirits' Dance Production to Run this October
After Rama, Hari, Alice Reyes Dance Philippines (ARDP) is set to stage Carmen and Other Spirits for a limited run this October. The dance production is a mixed bill featuring four choreographies that confront current issues in society.
The program is top-billed by CARMEN, a piece by National Artist for Dance, Alice Reyes that first premiered in 1984. Springing off from Prosper Merimeé's 1845 novella of the same title, Reyes takes a unique perspective telling the narrative from the point of view of Don Jose, "His story is a grim account of 'Low' life, pungent and raw . . . a tale of a man who has lost everything, his rank, his livelihood and now his life because of an uncontrollable infatuation with a woman," Reyes said.
The woman of Jose's infatuation was none other than the titular Carmen, a Gypsy-Spanish woman whose persona could be defined as a feminist, a term that had been present as early as the 1800s. Reyes describes her version of Carmen as "a woman fully aware of her feminine nature. She is not a prostitute but is an ideal type of the genuinely emancipated woman – free, sovereign, and mistress of all her decisions. She would rather die than live with a man she no longer loves and respects." 
Shifting from their comedic turn as the evil duo, Ravana and Soorpanakha, in Alice Reyes' Rama, Hari, this year's staging of Reyes' Carmen will have Richardson Yadao as the conflicted Don Jose and Macel Dofitas as the fiery Carmen.
Edna Vida who originated the titular role in Reyes' Carmen commented on the pair, "All through the years I've been hoping that Alice herself would restage Carmen, but I kept telling her that the lead must be Macel Dofitas. It's her that I see as Carmen in talent, presence, and physique… and, Richardson Yadao must be her Don Jose, because he can certainly work the muscle of deep pathos. They are a fantastic pair on stage."
The "other spirits" are comprised of three choreographic works by some of the country's top Filipino choreographers: 
Alden Lugnasin echoes synchronized swimming movements in his piece,

SWIMMING THE ILOG PASIG. It is a social and environmental commentary recalling the relationship between the people and the once rippling clear waters of the River Pasig which have now become a dumping site for trash. Lugnasin's piece utilizes his unique style of movement and storytelling, as he costumes the dancers in the popular 80s brand of swimwear, Speedo.

Ronelson Yadao, Artistic Director of ARDP, essays the importance of interdependency of two individuals in his work,

TWO.

Lester Reguindin's

NOW

draws inspiration from young environment activist, Greta Thurnberg, and her bold speech at the UN Climate Action Summit in 2019, where she challenges the powers that be to make a change for the sake of her generation. The piece which was originally choreographed for film transitions to a stage adaptation.
CARMEN AND OTHER SPIRITS is presented by Alice Reyes Dance Philippines, the Cultural Center of the Philippines, CCP's Professional Artist Support Program (PASP), with the support of Samsung Performing Arts Theater and Birch Tree Adult Boost. It features dance trainees from Guang Ming College, Philippine High School for the Arts, De La Salle College of Saint Benilde, and other independent performers.
The show will run on October 20, 7:30 pm and on October 21, 4pm at the Samsung Performing Arts Theater of Circuit Makati.
You can reserve tickets in advance by contacting ARDP through+63 977 799 0921 or by emailing that at ardancephilippinesinc@gmail.com until October 9. Tickets go live on Ticketworld on October 10, 2023.
Comments