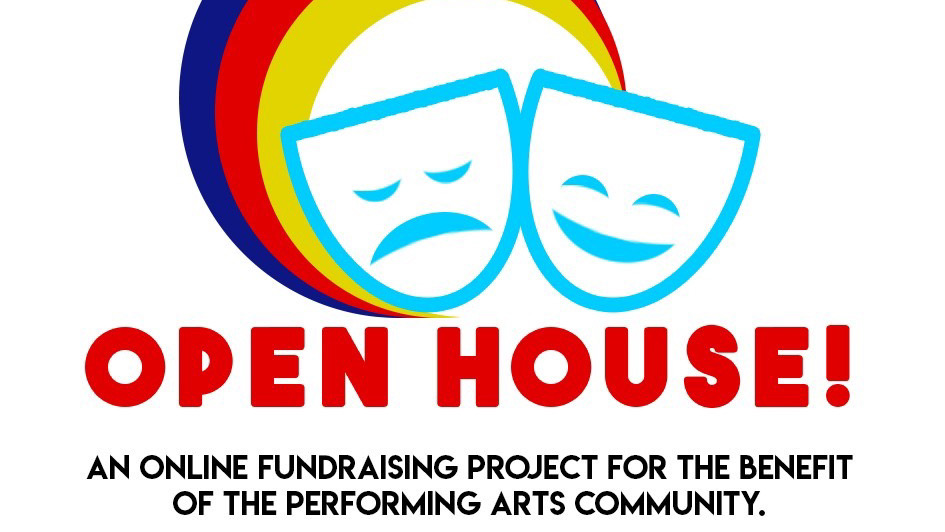 Arts Community Bands Together for Fundraising Project
In light of the COVID-19 pandemic, the Artists Welfare Project Inc., Philstage, SPIT, Third World Improve, the Theater Actors Guild, and Ticket2Me launch Open House, an online fundraising project for the benefit of the performing arts community.
In a statement, the organizers said,
"During difficult times like these, we rely a lot on artists to help us get through. From shows to stories, music to dance, art helps us get by. But these difficult times also mean that artists need us to help them get through, too.
The lockdown has caused thousands of Filipino freelancers, performers, designers, technicians, and production staff to lose their jobs, projects, and income. They are a special type of worker that escapes the protection of the public sector and are very much vulnerable. We decided that something needed to be done, and that's why we created Open House."
Open House will raise funds through free live online classes, shows, and workshops. Donations will be used as cash assistance for the most vulnerable of artists and creative workers to help them through this difficult period. To support this project and donate to the Artists Welfare Project, click here: https://ticket2me.net/e/5778.
The project will begin at 9pm tonight with SPIT's Facebook live show, Co-Video 2: Chismis for the Week. The group, which usually performs live every Thursday, has opted to perform online on the same day every week until the quarantine is over.
The rest of the line-up is as follows:
Week 1:
March 27 4pm – 4:30pm: Ballet Barre Class w/ Lisa Macuja-Elizadle
March 29 8pm – 9:30pm: Third World Improv PowerPoint ParTWI
March 30 3pm – 4pm: "Asian Movement For You" w/ PETA's Jack Yabut (covering various martial arts and other movement vocabulary for conditioning of an actor or any person)
March 31 3pm – 4pm: Song Interpretation w/ Audie Gemora
April 1 3pm – 3:30pm: Audition Workshop w/ Rony Fortich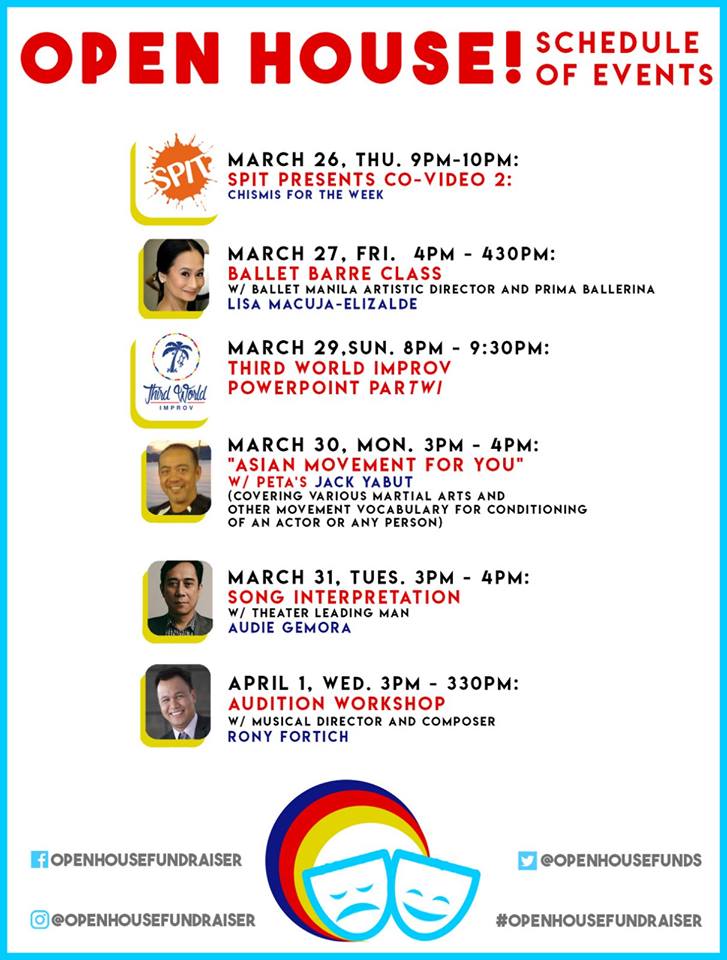 You can watch the livestreams through the artist's individual Facebook accounts or through the Open House Facebook page.
NOTE: Ticket2Me has waived its service fees for this campaign, but third-party payment gateway service fees will apply. These service fees are charged by the system's various payment partners including: the credit card processing bank, PayPal, and GCash.
Comments