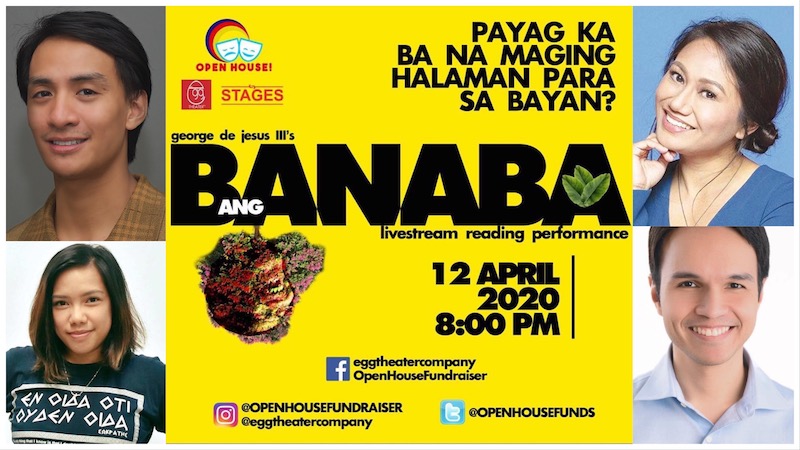 Angeli Bayani, Vincent Pajara, and more in a Live Reading of "Ang Banaba"
Angeli Bayani, Randy Villarama, Vincent Pajara, and Mara Marasigan will be doing a livestream reading performance of George de Jesus III's one-act play, Ang Banaba, this April 12, 2020, 8pm at the Open House Facebook page. This premiere performance is presented by Egg Theater Company and Stages.
In a dystopian future, a program called TANIM (Transmutation Agency for Noxious Individuals and Malefactors) was created to combat climate change by transforming corrupt and subversive elements of society into plants. A Politiko and an Aktibista, both enlisted to take part in the program, engages in a heated discourse about loving one's country, the nature of corruption and the meaning of sacrifice and service, as they are made to choose what kind of plant they will be transformed into.
The Ang Banaba livestream reading performance is part of the Open House fundraising campaign, which aims to help members of the performing arts community displaced by the COVID-19 pandemic. You can learn more about Open House's schedules by going to its Facebook page.
Comments