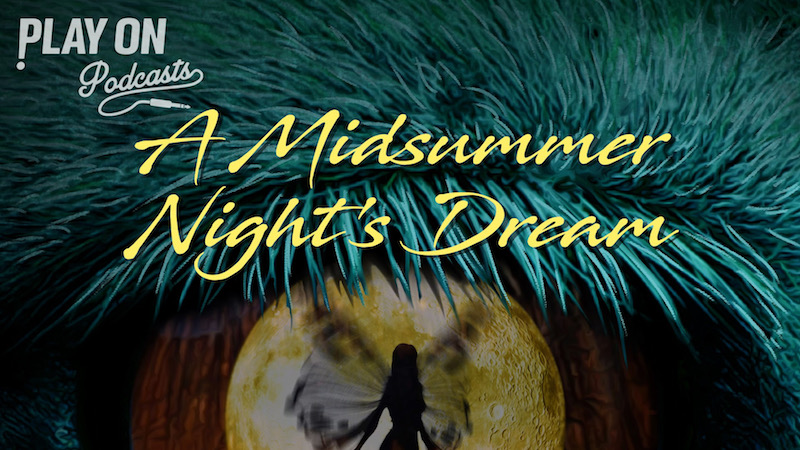 'A Midsummer Night's Dream' Now Available as a Podcast
Shakespeare's classic play of entangled lovers and fae-induced chaos can now be listened to as a podcast. 
A Midsummer Night's Dream was adapted by Jeff Whitty, the playwright behind Avenue Q and Head Over Heels, and was directed by Catherine Eaton, with original music by George Whitty, and sound design by Arjun G. Sheth.
The play tells several entwined tales all set in an enchanted forest. The King and Queen of the Fairies, Oberon and Titania, engaged in a fierce dispute, enlist the sly sprite Puck to sow chaos by administering a powerful love potion. Meanwhile, four runaway lovers and a troupe of actors just trying to rehearse a play get caught in the fray, leading to hilarious consequences. Magic, mischief, and mayhem ensue.
The cast features Alexandra Henrikson as Helena, Amari Cheatom as Oberon, Armando McClain as Egeus/Snug, Cedric Lamar as Flute, Christopher Livingston as Demetrius, Daisuke Tsuji as Puck, David Furr as Theseus, Gopal Divan as Lysander, Jamie Ann Romero as Hermia, Jeena Yi as Quince, Jenn Harris as Bottom, Manila Luzon as Hippolyta, and Michelle Beck as Titania.
Various productions of A Midsummer Night's Dream have been made available online recently including a production by Ballet Philippines, a virtual reading with Dan Stevens and Rebecca Hall, a production streamed by the National Theatre last June 2020, and a production of the Filipino translation, Pangarap sa Isang Gabi ng Gitnang Tag-araw, by Tanghalang Pilipino, that also streamed last year.
The podcast is produced by Play On Podcasts, a collaboration between Play On Shakespeare and Next Chapter Podcasts.This is the third Shakeperean play to be performed as part of the series Play on Podcasts which seeks to bring the classics to a new generation. The first was Macbeth followed by Pericles.
Listen to the first episode on Spotify:
Comments