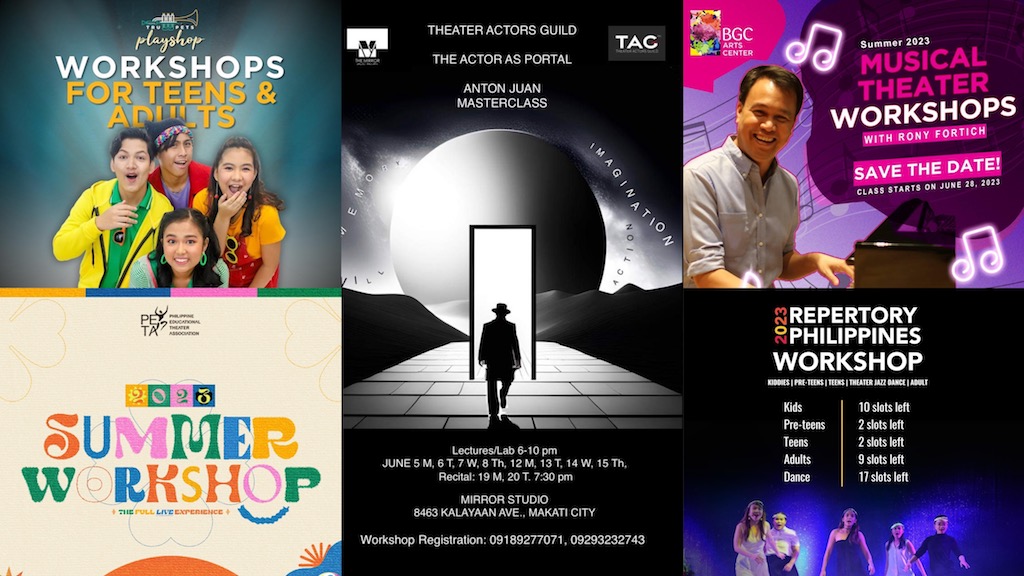 8 Theater Workshops this May to July 2023
For the first time since the pandemic, majority of the theater workshops (7 out of 8 in fact!) have returned to face-to-face classes! Here are 8 workshops that young beginners and adult professionals can join starting this May.
1. Summer Workshops by PETA Theater
From May-July 2023, PETA Summer Workshops will now take place fully in-person at the PETA Theater Center in Quezon City, offering five courses: 
Children's Theater 1 (6 to 8 years old)

is a safe space for little kids to get immersed in the art of rhythmic movement, dance, songs, puppetry, storytelling, and many more;

Children's Theater 2 (9 to 12 years old)

offers kids a journey of artistic discovery through music, visual arts, poetry, story writing, storytelling, and drama improvisation;

Teen Theater (14 to 17 years old)

employs PETA's one-of-a-kind Integrated Theater Arts approach to create a combination of a fun and challenging workshop course designed for teens looking to nourish their artistic spirit through creative drama, sound and music, and visual arts; 

Musical Theater for Teens (13 to 17 years old)

is rooted in experimentation and discovery for musically inclined teens, offering a workshop course that aims to develop the connections between body, music, and storytelling through various theatrical activities; 

Theater Arts (18 years old and up)

is a beginner's course for adults that

will teach the

fundamentals of theater acting, dramatic improvisation, and theater production;

Acting 1 (18 years old and up)

is an adult's course that focuses on the specialized

skill of acting, to develop and enhance one's acting tools by exploring different acting

styles and principles for experienced performers to level up in their discipline; and

Creative Musical Theater (18 years old and up)

is a course for musically inclined

adults which explores the fine art of musical theater by allowing participants to

experience the elements of musical performance, composition, and production in

order to understand the harmonization of the different fields that make a successful

musical show.
The PETA Summer Workshops offer a range of courses for people of all ages, and participants can expect to learn a range of skills, from the fundamentals of theater acting to creative drama, sound and music, and visual arts. 
The PETA Summer Workshops have gained immense popularity among children and adults for their long-term impact, aiding participants in their respective fields and disciplines. The courses offer a unique opportunity to learn from experienced PETA Artist-Teachers, who have been part of PETA shows like Walang Aray, Rak of Aegis, and CareDivas. 
Registration and enrollment is currently ongoing. Interested applicants can register for PETA Summer Workshops 2023 now at www.bit.ly/petasummerworkshop! For more information, contact Betita Sarmiento at 0926-406-6858, betitasarmiento@petatheater.com, or follow PETA on its social media accounts: @petatheater.
2. REP Workshop for the Performing Arts
The REP Workshop for the Performing Arts offers an extensive array of classes for passionate performers of all ages. The workshop runs from June 5 to July 14, 2023 at the Manila Polo Club.
⁠ To learn more, contact 0966 905 4013/ 8843 3570/ sales@repphil.org / info@repphil.org⁠.⁠
3. The Actors Portal; A Masterclass by Anton Juan

View this post on Instagram
"With love and solemnity for his Art and Craft, the Actor discovers himself as a portal to the transformation of meaning, as a vessel of inner space and memory, as a navigator of both positive an negative space, as a willful mover of beliefs and world views, as architect, embodiment, and expression of metaphor and aspiration, and as a medium of ritual, a mover of humanity, an eye of the Unseen and voice of the Unheard in the three-fold present." – Anton Juan

Schedule: Lecture/Lab – 6pm to 10pm, Recital Performance- 7:30pm
June 5-8, 12-15, 19-20

All classes and recitals will be held at The Mirror Studio, 8463 Kalayaan Ave., Makati City. You can register here.
4. Performing Arts Workshops by Trumpets Playshop
Trumpets Playshop is offering different classes for children and pre-teens:
1. Toddler's Hip-Hop (3-6 years old)* / **
2. Dance Class for Kids (7-12 years old)**
3.
Children's Theater (3.5-6yo)**
4.
Musical Theater Pre-teens (7-12 yo)
5.
Summerstock Kids (7-12 yo, auditions required)*
*Exclusive for Ayala Malls the 30th
**Select venues left!
Almost full
5. Musical Theater Workshops with Rony Fortich
On-site Musical Theater Workshops return this summer at the Maybank Performing Arts Theater, BGC Arts Center. Explore the exciting world of musical theater with musical director, Rony Fortich. Classes start on June 28. For inquiries, email  programs@bgcartscenter.org or visit www.bgcartscenter.org/musical-theater-workshops.
6. Music & Lyrics & You by Joel Trinidad (lyrics) and Rony Fortich (music)
Learn to write musical theater songs from the creators of Breakups & Breakdowns, The Night Shift, and My Suite Princess.
Schedule: May 22 to June 23 (Mondays and Fridays), 10:00 am to 12 noon (via Zoom).
P8,000 per participant. Contact Upstart at 09178116156 or via Facebook for details.
7. Story Camp! by Little Boy Productions and Cebu Literary Festival (Cebu)
Explore the world of stories and art with Story Camp! from Little Boy Productions and Cebu Literary Festival. The theater workshop will run from May 29 – June 10 2023 at the Ayala Malls Central Bloc.
Kids and tweens from 4 to 12 years old will be able to explore their imagination and creativity through theater games, songs, storytelling, and arts and crafts.
Batch 1 runs from May 29, 30, 31, June 5, 6, 7, 9 (rehearsal), 10 (culminating). Space is limited; first come, first served. Venue will be at the Ayala Malls Central Bloc, I.T. Park.
You can register here.

8. The Joy of Theater with Mark Aranal by Dulaang PCCR 
Dulaang PCCR is holding a drama workshop for high school and college students from any school.
The 9-session workshop runs from June 19 to July 7 (Batch 1) and July 10 to July 28 (Batch 2). Selected participants have a chance to be offered scholarships for the next school year.
The workshop is free of charge. Interested participants can register here.
Comments