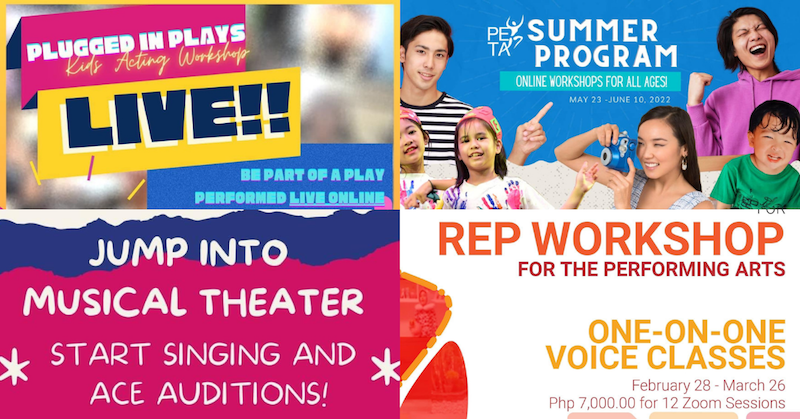 5 Theater Workshops Online this March 2022
Start your summer right! Whether you'd want to invest in your child's craft or unleash your own potential, here are 5 online theater workshops for you to choose from.
1. Plugged in Plays' Kids Acting Workshop with Steven Conde
Kids ages 8 and up are welcome to join Plugged in Plays' kids acting workshop, to be taught by theater actor-director Steven Conde. It will have 15 sessions starting March 2, Wednesdays and Fridays from 6 to 8pm.
For inquiries and slot reservation, message teacher Steven Conde at 0919-0009169 or email him at stevencondedirector@gmail.com.
2. One-on-one Voice Classes with Repertory Philippines
Repertory Philippines will be conducting one-on-one voice classes from February 28 to March 26, 2022. It will consist of 12 Zoom sessions for P7,000. Interested participants can check the enrollment process and class schedules on the company's
website
.
3. Musical Theater Workshops with Abi Sulit
Theater actor and musical director Abi Sulit is conducting musical theater workshops– from the basics of singing, to acing your next audition. Interested participants can sign-up through this
link
.
4. PETA's Online Summer Theater Workshops
PETA will be conducting workshops for all ages from May 23 to June 10, 2022. A 10% discount will be applied if interested participants enroll by February.
For kids: www.bit.ly/PETAWorkshopKids
For teens and adults: www.bit.ly/PETAWorkshopTeensAndAdults
5. Masterclass Series by the UPLB Com Arts Society

The UPLB Com Arts Society, a duly-recognized official academic organization for Communication Arts students in the University of the Philippines Los Baños, is coming back this March for a series of workshops. The topics will delve in the different areas of communication namely Writing, Speech Communication, and Theater Arts with various invited speakers experts in their chosen field. 
Workshops are free of charge. Stay tuned for more updates here: http://www.facebook.com/UPLBComArtSoc 
Comments