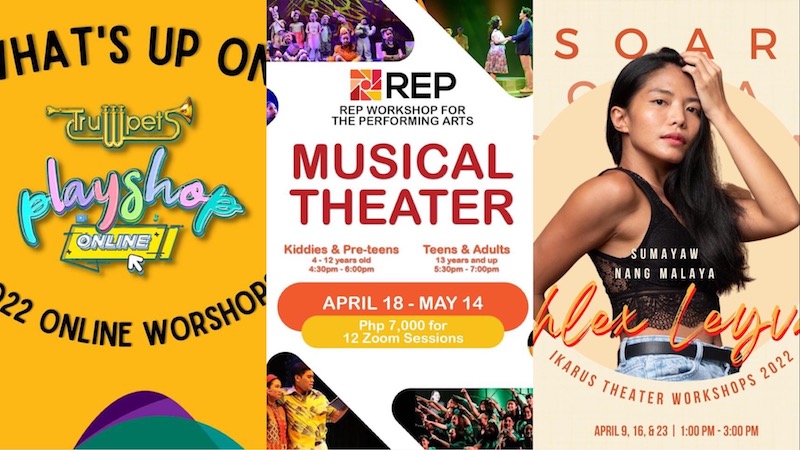 3 Theater Workshops Online this April 2022
From kids, to teens, to adults, whether you're a newbie or a professional, there is a workshop for you! Spend the summer right by honing those skills through all the available workshops specially curated by the theater companies below.
1. Theater Workshops with Trumpets Playshop
Trumpets Playshop is offering different theater workshops for kids, pre-teens, teens, and adults! Classes begin on April 20. You can find the list of classes below. For more information, visit their Facebook page.
2. Musical Theater and One-on-one Voice Classes with Repertory Philippines
Repertory Philippines will be conducting musical theater classes for kids and pre-teens (4-12 years old) and teens and adults (13 years old and up), as well as one-on-one voice classes, from April 18-May 14. Classes are P7,000 for 12 Zoom sessions. For registration and inquiries, message REP on their
Facebook Page
or email them at sales@repphil.org. Interested participants can also call them at 0966-905-4013.
3. A Dance Improvisation Workshop through Creative Movement with Ikarus Theater Collaborative
The dance workshop entitled 
Sumayaw Nang Malaya Kasama ni Ahlex Leyva
is open to newbies exploring a new craft and to professionals looking to hone their abilities (ages 15 and up). It will be conducted online on April 9, 16, and 23 from 1-3pm. Workshop fee is P900.
In this workshop, participants will practice improvisation through dancing/body movements. From learning the elements of dance to exploring storytelling, they will know how to show and not tell.
Ahlex is a film and theater actress, a dancer and choreographer, an aerialist, a model, and an aspiring writer. Interested participants can go to www.ikarustheater.com/shop or visit Ikarus Theater Collaborative's Facebook page.
Comments