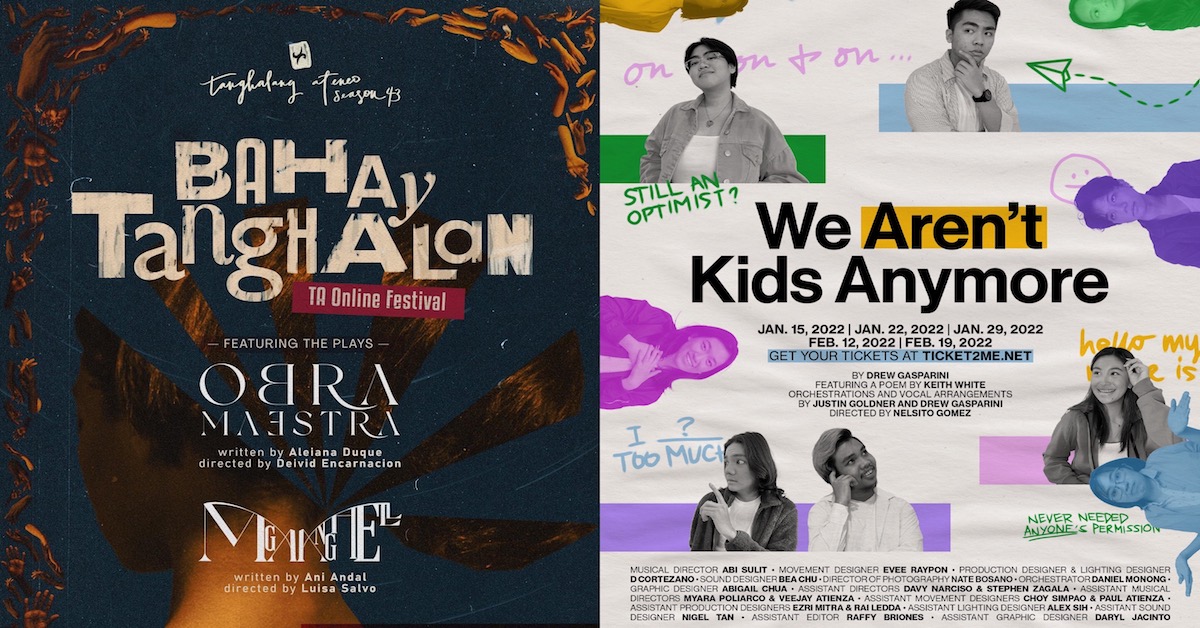 2 University-Based Theater Productions Online this January 2022
You can watch a newbie musical production and an online theater festival this January.
1. We Aren't Kids Anymore by Ateneo Blue Repertory
See how childhood optimism meets adult disillusionment in Ateneo blueREP's 30
th
Season Newbie Production– Drew Gasparini's
We Aren't Kids Anymore
(WAKA), streaming on January 15, 22, 29, and on February 12 and 19, 2022. 
Originally released digitally in 2020, blueREP stages the first-ever production of WAKA set in the light of recent, pandemic-driven events. In this 2022 reimagining of the production, audiences can join the cast of the newest members of the organization on their journey through these strange times—when everything is done online.
We Aren't Kids Anymore is a song cycle that explores the struggle of artists whose expressions and childhood dreams are slammed into a wall of unforgiving realities. As they grow up, these young adults try to take control of their own definition of success while they power through uphill battles. 
WAKA is directed by Nelsito Gomez. Joining him in the creative team are Abi Sulit (Musical Director), D Cortezano (Production Designer), Bea Chu (Sound Designer), Nate Bosano (Director of Photography), Abigail Chua (Graphic Designer), and Daniel Monong (Orchestrator)

You can buy tickets at bit.ly/GetWAKATickets. For inquiries, contact Kristin Baingan at 09175981683.
2. Bahay Tanghalan 2021: TA Online Festival 
Tanghalang Ateneo's online festival, entitled
Bahay Tanghalan 2021: TA Online Festival
will feature two productions, namely
Obra Maestra
and
Mga Anghell
, for its first installment. The student artistic team will be under the mentorship of Guelan Luarca for acting, Katski Flores for directing, Vix La Victoria for playwriting, Tata Tuviera for production design, and D Cortezano for lighting and sound design.
Obra Maestra is written by Aleiana Duque and directed by Deivid Encarnacion. Taking inspiration from the tale of Narcissus, as told in Ovid's Metamorphoses, Book III, and The Picture of Dorian Gray by Oscar Wilde, Obra Maestra delves into Narcisa's hubris as an artist and her descent into grief and madness. Being isolated for a year, Narcisa, Cecilia (her business partner), and Rei (Narcisa's protegé) must stand by Narcisa as she mourns for the loss of her lover and Muse—Sol.
Mga Anghell is written by Ani Andal and directed by Luisa Salvo. Inspired by her favorite internet gamer, a young girl takes on various challenges in hopes of winning a chance to be in her favorite streamer's birthday stream. However, this admiration reached itself beyond the screen.
The production will be streaming from January 24 to 29. For ticketing information and more information about the stream, visit Tanghalang Ateneo's Facebook page.
Comments