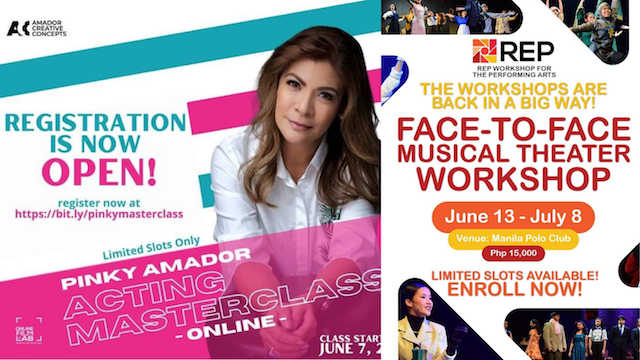 2 Theater Workshops this June 2022
This June, there are options for both face-to-face and online workshops! Things are truly looking up. Learn more about them below.
1. Face-to-face Musical Theater Workshops by Repertory Philippines
Starting June 13, Repertory Philippines is bringing back its face-to-face theater workshops! Participants will learn how to act, sing, dance, and shine on the REP stage.
The 4-week intensive Musical Theater classes, running from June 13 to July 8, will be held daily, from Monday to Friday, for 2 and a half hours each session. The workshop venue will be at the Manila Polo Club, McKinley Road, Makati City.
You can find the schedules below:
Kiddies & Pre-Teens (5 to 12 years old)
Monday to Friday
10:00am to 12:30pm
Teens (13 to 16 years old)
Monday to Friday
1:00pm to 3:30pm
Adults (17 years old and up)
Monday to Friday
5:30pm to 8:00pm
For the full theatrical experience, the workshops will culminate in a live showcase at the Onstage Theater, Greenbelt 1, Makati City. The workshop fee is Php 15,000, for 20 workshop sessions. Slots are limited. Registration is on a first-come-first-serve basis.
For registration and inquiries, message REP's Facebook Page or Instagram account. You may also reach them through email at sales@repphil.org or call 0966-905-4013.
2. Pinky Amador's Acting Masterclass
Theater veteran Pinky Amador will be conducting acting masterclasses online starting June 7 to 25 via Zoom. The course is open to beginners who want to learn basic skills in acting. Those who have experience in acting but would like to polish their skills from a master are also welcome. Registration fee is P8,000. You can find the class schedules below:
Start of Classes: June 7, 2022
Schedules
6-8 PM Every Tuesday and Thursdays
4-6 PM Every Saturday
Orientation –   June 6, Monday
SESSION 1 – June 7, Tuesday
SESSION 2 – June 9, Thursday
SESSION 3 – June 11, Saturday
SESSION 4 – June 14, Tuesday
SESSION 5 – June 16, Thursday
SESSION 6 – June 18, Saturday
SESSION 7 – June 21, Tuesday
SESSION 8 – June 23, Thursday
Culminating Activity – June 25, Saturday
For more information, go to this link.
Comments