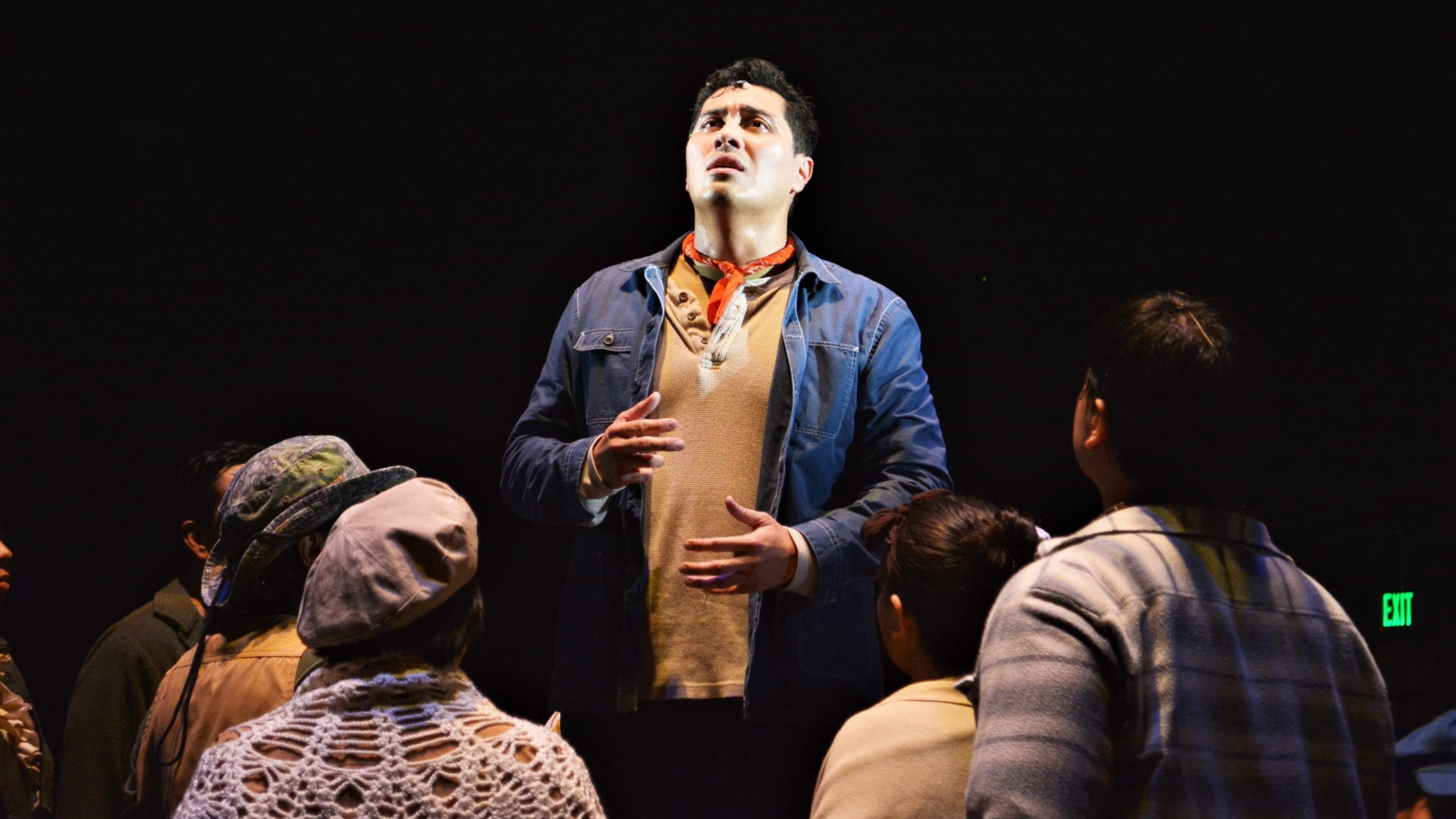 REVIEW: 'Carousel' is a reinvigorating take on the Rodgers & Hammerstein classic
In 1999, just three years after Repertory Philippines first staged Rodgers and Hammerstein's Carousel, Time Magazine named it the greatest musical of the 20th century. Carousel was an instant hit: after its opening in 1945, it garnered near-unanimous rave reviews, and has been revived on Broadway and the West End several times since.
It tells the story of Billy Bigelow, a carousel barker, and Julie Jordan, a millworker, and their burgeoning romance—and eventual life together, with all its ups and downs—in 1873 Maine. The work is hailed as one of composer Richard Rodgers and lyricist Oscar Hammerstein II's best, with Stephen Sondheim even commenting on the pair's "ability to take the innovations of Oklahoma! and apply them to a serious setting." Oklahoma!, he said, is about a picnic; Carousel is about life and death.
Fast forward to 2020: Carousel finds it way back in Repertory Philippines' theater season, set to be produced with a cast of thirty and an entire orchestra, with Gerard Salonga at the helm. But the Covid-19 pandemic hit, and as the lockdown orders came, production and rehearsals for Rep's Carousel had to be halted too. After a two-year intermission, live theater finally returns, bringing with it a stripped-down version of what Rep's Carousel was originally going to be.
From thirty, the cast was pared down to fourteen; from a full orchestra, the music would be a two-piano score, played deftly by Joed Balsamo and Ejay Yatco. You would think it wouldn't work, especially for a score as grand as this; "The Carousel Waltz," the stunning overture that sets the tone for the show, is so often performed with violins, violas, cellos and more. But with just two lone pianos, the Waltz becomes more intimate; more fitting for the production that's about to unfold before the audience's eyes. Discordant notes become more pronounced—a sign of things to come.
Because perhaps the biggest thing that comes with staging a production of Carousel in the 21st century, and especially in the post-#MeToo era, is the question of why. Why, with a lush score, an almost gripping plot, and a colorful mix of characters, must we revisit a story like Carousel's—one that, for over 70 years since its first outing, casually excuses, romanticizes, and accepts domestic abuse? Director Toff de Venecia attempts a humble exploration, and the result is this reimagined version: a mix of the old and the new, the traditional and the millennial.
He calls it a post-modern deconstruction of this nearly 80-year-old work. And yes, in all aspects, it is that. Cast members whip out cellphones; text on an oversized tee transports you back to reality. Some of the elements of this marriage of the traditional and the millennial can be too on-the-nose; some hit just right; some not quite. But whatever the case, this production's attempt at revisiting and reinvigorating old source material is emotional and haunting—if perhaps just a bit too long, though of course that's through no fault of its own.
Karylle Tatlonghari is a revelation as Julie Jordan; she shines during Julie's most vulnerable moments, and glitters during her happiest ones. Gian Magdangal is a formidable Billy Bigelow, his "Soliloquy" a performance to watch out for. The entire cast turn in solid vocal performances, from Mia Bolaños as Nettie Fowler to the ensemble in numbers like "Blow High, Blow Low" and "June Is Bustin' Out All Over." Gia Gequinto as Louise, Julie and Billy's daughter, is a star on that stage, carrying some of the show's most emotional moments through her movements.
Carousel, with its three-hour runtime, has always been more than just a musical. It's a night at the ballet; it's opera; it's a play with characters of varying complexities. Rep's own version features beautiful and evocative dances, formations resembling a carousel ride, choreographed by Stephen Viñas. There's wonderful, scene-stealing support from Mikkie Bradshaw-Volante and Lorenz Martinez as Carrie Pipperidge and Enoch Snow. Jodinand Aguillon dresses the company in beautiful costumes, and Charles Yee's stripped-down set is made to match the stripped-down music. Barbie Tan-Tiongco's lights illuminate or shroud the characters, depending on the need; and sound designer Glendfford Malimban's seamless sound effects tie it all together.
Rep's Carousel has aimed to improve upon its problematic source material—and succeeds, to an extent, but it may just be that no amount of foreshadowing and setting up is enough to wash away the bitter taste in one's mouth when Louise says that being hit by someone could almost feel like a kiss. Still—this reimagining is bold, dark at times, joyous in some, and sung beautifully, always. It is worth a trip to the theater, if only for the stirring score and the ups and downs it takes you on—just like a real carousel ride.
Tickets: Php 1,030.00 – Php 3,090.00

Show Dates: Dec 2 '22, Dec 3 '22, Dec 4 '22, Dec 8 '22, Dec 9 '22, Dec 10 '22, Dec 11 '22, Dec 15 '22, Dec 16 '22, Dec 17 '22, Dec 18 '22

Venue: CCP Black Box Theatre, Pasay City, Metro Manila

Running Time: 3 hours (with a 15-minute intermission)

Credits: Music by Richard Rodgers, Book & Lyrics by Oscar Hammerstein II, Toff de Venecia (Director), Kyla Rivera (Assistant Director), Ejay Yatco (Musical Director and Piano 1), Stephen Viñas (Choreography), Charles Yee (Set Design), Barbie Tan-Tiongco (Lighting Design), Jodinand Aguillon (Costume Design), Glendfford Malimban (Sound Design), Joed Balsamo (Piano 2)

Cast: Gian Magdangal, Karylle Tatlonghari, Mikkie Bradshaw-Volante, Lorenz Martinez, Noel Rayos, Mia Bolaños, Gia Gequinto, Roxy Aldiosa, Red Nuestro, Cara Barredo, Paulo Paguio, Steven Hotchkiss, Roby Malubay, Kyla Rivera, Julio Forteza, Czar Decena

Company:

Repertory Philippines
Comments