Atlantis Theatrical Entertainment Group is thrilled to announce the talented little wonders who will be starring in the critically acclaimed and award-winning musical, Matilda. As Matilda fans eagerly await the show, the kids who will be taking center stage are just as excited about the new roles in store for them.
Brimming with energy, the cast features three of theater's youngest miracles to take on the title role: Telesa Marie "Esang" De Torres, Uma Naomi Martin, and Felicity Kyle Napuli. Esang's notable works include ABS-CBN's The Voice, (where she competed as a finalist for Team Lea) and her performance as Young Cosette in the Asian tour of Les Miserables. Uma, for her part, made her musical theater debut as Lottie in A Little Princess. Not to be outdone, Felicity was recognized as Outstanding Child Performer at the Gawad Musika Awards, and has already starred in a short film titled Duyan ng Alon.
Of course, the show would not be what it is if not for Matilda's classmates, who team up with her to prove that "even if you're little, you can do a lot." To complete the magic, Matilda the Musical also showcases a bevy of wacky and charming characters played by an array of some of the most talented young performers to grace the Philippine stage. Out of nearly two hundred who auditioned, the talents selected to play the revolting children include Gabrielle Aerin Ong and Maria Ericka Peralejo as Lavender; Denise Fidel Arteta and Chi Chi Tan as Amanda; Nicole Chien and Ella Gonzalez as Alice; Alba Berenguer-Testa and Chantel Marie Guinid as Hortensia; Josh Nubla and Miguel Suarez as Bruce; Rhythm Alexander and Ian Albert Magallona as Eric; Pablo Miguel Palacpac and Gabo Tiongson as Nigel; and John Joseph Miraflores and Teddy Velasco as Tommy.
The cast members of Matilda may be tiny, but they are big in spirit and talent. Gabrielle, for starters, has played Marin Marion in Robin and the Sherwood Hoodies, and is used to the spotlight as she has performed in Intermediate Rock Band as lead vocalist and in Paco Park Presents: Concert. Ericka, her alternate, has been a voice talent for several cartoons and movies. She has also starred in musicals such as Snow White and the Seven Dwarfs (as Dopey), and Annie the Musical. Chi Chi is trained in classical and contemporary ballet, and has taken voice lessons at Center for Pop Music.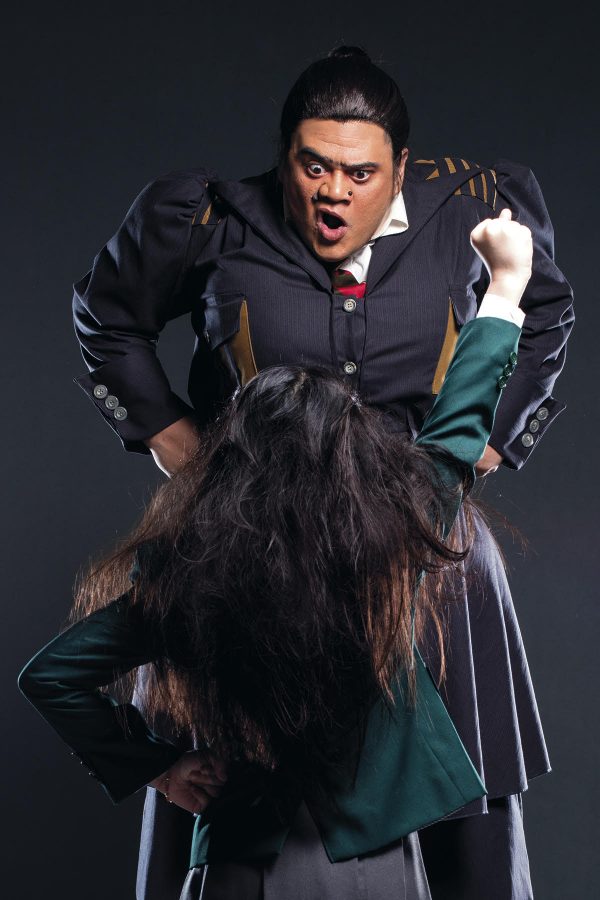 Debuting in her first professional theater production, Nicole has performed in school since she was 5 years old and plays the violin in her school orchestra. Following her mother's footsteps, she made her PICC debut at Lea Salonga's concert Playlist. Ella is well versed in acting, and has earned a scholarship in Kids Act Philippines.
Alba is no newcomer to the stage either, as she has previously taken on the roles of Little Orphan Tessie in Annie the Musical, and Iris in The Nether. Difficult to be upstaged, Chantel has won the championship in Child Center's Musicfest and has received training in Repertory and Atlantis. Sharing the role of Bruce are two bright and eager boys—Josh who is currently a student of Kids Act Philippines and has performed for Artist League Manila and Miguel, who has participated in Kamp Kawayan on ABS CBN's The Voice. Not unlike the others, Rhythm has performed onstage for Mystery Sleuths and Fantastic Creatures.
Gabo, who will be playing Nigel, has already honed his theater skills from performing as Tiny Tim in Scrooge and Playshop's Always Upon A Time. He will be joined by Pablo, who has previously taken on the role of Young Simon in Kinky Boots and has attended workshops in Atlantis and ACTS Dance Crew. John Joseph was also part of The Voice Kids, and sharing the role of Tommy with him is Teddy, who has previously played Christian Bechdel in Fun Home and Young Simon in Kinky Boots. The immensely talented newcomers, Denise and Ian, will be making their debut on the stage with Matilda the Musical as Amanda and Eric, respectively.
With the combined talents of these kids, Matilda the Musical tells the story of a group of children who find themselves in a rotten situation with their cruel school headmistress Miss Trunchbull. They decide to take matters into their own hands and fight the injustices of childhood with their wit, bravery, and a whole lot of naughtiness. Matilda and the gang inspire a little revolution that will change their destinies, with their battle cry being the words, "You mustn't let a little thing like 'little' stop you!", which rings especially true for the cast, whose months of hard work audiences will get to savor soon. With their high energy singing, dancing, and stomping in defiance, the show is sure to be a treat for children and adults alike.
Presented by Metrobank Card Corporation, Matilda The Musical will make its Philippine debut at the Meralco Theater, Ortigas Center, Pasig City from the 10th of November to the 10th of December this year. Shows will be scheduled on Fridays at 8:00 p.m., Saturdays at 2:00 and 8:00 p.m., and Sundays at 2:00 p.m and 8:00pm. The show is recommended for children aged 7 and above (children under the age of 4 will not be permitted inside the theater). Tickets ranging from P1,500 to P4,000 are now available.
You can buy tickets HERE.