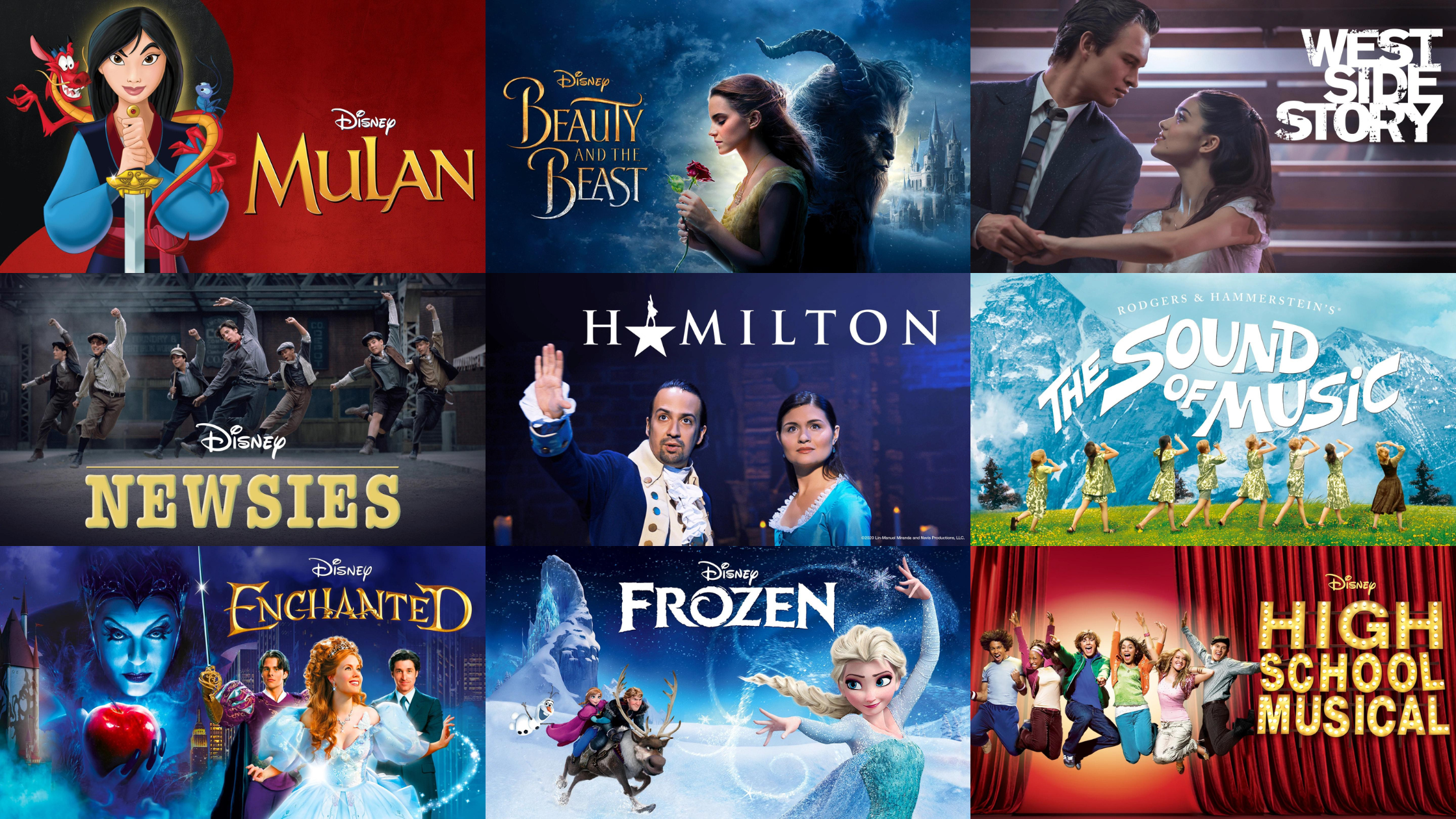 7 Reasons We're Excited Disney+ is Officially Here
Admit it, you've also been counting the days until your favorite Disney movies and shows finally pop up on your smartphone or TV. We know you've been refreshing the app or website obsessively in the hours and minutes leading up to midnight, just itching to click "Watch Now" on a beloved title.
But wait no more, D-Day is here and Disney+ is finally at our fingertips, a.k.a. The Holy Grail of Disney musicals!
Yes, we know there is more to the streaming platform than just musicals–Marvel, Star Wars, and National Geographic–to name a few, but this is TheaterFansManila.com so we're more than a little excited to finally have access to over a hundred musical movies and tv shows (seriously, we counted!) currently on the platform. 
As theater fans, there's a lot to be excited about, but here are our top 7 reasons:
Reason # 1: Proshots
We all know the next best thing to watching a musical live on stage is getting the proshot. You can watch it any time you want and you don't have to worry about sitting behind too-tall audiences or whether or not the last seat you booked is an obstructed view. Not to mention, proshots are a great way of introducing great musicals to a wider audience without having to go to New York or London to for the experience.
Among the proshots available on Disney+ are the legendary Hamilton (original Broadway cast!), of course, and a Disney favorite, Newsies. And soon, there will also be a recording of the Aladdin musical live from the West End.
Reason # 2: Classic Animated Musicals (+Sing-Along Versions!)
Who needs karaoke when you can just sing along to your favorite Disney movies WHILE streaming them? And that is just what Disney+ has done for today's audiences–provided their whole classic library and versions with the lyrics popping up on screen for us to live out our dreams of performing on stage.
Among the titles with this feature available are The Little Mermaid, Encanto, Beauty and the Beast, Moana, The Lion King, Coco, The Nightmare Before Christmas, Frozen, Frozen II, Tangled, and so much more!
Reason # 3: Disney+ Original Musicals
Since it was launched in 2019, Disney+ has been producing its own content including original movie musicals and television series (more on the latter below). These movies vary in genre and theme and try to appeal to wide audiences. While some can be a bit serious, there is always a feel-good and family-friendly factor that makes these appeal to different generations.
These range from live-action (or hyper realistic CGI hybrids or whatever you call it) versions of animated classics like The Lady and the Tramp and Pinocchio, musical biopics like Clouds, musicals based on teen novels like Stargirl to musical comedies like Sneakerella and Better Nate than Never. There will be more to come but there is already enough to explore while we wait.
Reason # 4: So Many Movie Musicals
You have to admit, Disney+ knows how to reel musical nerds in, not just with live-action versions of its animated classics such as Aladdin, Beauty and the Beast, and The Lion King, but also with a collection of many classic musicals from different generations.
As mentioned above, there are proshots of modern classics like Hamilton and there are the musicals from Disney animated canon, but there are also non-Disney musical movies such as Rodgers and Hammerstein's Oklahoma!, the Spielberg remake of West Side Story, and Pasek and Paul's The Greatest Showman. Having a wealth of options ensures that there is a musical movie in the mix for every generation to enjoy. 
Reason # 5: Musical Movies and their Sequels
You can never have enough of a good thing so that is why hit movie musicals tend to have sequels. Sometimes these sequels come out decades after the original, sometimes these do not get theatrical release but go straight to video or streaming while others are able to enjoy a stint at the cinema a few years after the first films. No matter when these sequels come out, they allow us to spend more time in the musical worlds we have come to love (and give us more great songs to sing along to as well).
Disenchanted (streaming November 18th!) is just the latest among these sequels. Other musical movie "sets" include Mary Poppins and Mary Poppins Returns; The Lion King and The Lion King II: Simba's Pride; Frozen and Frozen II; Beauty and the Beast and Beauty and the Beast: The Enchanted Christmas; The Little Mermaid, The Little Mermaid II: Return to the Sea and The Little Mermaid: Ariel's Beginning; Cinderella, Cinderella II, and Cinderella III: A Twist in Time; The Hunchback of Notre Dame and The Hunchback of Notre Dame II. There are also the Disney Channel live musical movies like the Descendants and Zombies movie series.
Reason # 6: TV Shows that are Also Musicals
This platform basically has at least two of the most well-known musical series set in high schools: Glee and High School Musical: The Musical: The Series. If you need a more serialized approach to consuming your musicals and if you enjoy a large dose of teenage hijinks and high school shenanigans, you cannot really go wrong with these two shows and there are multiple seasons to binge.
These series have launched the careers of some of the biggest stars today (Olivia Rodrigo was in HSM:TM:TS before you ever jammed to "Driver's License"), they feature some fun covers of iconic songs, and they have introduced some original music into the mix as well. And just in case you're a Gleek not on Netflix, then you're in luck!
Reason # 7: Upcoming Streams of Movie Musicals
Walt Disney Studios is just the gift that keeps on giving so there are even more musicals coming to the platform for our endless consumption. There will be a stream of musicals to, er, stream in the coming months and years to ensure that we will never ever run out of our fix. The content factory just keeps on chugging.
Some of these will be the upcoming live-action versions of Disney animated classics like The Little Mermaid, Peter Pan and Wendy, Hercules, The Hunchback of Notre Dame, and The Aristocats. Others will be sequels to live-action musicals because why not? So we have projects like Mufasa, Sister Act 3, and the untitled Aladdin sequel. There will be a few musical television series as well such as Moana and Tiana.
And there will be specials like the upcoming live version of Beauty and the Beast starring H.E.R. and Josh Groban. 
So all that's left is to start clicking on your favorite titles and lose yourself in the oblivion of eternal musical streaming!
Comments